Mount Tujuh Lake
---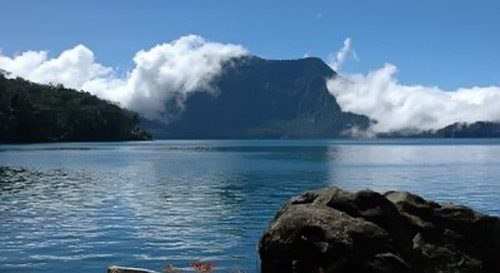 Located in the village of Pelompek, Kayu Aro sub-district, Kerinci Regency, Jambi Province, Indonesia; Gunung Tujung lake is the highest lake in Southeast Asia, and also the second largest lake after Lake Toba
This lake has a height for about 3.805 meters, the road to the summit is steep with a slope that reaching 50-60 degrees. For those who love nature and adventure, this place is a perfect one to be explored. In addition to a wonderful panorama, the lake is also surrounded by six Mountains are that ready to be conquered. Those mountains are:
1. Mount Hulu Tebo with a height of 2.525 meters above sea level
2. Mount Hulu Sangir with an altitude of 2,330 meters above sea level
3. Madura Besi Mountain with an altitude of 2,418 meters above sea level
4. Mount Selasih with a height of 2,230 meters above sea level
5. Mount Jar Panggang with a height of 2.469 meters above sea level
6. Tujuh Mountain with the highest peak is 2.732 meters above sea level.
There is also Gunung Tujuh Waterfalls which the sourced from Gunung Tujuh Lake itself. To get to the waterfall, we must pass through a path that near from the checkpoint.
Besides the natural beauty, the air is refreshing, and there are exotic animals that living here, including: Tiger, Honey Bear, Boar, a wide variety of birds and butterflies. While for flora there are different types of orchids and Nepenthes.
For the visitors who want to stay, there is also provided a place like homestay which can be ordered before the climb. The lake is usually crowded on weekends by the group of climbers, researchers or just recreation.
How to get there
Located in the village of Pelompek, you only have to travel within 3.5 hours from Jambi to Pelompek after passing through Sungai Penuh city.
After arriving in village Pelompek as a gateway to the Kerinci Seblat National Park you will then begin to walk and doing trekking through the footpaths that fairly uphill to the location. The estimated time to reach the location is a about 2-3 hours. You can take the route through the guardhouse of Gunung Tujuh with a distance of 3 kilometers to the location or it can be reach from behind the guest house, which is little closer for about 2.5 kilometers.

Latest News
A campaign for hidden paradise tourism in Jambi has been launched. Tourists are invited to enjoy various tourist objects that apply health protocols. The aim of this campaign is to promote the beautiful Jambi tourist destinations and their superior products. The Jambi Exploration Campaign-The Hidden Paradise in Jambi is part of the Indonesian National Proud Movement (Gernas BBI) and Proud Tourism #diIndonesiaAja (BBWI) program which focuses on raising tourism potential and regional superior products. More than that, what Jambi has done can be an example for other provinces. This spirit…
---
Kaco means glass in the local language. The clear water in this lake is clear as glass. Like pearls in the middle of jungle, that is Kaco Lake. Hidden among grove of Kerinci Seblat National Park (TNKS) of Kerinci Regency, Jambi Province, this lake has clear water. The beauty of Kaco Lake appears during the full moon because it emits light that can illuminate the surrounding area. It was so clear so that Kaco Lake able to reflect even dim light at night. Naturally, many travelers struggle to reach Kaco…
---
Lake Kerinci lies at the foot of Mount Raja, in the district of Kerinci Lake and Keliling Danau District, Kerinci Regency, Jambi Province. In Jambi, Kerinci is the largest lake with an area of 4,200 hectares with a depth of 110 meters, while its height reaches 783 meters above sea level and the diameter along 70 Km. According to geologists, Kerinci Lake is part of the valley in Mount Kerinci. The valley is then formed as a small eruption caused by the volcano and a decrease in the Bukit Barisan…
---
Kerinci Seblat National Park Kerinci Seblat National Park is one of the largest national parks in Indonesia. Kerinci Seblat protects almost 14,000 sq kilometres of tropical rain forests in central western Sumatra running down the Barisan mountain range and its foothills and covering parts of four provinces. The terrains varies from lowland forests up to the peak of mighty Mt Kerinci at 3,805 m. This national park is a UNESCO World Heritage Site as part of the Rainforest Heritage of Sumatra and one of the most important tiger reserves in the world.…
---