Bukit Tiga Puluh National Park
---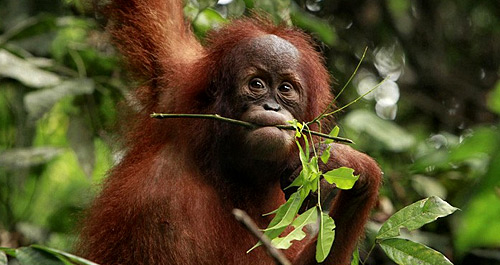 Taman Nasional Bukit Tigapuluh is a hilly region in the middle of the expanse lowland at the eastern part of Sumatra, and it has high potential diversity of plants and endemic animals.
The ecosystem types constituent forest at Bukit Tigapuluh National Park is lowland forest, pamah forest and upland forest with the kind of flora like jelutung (Dyera costulata), red gum (Palaquium spp.), Pulai (Alstonia scholaris), kempas (Koompassia excelsa), tassel (Shorea spp.), fungi face Rimau / rafflesia (Rafflesia hasseltii), dragon's blood palm or jernang (Daemonorops draco), and various types of rattan.
Moreover, Bukit Tigapuluh National Park has 59 species of mammals, 6 species of primates, 151 species of birds, 18 species of bats, and various species of butterfly. World Wildlife Fun or WWF set up the camera traps in this Bukit Barisan National Park since March and April 2011, and have taken images of 12 rare Sumatran tigers, including a mother playing with cubs.
In November 2011, the WWF has announced 5 endangered cats in the forests of Riau. Within 3 months of systematic survey using automatic surveillance cameras at the 'corridor' between the Bukit Tigapuluh National Park and Rimbang Baling Sanctuary, they found Sumatran tiger (Panthera tigris sumatrae), Sunda clouded leopard (Neofelis diardi), marbled cat (Pardofelis marmoata), golden cat (Catopurna temmincki, and leopard cat (Prionailurus bengalensis).
The cats passing the same tracks all the time in the corridor, but both areas connected by corridor are currently threatened by deforestation. Besides the habitat of the Sumatran tiger (Panthera tigris sumatrae), the tapir (Tapirus indicus), agile gibbon (Hylobates agilis), bears (Helarctos malayanus malayanus), blue pheasants (Lophura ignita), kuau (Argusianus argus argus) and others are settled in this park.
Initially, the area in this national park is a protected forest and limited production forest. However, the condition of the forest park is relatively unspoiled.
The communities around Bukit Tigapuluh National Park consists of several parts with customs and culture that relatively still very genuine, like Suku Anak Dalam, Talang Mamak tribe and others. According to the community, particularly Talang Mamak tribe, they believe that the hills and plants in this national park has a magical power in their lives. Indirectly they actively participate in maintaining and protecting the hill or plants in this place.
How to get there
Its around 285Km away from Pekanbaru (The Capital city of Riau Province) Many Public bus available from Pekan Baru to Siberida (5 - 6 Hours) as public bus made a lot of stops to get the passengers, then you gonna need to rent a motorbike to get into the 12km dead road Granit Intersetion to the only place to stay inside the National Park (Granit Camp) unless you have a tent. Its not recomended to go there without a local guide. We need special Permit to enter the area of the Bukit Tigapuluh National Park.

Latest News
A campaign for hidden paradise tourism in Jambi has been launched. Tourists are invited to enjoy various tourist objects that apply health protocols. The aim of this campaign is to promote the beautiful Jambi tourist destinations and their superior products. The Jambi Exploration Campaign-The Hidden Paradise in Jambi is part of the Indonesian National Proud Movement (Gernas BBI) and Proud Tourism #diIndonesiaAja (BBWI) program which focuses on raising tourism potential and regional superior products. More than that, what Jambi has done can be an example for other provinces. This spirit…
---
Kaco means glass in the local language. The clear water in this lake is clear as glass. Like pearls in the middle of jungle, that is Kaco Lake. Hidden among grove of Kerinci Seblat National Park (TNKS) of Kerinci Regency, Jambi Province, this lake has clear water. The beauty of Kaco Lake appears during the full moon because it emits light that can illuminate the surrounding area. It was so clear so that Kaco Lake able to reflect even dim light at night. Naturally, many travelers struggle to reach Kaco…
---
Lake Kerinci lies at the foot of Mount Raja, in the district of Kerinci Lake and Keliling Danau District, Kerinci Regency, Jambi Province. In Jambi, Kerinci is the largest lake with an area of 4,200 hectares with a depth of 110 meters, while its height reaches 783 meters above sea level and the diameter along 70 Km. According to geologists, Kerinci Lake is part of the valley in Mount Kerinci. The valley is then formed as a small eruption caused by the volcano and a decrease in the Bukit Barisan…
---
Kerinci Seblat National Park Kerinci Seblat National Park is one of the largest national parks in Indonesia. Kerinci Seblat protects almost 14,000 sq kilometres of tropical rain forests in central western Sumatra running down the Barisan mountain range and its foothills and covering parts of four provinces. The terrains varies from lowland forests up to the peak of mighty Mt Kerinci at 3,805 m. This national park is a UNESCO World Heritage Site as part of the Rainforest Heritage of Sumatra and one of the most important tiger reserves in the world.…
---