Pedestrian Bridge and Gentala Arasy Tower
---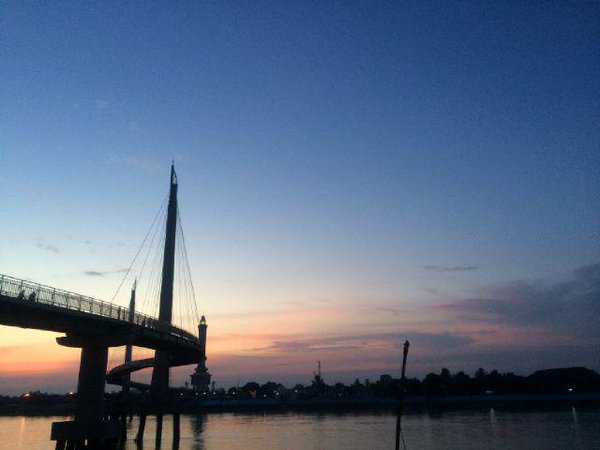 Gentala Arasy bridge is one of the icons in Jambi. This bridge was built in 2012 and was inaugurated by Mr. Jusuf Kalla as Vice President at that time. Actually there are two objects in this location, the tower of Gentala Arasy and Pedestrian bridge. But most people prefer to call Gentala Arasy bridge.
Pedestrian bridge, as seen from its name, is a bridge for pedestrians. The shape that resembles the letter "S" is a stretch of winding over Batang Hari river that roughly about 530 meters long. This bridge is made special for pedestrians, and it is suitable for those who want jogging at morning and noon.
While, Gentala Arasy tower is a museum that keep the history of the incoming and the development of Islam in Jambi. The tower's shape is also very unique and very 'Islamic', just like architecture of a mosque.
In addition, at the end of the Gentala Arasy bridge there is a culinary center and a place to hang out in the afternoon until evening. There are many culinary merchants that can be enjoyed. In addition, we can also enjoy the views of the bridge.
To get into this Gentala Arasy bridge you do not have to pay for a ticket because there is no ticket counter. We can go up to the bridge Pedestrian for free while enjoying the view from the bridge. We can also view traffic conditions in Batang Hari River that never deserted from the busy days of the boats and small vessels.
If you want to enjoy downing the river by boat. Try A rental boat around the bridge, for there are many boats are lined up around the bridge, especially along the Batang Hari river.
Adopting the Clock Tower in Mecca, Saudi Arabia, at the top of the Gentala Arasy tower mounted a very large clock. At the base of the tower, there is a museum containing historical objects and large-sized of Mushaf Koran, which is 18 x 17 meters.
At the other end of the bridge there is a trade center of Jambi Province, as well as a traditional market of Angsoduo, Malls Wiltop Trade Center (WTC) Batanghari, and culinary center.
There is culinary center at the right across the bridge, crossing the street from Jambi governor's official residence. There are numbers of traditional meal from Jambi, including the snack like roasted corn and cold sugarcane.

Latest News
A campaign for hidden paradise tourism in Jambi has been launched. Tourists are invited to enjoy various tourist objects that apply health protocols. The aim of this campaign is to promote the beautiful Jambi tourist destinations and their superior products. The Jambi Exploration Campaign-The Hidden Paradise in Jambi is part of the Indonesian National Proud Movement (Gernas BBI) and Proud Tourism #diIndonesiaAja (BBWI) program which focuses on raising tourism potential and regional superior products. More than that, what Jambi has done can be an example for other provinces. This spirit…
---
Kaco means glass in the local language. The clear water in this lake is clear as glass. Like pearls in the middle of jungle, that is Kaco Lake. Hidden among grove of Kerinci Seblat National Park (TNKS) of Kerinci Regency, Jambi Province, this lake has clear water. The beauty of Kaco Lake appears during the full moon because it emits light that can illuminate the surrounding area. It was so clear so that Kaco Lake able to reflect even dim light at night. Naturally, many travelers struggle to reach Kaco…
---
Lake Kerinci lies at the foot of Mount Raja, in the district of Kerinci Lake and Keliling Danau District, Kerinci Regency, Jambi Province. In Jambi, Kerinci is the largest lake with an area of 4,200 hectares with a depth of 110 meters, while its height reaches 783 meters above sea level and the diameter along 70 Km. According to geologists, Kerinci Lake is part of the valley in Mount Kerinci. The valley is then formed as a small eruption caused by the volcano and a decrease in the Bukit Barisan…
---
Kerinci Seblat National Park Kerinci Seblat National Park is one of the largest national parks in Indonesia. Kerinci Seblat protects almost 14,000 sq kilometres of tropical rain forests in central western Sumatra running down the Barisan mountain range and its foothills and covering parts of four provinces. The terrains varies from lowland forests up to the peak of mighty Mt Kerinci at 3,805 m. This national park is a UNESCO World Heritage Site as part of the Rainforest Heritage of Sumatra and one of the most important tiger reserves in the world.…
---