Sitimang Ceramic Market
---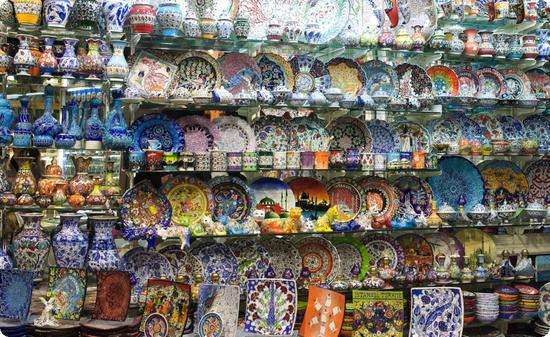 If you are collector of one of those who love Ceramic, while visiting Jambi, you can come to Sitimang market at Sisingamangaraja street. This market is popular with its ceramics since 1980s.
At this market, you can find ceramics in various forms such as in small jars, standing jars, tableware to decorate the house, animal form ceramic and more. The Ceramics that are sold here are shipped directly from China, with different and unique motives.
This place is such a hive for those who crave for ceramics in, both in vintage and modern one. The visitors are not only coming from local place, but also from outside Jambi, even outside provinces.
Do not worry about the price, for you can have it in affordable way. For instance, it takes only IDR 30,000 for small ceramic or IDR 3,000,000 for big standing jar. Those price are way affordable than any other places that sell ceramics with the same quality.
This market is located at the city center of Jambi, and it easy to access by using public transportation or taxi. The locatoon is settled behind the Mega cinema in Jambi market.

Latest News
A campaign for hidden paradise tourism in Jambi has been launched. Tourists are invited to enjoy various tourist objects that apply health protocols. The aim of this campaign is to promote the beautiful Jambi tourist destinations and their superior products. The Jambi Exploration Campaign-The Hidden Paradise in Jambi is part of the Indonesian National Proud Movement (Gernas BBI) and Proud Tourism #diIndonesiaAja (BBWI) program which focuses on raising tourism potential and regional superior products. More than that, what Jambi has done can be an example for other provinces. This spirit…
---
Kaco means glass in the local language. The clear water in this lake is clear as glass. Like pearls in the middle of jungle, that is Kaco Lake. Hidden among grove of Kerinci Seblat National Park (TNKS) of Kerinci Regency, Jambi Province, this lake has clear water. The beauty of Kaco Lake appears during the full moon because it emits light that can illuminate the surrounding area. It was so clear so that Kaco Lake able to reflect even dim light at night. Naturally, many travelers struggle to reach Kaco…
---
Lake Kerinci lies at the foot of Mount Raja, in the district of Kerinci Lake and Keliling Danau District, Kerinci Regency, Jambi Province. In Jambi, Kerinci is the largest lake with an area of 4,200 hectares with a depth of 110 meters, while its height reaches 783 meters above sea level and the diameter along 70 Km. According to geologists, Kerinci Lake is part of the valley in Mount Kerinci. The valley is then formed as a small eruption caused by the volcano and a decrease in the Bukit Barisan…
---
Kerinci Seblat National Park Kerinci Seblat National Park is one of the largest national parks in Indonesia. Kerinci Seblat protects almost 14,000 sq kilometres of tropical rain forests in central western Sumatra running down the Barisan mountain range and its foothills and covering parts of four provinces. The terrains varies from lowland forests up to the peak of mighty Mt Kerinci at 3,805 m. This national park is a UNESCO World Heritage Site as part of the Rainforest Heritage of Sumatra and one of the most important tiger reserves in the world.…
---