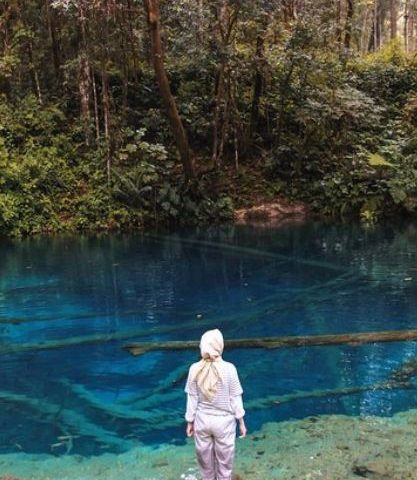 Kaco means glass in the local language. The clear water in this lake is clear as glass. Like pearls in the middle of jungle, that is Kaco Lake. Hidden among grove of Kerinci Seblat National Park (TNKS) of Kerinci Regency, Jambi Province, this lake has clear water. The beauty of Kaco Lake appears during the full moon because it emits light that can illuminate the surrounding area. It was so clear so that Kaco Lake able to reflect even dim light at night. Naturally, many travelers struggle to reach Kaco Lake while climbing Kerinci, Jambi.
Kaco Lake is about 90 square meters, although you are adept at swimming, you still have to be careful, because it is not known yet how deep of the lake is. To get to KacoLake you have to walk for about 3-5 hours with beautiful natural routes and challenging tropical forests.
It is not easy to reach Kaco Lake. Located at 1289 meters above sea level, Kaco Lake does have incomparable charm. Its location is hidden in the forest behind a towering bush and tall trees.
How do you explore jambi, ready to explore the forest to find this beautiful pearl?
Tips and Guides Goes to Kaco Lake Kerinci Jambi:
Prepare complete equipment because this location is not ordinary tourist destination but a wilderness.
Prepare tobacco or kerosene to deal with leeches.
If you want to camp, of course you have to prepare enough tents and supplies.
Remember! Do not litter. If your purpose is just destructive, please just dreaming about go to Kaco Lake.
Use a guide services who already understands the terrain road and environment, especially around Kaco Lake Jambi.
Do not visit the lake during the rainy season, the terrain will get heavier.
Use protective footwear, and especially trousers.
There are quite a lot of communities in Kerinci. Take advantage of traveling and camping together.
Maintain your manners. Do not commit to immorality in the wilderness.
Do not over-play because there have been visitors who lost at Kaco Lake.
Ensure completeness safely because there are still many wild animals that roam in Kerinci