Danau Kaco
---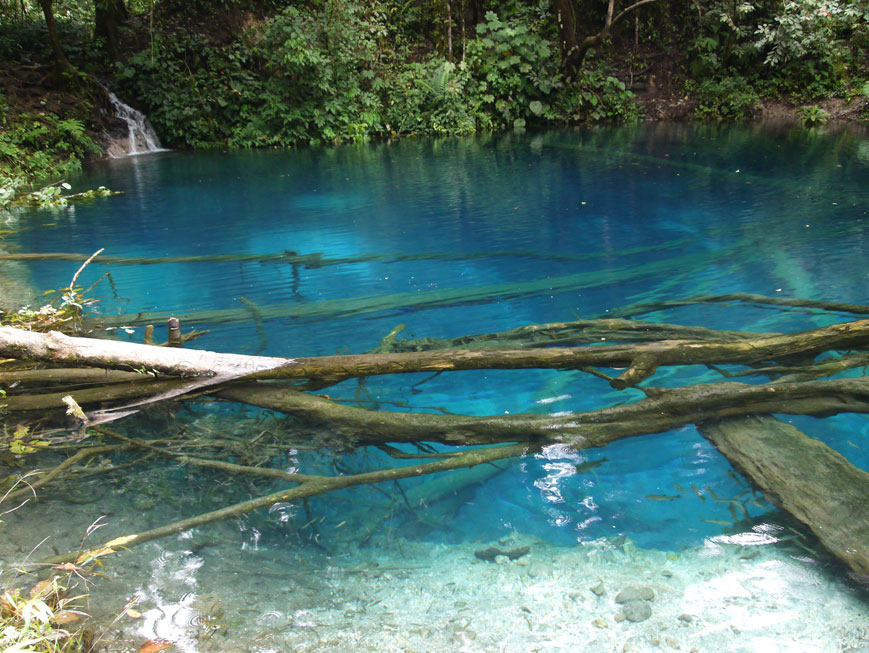 Danau Kaco or Mirror Lake; this unique lake is located in the middle of the Kerinci Seblat National Park, Kerinci District with blue water color that contrasts with the green foliage of trees around it. This lake can be reached from River City to a nearby village, Lempur village, within 45 minutes with four wheel drive vehicles. Further along the forest walk for 2.5 – 3 hours trip while enjoying the chirping of birds and other endangered species.
When arriving at the lake, it is like heaven. It's like in fairy tales, which is dramatic o blue with green trees and leaves surrounded. There is small waterfall near the lake, and it just so wonderful. Local said the the blue color comes from the high mineral contained by the water.
There are numbers of fishes swimming and yes, this lake looks like a mirror. You can see your own reflection on the surface. There are some trunks inside the lake, which actually deep inside the water but look very close from the surface. Somebody had ever tried to dive into the bottom, but it's very deep. The trunk that looks only 1 meter from the surface actually lays 10 meters down there.
How to get there
From Jambi City, capital of Jambi Province, it will take approximately 8 to 10 hours drive to the town of Sungaipenuh in the Kerinci Regency. From Sungaipenuh, it is another 90 minutes drive to the entrance of Lake Kaco.
There are a number travel services that serve the route of Jambi-Sungapienuh. If you want to try public transportation, there are minibuses from Sungaipenuh town to Lempur Village. However these minibuses only operate to 15.00 Western Indonesia Time.
The road to such exceptional beauty also presents challenges since you have to walk for about 4 hours from Lempur Village across the Kerinci Seblat national Park to Lake Kaco. However your fatigue will be accompanied by amazing panoramic sceneries, butterflies, birds, and other beautiful creatures of the wild, as well as the sounds of nature. Once you reach the destination, all your tiredness will certainly be well earned.

Latest News
A campaign for hidden paradise tourism in Jambi has been launched. Tourists are invited to enjoy various tourist objects that apply health protocols. The aim of this campaign is to promote the beautiful Jambi tourist destinations and their superior products. The Jambi Exploration Campaign-The Hidden Paradise in Jambi is part of the Indonesian National Proud Movement (Gernas BBI) and Proud Tourism #diIndonesiaAja (BBWI) program which focuses on raising tourism potential and regional superior products. More than that, what Jambi has done can be an example for other provinces. This spirit…
---
Kaco means glass in the local language. The clear water in this lake is clear as glass. Like pearls in the middle of jungle, that is Kaco Lake. Hidden among grove of Kerinci Seblat National Park (TNKS) of Kerinci Regency, Jambi Province, this lake has clear water. The beauty of Kaco Lake appears during the full moon because it emits light that can illuminate the surrounding area. It was so clear so that Kaco Lake able to reflect even dim light at night. Naturally, many travelers struggle to reach Kaco…
---
Lake Kerinci lies at the foot of Mount Raja, in the district of Kerinci Lake and Keliling Danau District, Kerinci Regency, Jambi Province. In Jambi, Kerinci is the largest lake with an area of 4,200 hectares with a depth of 110 meters, while its height reaches 783 meters above sea level and the diameter along 70 Km. According to geologists, Kerinci Lake is part of the valley in Mount Kerinci. The valley is then formed as a small eruption caused by the volcano and a decrease in the Bukit Barisan…
---
Kerinci Seblat National Park Kerinci Seblat National Park is one of the largest national parks in Indonesia. Kerinci Seblat protects almost 14,000 sq kilometres of tropical rain forests in central western Sumatra running down the Barisan mountain range and its foothills and covering parts of four provinces. The terrains varies from lowland forests up to the peak of mighty Mt Kerinci at 3,805 m. This national park is a UNESCO World Heritage Site as part of the Rainforest Heritage of Sumatra and one of the most important tiger reserves in the world.…
---