Sri Soedewi Orchid Garden
---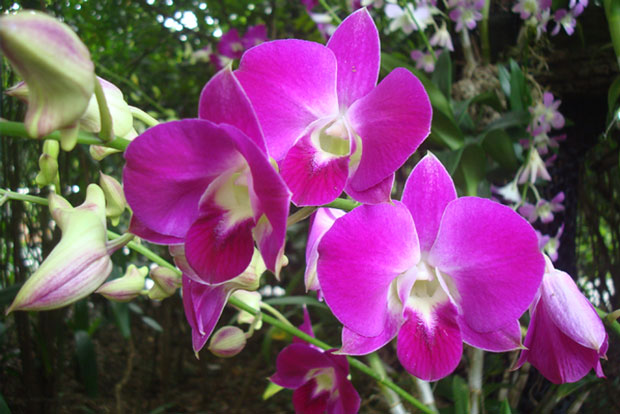 Sri Soedewi orchid garden is located on Jalan Ahmad Yani, or in front of the governor's office of Jambi. These tourism attractions provides any information about orchid care that good and perfect in accordance to each type of orchid. This tourist attractions is most visited from Jambi or outside the city. You can find more than 60 varieties of orchids in the garden that covered an area of 2.5 hectares. To be able to see these beautiful flowers, you will be charged Rp. 2,000 for adults and Rp. 1,500 for children.
After enjoying the garden, you will not go home with empty-handed, because there are flower seeds were given away for free for you to be taken home. After receiving information about how to take care for orchids properly, you can practice at home with the seedlings.
How to get there
The location of Sri Soedewi orchid garden is on Jl. General Ahmad Yani, Telanaipura sub- District, the Jambi. To go to the location, you can use private vehicles or public transportation that available in the city of Jambi.
For those of you who use private vehicles or your own car, you do not need to worry, because the location of this park is not difficult to be found, for the location is not too far from the city center, or it only 4 kilometers from Jambi city center.
If you are coming from the eastern highway of Palembang-Jambi, you will find the intersection between Jl. Pattimura and Jl. Lingkar Barat 3, then you must follow Jl. Pattimura, until you find Jl. R.E. martadinata. once you find Jl. R.E. Martadinata, you just go along this road until you find Jl. Gen. Ahmad Yani. Then, once you arrive at Jl. General Ahmad Yani, you just looking for a bit of the location.

Latest News
A campaign for hidden paradise tourism in Jambi has been launched. Tourists are invited to enjoy various tourist objects that apply health protocols. The aim of this campaign is to promote the beautiful Jambi tourist destinations and their superior products. The Jambi Exploration Campaign-The Hidden Paradise in Jambi is part of the Indonesian National Proud Movement (Gernas BBI) and Proud Tourism #diIndonesiaAja (BBWI) program which focuses on raising tourism potential and regional superior products. More than that, what Jambi has done can be an example for other provinces. This spirit…
---
Kaco means glass in the local language. The clear water in this lake is clear as glass. Like pearls in the middle of jungle, that is Kaco Lake. Hidden among grove of Kerinci Seblat National Park (TNKS) of Kerinci Regency, Jambi Province, this lake has clear water. The beauty of Kaco Lake appears during the full moon because it emits light that can illuminate the surrounding area. It was so clear so that Kaco Lake able to reflect even dim light at night. Naturally, many travelers struggle to reach Kaco…
---
Lake Kerinci lies at the foot of Mount Raja, in the district of Kerinci Lake and Keliling Danau District, Kerinci Regency, Jambi Province. In Jambi, Kerinci is the largest lake with an area of 4,200 hectares with a depth of 110 meters, while its height reaches 783 meters above sea level and the diameter along 70 Km. According to geologists, Kerinci Lake is part of the valley in Mount Kerinci. The valley is then formed as a small eruption caused by the volcano and a decrease in the Bukit Barisan…
---
Kerinci Seblat National Park Kerinci Seblat National Park is one of the largest national parks in Indonesia. Kerinci Seblat protects almost 14,000 sq kilometres of tropical rain forests in central western Sumatra running down the Barisan mountain range and its foothills and covering parts of four provinces. The terrains varies from lowland forests up to the peak of mighty Mt Kerinci at 3,805 m. This national park is a UNESCO World Heritage Site as part of the Rainforest Heritage of Sumatra and one of the most important tiger reserves in the world.…
---