Geopark Merangin
---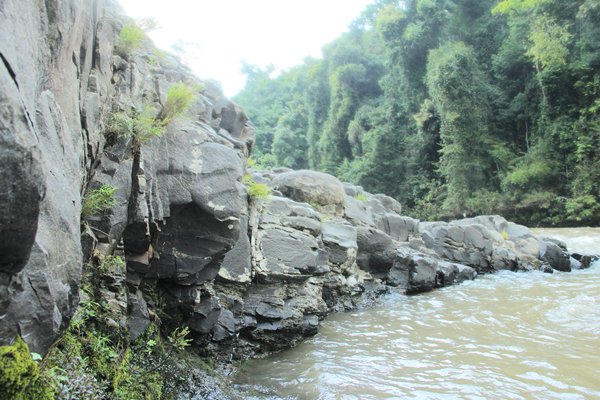 Geopark Merangin is a nature tourism that very popular among tourists in Jambi due to the attractiveness of flora fossils for 350 million years old in it.
The views of the old fossil in this Geopark is really amazing. The fossil flora that available in this place is really give a very interesting travel experience. Moreover, we can do rafting along the river to challengee the adrenaline.
Merangin Geopark is located in the district of Merangin, precisely in Air Batu village and Dusun Baru, District Pemberap. The distance of this Geopark location from the center of Jambi is somehow near. It takes no more than 7 hours to be in Air Batu village by using a motor vehicle. To be able to be in the exact location, it takes about 3 hours on foot or by rafting down the river.
To go to the location of Geopark Merangin, you can use two access. The first is by walking around the forest on the outskirts of the river and it takes for about 3 hours walking.
The second is by downing the river. This second access is considerably more interesting than the first one. You can do rafting to reach the exact location. Although it is considerably more fun, but it takes guts, power, and more cost to visit this Geopark Merangin.

Latest News
A campaign for hidden paradise tourism in Jambi has been launched. Tourists are invited to enjoy various tourist objects that apply health protocols. The aim of this campaign is to promote the beautiful Jambi tourist destinations and their superior products. The Jambi Exploration Campaign-The Hidden Paradise in Jambi is part of the Indonesian National Proud Movement (Gernas BBI) and Proud Tourism #diIndonesiaAja (BBWI) program which focuses on raising tourism potential and regional superior products. More than that, what Jambi has done can be an example for other provinces. This spirit…
---
Kaco means glass in the local language. The clear water in this lake is clear as glass. Like pearls in the middle of jungle, that is Kaco Lake. Hidden among grove of Kerinci Seblat National Park (TNKS) of Kerinci Regency, Jambi Province, this lake has clear water. The beauty of Kaco Lake appears during the full moon because it emits light that can illuminate the surrounding area. It was so clear so that Kaco Lake able to reflect even dim light at night. Naturally, many travelers struggle to reach Kaco…
---
Lake Kerinci lies at the foot of Mount Raja, in the district of Kerinci Lake and Keliling Danau District, Kerinci Regency, Jambi Province. In Jambi, Kerinci is the largest lake with an area of 4,200 hectares with a depth of 110 meters, while its height reaches 783 meters above sea level and the diameter along 70 Km. According to geologists, Kerinci Lake is part of the valley in Mount Kerinci. The valley is then formed as a small eruption caused by the volcano and a decrease in the Bukit Barisan…
---
Kerinci Seblat National Park Kerinci Seblat National Park is one of the largest national parks in Indonesia. Kerinci Seblat protects almost 14,000 sq kilometres of tropical rain forests in central western Sumatra running down the Barisan mountain range and its foothills and covering parts of four provinces. The terrains varies from lowland forests up to the peak of mighty Mt Kerinci at 3,805 m. This national park is a UNESCO World Heritage Site as part of the Rainforest Heritage of Sumatra and one of the most important tiger reserves in the world.…
---