Mount Kerinci
---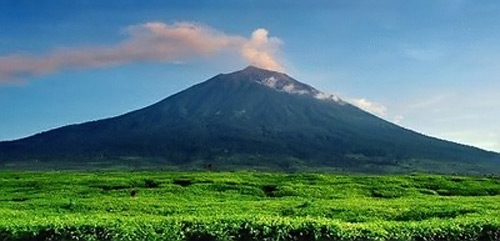 Mount Kerinci is the highest volcano in Indonesia and the highest Indonesian peak outside Papua (Irian Jaya). Much of the Kerinci Seblat National Park is located in the province of Jambi but the mountain itself is on the border with West Sumatra. At 3805 meters tall, it is the highest active volcano in Southeast Asia, and even rises above the iconic Mt. Fuji in Japan. Trekking up its forested slopes, protected in the Kerinci Seblat National Park, is extremely challenging as there are no switchbacks, for it is just straight up to the top along a ridge trail. But the views at the top are truly unbeatable, making the struggle and sweat worth it.
It is close to freezing at the top, so make sure you dress in layers and bring a warm beanie and gloves if you can. Best to avoid times of extended rain, but, as it sits within a tropical rainforest, be prepared for it. Most treks up the mountain start after an overnight in the village of Kersik Tuo, but it is also possible to begin from Sungai Penuh.
Although it is possible to get to the top and back in a very, very long day (minimum 12 hours hiking there and back), it is recommended that you spend a night on the mountain at Shelter 2 (3,040m) or even the more exposed Shelter 3 (3,306m). The summit is usually cloudy after mid-morning so if you want to admire the views it is best to plan on reaching the top for dawn the second day before making the descent back to Kersik Tua. The water sources are not reliable so make sure you take ample supplies.
Before exploring Kerinci Mountain, we need to obtain a National Park permit, available from one of the homestays in Kersik Tua, which currently costs a reasonable Rp 20,000. It is also a good idea to take a photocopy of your passport with you (for foreigner).
How to get there
There are regular flights to Padang's International airport from Indonesia and neighbouring countries. It is then a long 6-8 hours drive to the starting point. There is public transport and 'travel cars' for which you share a car with others but it will take you most of a day.

Latest News
A campaign for hidden paradise tourism in Jambi has been launched. Tourists are invited to enjoy various tourist objects that apply health protocols. The aim of this campaign is to promote the beautiful Jambi tourist destinations and their superior products. The Jambi Exploration Campaign-The Hidden Paradise in Jambi is part of the Indonesian National Proud Movement (Gernas BBI) and Proud Tourism #diIndonesiaAja (BBWI) program which focuses on raising tourism potential and regional superior products. More than that, what Jambi has done can be an example for other provinces. This spirit…
---
Kaco means glass in the local language. The clear water in this lake is clear as glass. Like pearls in the middle of jungle, that is Kaco Lake. Hidden among grove of Kerinci Seblat National Park (TNKS) of Kerinci Regency, Jambi Province, this lake has clear water. The beauty of Kaco Lake appears during the full moon because it emits light that can illuminate the surrounding area. It was so clear so that Kaco Lake able to reflect even dim light at night. Naturally, many travelers struggle to reach Kaco…
---
Lake Kerinci lies at the foot of Mount Raja, in the district of Kerinci Lake and Keliling Danau District, Kerinci Regency, Jambi Province. In Jambi, Kerinci is the largest lake with an area of 4,200 hectares with a depth of 110 meters, while its height reaches 783 meters above sea level and the diameter along 70 Km. According to geologists, Kerinci Lake is part of the valley in Mount Kerinci. The valley is then formed as a small eruption caused by the volcano and a decrease in the Bukit Barisan…
---
Kerinci Seblat National Park Kerinci Seblat National Park is one of the largest national parks in Indonesia. Kerinci Seblat protects almost 14,000 sq kilometres of tropical rain forests in central western Sumatra running down the Barisan mountain range and its foothills and covering parts of four provinces. The terrains varies from lowland forests up to the peak of mighty Mt Kerinci at 3,805 m. This national park is a UNESCO World Heritage Site as part of the Rainforest Heritage of Sumatra and one of the most important tiger reserves in the world.…
---