Visiting Blitar
---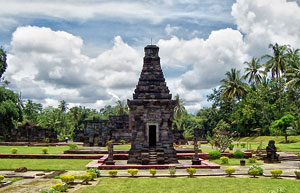 In East Java Province, tourists may find lots of interesting regions to visit during holidays. For a new experience, they must consider visiting Blitar City. The location is in the south part of the province and in the southwest of Surabaya City (the capital of East Java). People who live in Indonesia commonly recognize Blitar as the burial place of the nation's first president, Soekarno. In terms of name, it has several nicknames including the Proclamation City and the city of Koi. When it comes to tourism, the region is known for its highlands and several recreational spots. Here is further information regarding Blitar City.
The Nuance
In terms of nuance, Blitar City features several landscapes. That means tourists would enjoy a different nuance depending on where they spend the vacation. The fact is Blitar resides on the feet of the famous Kelud Mountain. To be exact, it is located on 156 meters above the sea level. No wonder, both the air and atmosphere are considered soothing and refreshing. The total area is 32.58 km per square. Have no worries. Both the facilities and accommodations are indeed nice.
Exploring Blitar City
Aside from visiting some famous vacation areas, tourists are able to learn more information regarding Blitar City especially related to history. Tourists only need to find a reliable local guide who can tell the information thoroughly. It is said the region was dominated by Tartar Tribe of East Aside back then. Thanks to the famous local kingdom. The Majapahit Kingdom was able to take over the region over time. However, the Dutch conquered it before the independence of Indonesia. This valuable history indeed becomes one of the best allures that tourists can enjoy in Blitar later.
Now, it is the time to explore Blitar City. Many interesting places are available there, after all. Usually, tourists are likely to visit highlands for sightseeing, trekking, and photography. These include Bonsai and Bunda Hill. Other recommended highlands are Puncak Kejora and Gumuk Sapu Angin. November is the Black Friday Ads month, don't forget to check them. Aside from natural attractions, the region is also known for its historical places, actually. As for the references, tourists should go to Bung Karno Museum and Tombstone. Not to mention other attractive vacation sites are available including Istana Gebang and Supriyadi Monument.
What is more? The next recommended thing to do is related to culinary. The fact is Blitar City has some unique and delicious foods like Nasi Ampok, Rujak Cingur, Nasi Pecel, Wajik Kletik, Peyek Uceng, and much more! In order to get the best places to eat these foods, though, tourists should find information either from villagers or local guides.
Famous Attractions

Negeri Dongeng
Bung Karno's Tomb
Bung Karno Museum
Bunda Hill
Bonsai Hill
Gumuk Sapu Angin
Puncak Kejora
How to Get There
As mentioned before, Blitar City is located in the southwest of Surabaya City. The distance between these cities is 155 km. That means tourists may spend about 3 hours and 30 minutes. As for the best route, it would be Surabaya – Mojokerto Highway. Once arriving at the destination, it is recommended to find a reliable hotel and rest for a while before exploring the region. Also, hiring a local guide would be a good idea.
Where to Stay

Patria Plaza Hotel
Tugu Sri Lestari Hotel
Puri Perdana Hotel

Latest News
Serang Beach Serang beach is located in Serang village, Panggungrejo sub-district, it 's about 40 Km from Blitar city. This beach is stunningly beautiful. The sea water has turquoise color and strong waves, typical of Indonesian south sea. Moreover, the greenish nuance is also can be found around the hill in the next side of the beach. The visitors who come to the beach can hike the cliff and fishing. In fact, there are numbers of fisherman who traditionally fishing the lobster and fishes. More info visit: www.eastjava.com
---
Tambakrejo Beach is located about 30 km from Blitar city, in Tambakrejo village, Wonotirto district. In this location, in every first Suro month (the new year in Java calendar) is performed a "Larung Sesaji" ceremony, and visited by thousands people from various areas. The south sea (Indonesia Ocean) waves splashing and the sunshine in the evening, make the situation feel peaceful. It is compatible for the townsman who had bored with the metropolitan life. They can enjoy the natural beach with its beautiful waves and beautiful sunset. The visitor can…
---
Karangsari Agro Tourism Karangsari Village, Regency of Sukorejo, Blitar is become popular because of the Star Fruit (Belimbing). What makes this star fruit become so famous is coming from the size, which has jumbo size, and it has sweeter taste than commonly star fruit, with tempting light yellow. While doing devotional visit to Bung Karno graveyard, you can spend your time visiting Karangsari village and buy the star fruit as a gift. While enjoying the atmosphere at Karangsari village you can also see the star fruit's tree over the road,…
---
Tambakrejo Beach Tambakrejo Beach is located about 30 km from Blitar city, in Tambakrejo village, Wonotirto district. In this location, in every first Suro month (the new year in Java calendar) is performed a "Larung Sesaji" ceremony, and visited by thousands people from various areas. The south sea (Indonesia Ocean) waves splashing and the sunshine in the evening, make the situation feel peaceful. It is compatible for the townsman who had bored with the metropolitan life. They can enjoy the natural beach with its beautiful waves and beautiful sunset. The…
---