Taman Hutan Raya Bung Hatta
---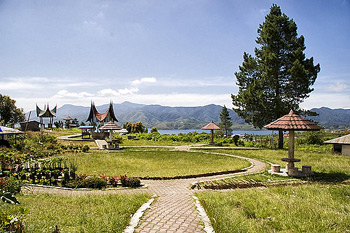 Taman Hutan Raya Bung Hatta (TRBH) is a nature reserve area in primary forest of West Sumatra that serves to preserve germplasm, protection of natural resources, education and research, fostering the nature, as well as a place of recreation. TRBH is part of the Kerinci National Park.
This area was previously a location of Setia Mulya Botanic Garden which the opening is carried out by the first Vice President of the Republic of Indonesia, Dr. Mohammad Hatta in 1955. At that time, the management of this area was under the responsibility of the Institute of Natural Sciences or now LIPI. In 1961, the management of the area handed over to the Regional Government of West Sumatra and in 1981 handed over to the management of the University of Andalas. On August 12, 1986, Vice President Wirahadikusumah rename the area into Taman Hutan Raya Dr. Mohammad Hatta.
The entire area of this garder is covers 70 thousand hectares area. In general, this area is mountainous and hilly region at an altitude of 300-700 m above sea level and is part of the Bukit Barisan range that stretches from north to south.
TRBH is a tropical 'paradise', shaping the landscape undulating and steep covered by a wide variety of tropical plants pristine and inhabited by hundreds of unique species of animals to the island of Sumatra. The unique conditions make this area as a field of cruising and wildlife observation. In this area there are 352 species of flora and 170 species of protected fauna.

Latest News
What do tourists know about Bukittinggi City? Well, most of them recognize it as the capital of West Sumatra Province belongs to Indonesia. Some of them are even aware of its tourism potential, so they keep coming to the region over time, especially during long holidays. Not only it becomes the governmental center of West Sumatra, the city was once the capital of West Sumatra and Sumatra Province! Moreover, in the past, it was called Fort de Kock and known as the birthplace of a famous person named Mohammad Hatta…
---
  Langkisau peak tourism object is located at the edge of the koto Painan with a height of about 500 meters above sea level and it offers an inspiring beauty. Langkisau peak is an area of excellent Pessel which have tourism potential that should be developed, because this area is at a height so that people who visit will be able to see the beautiful scenery and fascinating about the city Painan and Sago District IV of Jurai. At night, will be more lively enchanted by beautiful night scenery that…
---
  Siberut Island Becomes part of Mentawai Islands, Siberut is the largest island at the northernmost and becomes the main important island for Mentawai People.  The Mentawai tribe still maintains the lifestyle and traditions passed down from their ancestors from thousands of years ago. They live in houses locally called 'uma', made from wooden scaffolds which house contains several families each. Siberut is located in the Indian Ocean, approximately 100 km off the west coast of West Sumatra, and separated from the main island by the Mentawai Strait. The island…
---
Sawahlunto is one of provinces in Indonesia, precisely in West Sumatera, Indonesia. This town is located in 95KM Northeast of Padang and surrounded by 3 districts in West Sumatera, which is Tanah Datar, Solok and Sijunjung. Sawahlunto is divided into 4 sub-districts and it has 273,45 km², with populated by 54.000 people. During Dutch civilization, Sawahlunto was popular as coal mining town. After being a death town, during the closing of the mining, Sawahlunto nowadays becomes the growing city with multi-ethnicity inside the community, and awarded as the best old…
---