Hotels In West Sumatra
---
Grand Rocky Hotel Bukittinggi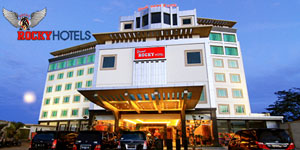 Located in the center of the mountainous town of Bukittinggi, only 70 minutes from Minangkabau International Airport. Walking distance from Jam Gadang (Giant Tower), as Landmark of Bukittinggi. 143 elegantly furnished guest rooms and suites with modern amenities and complimentary breakfast provide the travelers with comfort of home.
Jl. Yos Sudarso No.29, Kayu Kubu, Guguk Panjang Bukittinggi, West Sumatera 26136
Indonesia
Phone: +62 752 627000
Web: rockyhotelsgroup.com
Pusako Hotel Bukittinggi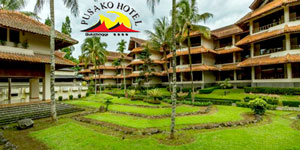 The first 4-star hotel in West Sumatra in facilities as well as in its professional and hospitality service. Your first choice if you hunger for intimacy in every room. Pusako Hotel is equipped with recreational, sports, and business facilities, restaurant, conference rooms, and swimming pool. To relax with your family or friends in the evenings Experience musical entertainment and cultural shows.
Jl. Soekarno Hatta No 7 Bukittinggi, West Sumatera 26169
Indonesia
Phone: +62 752 32111
Web: pusakohotel.com
Nuansa Maninjau Resort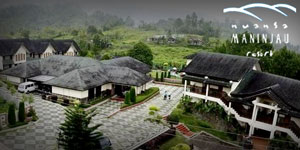 Escape to our nice family resort on 800 meters above sea level hill and enjoy a spectacular view of Maninjau Lake that was formed by a volcanic eruption many centuries ago. We are strategically located on the top of well-known Kelok 44 (44 Turns), about 30 minutes drive from Bukittinggi and 2 hours 30 minutes drive from Padang. Many domestic and international events took place here. To name a view, events like Tour de Singkarak, Garuda Tour de Maninjau, Tour de Maninjau Singkarak, Audax West Sumatera, and variety of domestic events such as corporate and private gatherings. With fifty nine rooms and cottages on twenty hectares of land with panoramic lake view, chilly climate, and away from the crowd.
Ambun Pagi Matur Mudik Agam, West Sumatera 25000
Phone: +62 752 61555
Web: nuansamaninjau.com
Premier Basko Hotel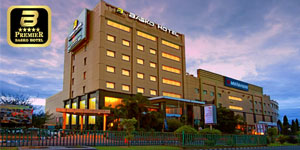 Hotel Padang as Premier Basko Hotel, located in West Sumatera Indonesia, is the busiest harbor city on the west coast of Sumatera. When in Padang, choose Premier Basko Hotel as your preferred hotel in the heart of Ranah Minang. A five star hotel in Padang, blending contemporary and modern design, with 180 modern spacious rooms, easy access to Basko Grand Mall, surrounded by government and corporate offices, and twenty minutes away from Minangkabau International Airport.
Jl. Prof Dr Hamka No 2A Padang, West Sumatera 25132
Indonesia
Phone: +62 751 4488888
Web: baskohotel.com

Latest News
What do tourists know about Bukittinggi City? Well, most of them recognize it as the capital of West Sumatra Province belongs to Indonesia. Some of them are even aware of its tourism potential, so they keep coming to the region over time, especially during long holidays. Not only it becomes the governmental center of West Sumatra, the city was once the capital of West Sumatra and Sumatra Province! Moreover, in the past, it was called Fort de Kock and known as the birthplace of a famous person named Mohammad Hatta…
---
  Langkisau peak tourism object is located at the edge of the koto Painan with a height of about 500 meters above sea level and it offers an inspiring beauty. Langkisau peak is an area of excellent Pessel which have tourism potential that should be developed, because this area is at a height so that people who visit will be able to see the beautiful scenery and fascinating about the city Painan and Sago District IV of Jurai. At night, will be more lively enchanted by beautiful night scenery that…
---
  Siberut Island Becomes part of Mentawai Islands, Siberut is the largest island at the northernmost and becomes the main important island for Mentawai People.  The Mentawai tribe still maintains the lifestyle and traditions passed down from their ancestors from thousands of years ago. They live in houses locally called 'uma', made from wooden scaffolds which house contains several families each. Siberut is located in the Indian Ocean, approximately 100 km off the west coast of West Sumatra, and separated from the main island by the Mentawai Strait. The island…
---
Sawahlunto is one of provinces in Indonesia, precisely in West Sumatera, Indonesia. This town is located in 95KM Northeast of Padang and surrounded by 3 districts in West Sumatera, which is Tanah Datar, Solok and Sijunjung. Sawahlunto is divided into 4 sub-districts and it has 273,45 km², with populated by 54.000 people. During Dutch civilization, Sawahlunto was popular as coal mining town. After being a death town, during the closing of the mining, Sawahlunto nowadays becomes the growing city with multi-ethnicity inside the community, and awarded as the best old…
---