Lubang Tambah Mbah Soero
---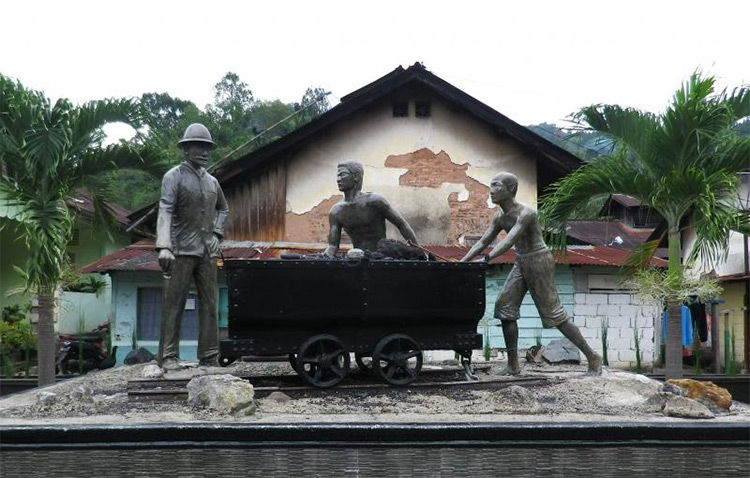 Mbah Soero pit mine is one of the historical attractions that located in Tanah Lapang, Lembah Segar, Sawahlunto, West Sumatra, Indonesia. This 185-meter long tunnel was built during Netherlands East Indies government, in 1898.
From 1898 to 1932, the coal mining operations in Sawahlunto city was using this tunnel. However, for the purposes of tourism, local governments renovate this tunnel into the places worth visiting in terms of both security and ease of reaching the area under the ground to build stairs. The renovation began on June 27, 2007 until December 2007. Then opened as a tourist attraction on April 23, 2008. Its authenticity is still maintained, it can be seen from the roof and the walls that made of coal.
To give visit to this site, the visitors are required to register and buy tickets at Info Box Building. In 1947; Info Box Building is Labor Meetinghouse and the place to held various activities, either any staff meetings to entertainment puppeters show after payday. Now, the building serves as an information center for Mbah Soero coal mining.
After the helmets and safety shoes are mounted perfectly, the adventure down into the hole will begin. A guide will tell the visitors about the things that will be found inside and some of the rules and the restrictions that must be obeyed. Due to the high historical value, since 2007 the mine pit is open for tourists. In addition, there is also photo gallery and movie about the history of the mine. At the end of the visit, tourists who visit will obtain a certificate.

Latest News
What do tourists know about Bukittinggi City? Well, most of them recognize it as the capital of West Sumatra Province belongs to Indonesia. Some of them are even aware of its tourism potential, so they keep coming to the region over time, especially during long holidays. Not only it becomes the governmental center of West Sumatra, the city was once the capital of West Sumatra and Sumatra Province! Moreover, in the past, it was called Fort de Kock and known as the birthplace of a famous person named Mohammad Hatta…
---
  Langkisau peak tourism object is located at the edge of the koto Painan with a height of about 500 meters above sea level and it offers an inspiring beauty. Langkisau peak is an area of excellent Pessel which have tourism potential that should be developed, because this area is at a height so that people who visit will be able to see the beautiful scenery and fascinating about the city Painan and Sago District IV of Jurai. At night, will be more lively enchanted by beautiful night scenery that…
---
  Siberut Island Becomes part of Mentawai Islands, Siberut is the largest island at the northernmost and becomes the main important island for Mentawai People.  The Mentawai tribe still maintains the lifestyle and traditions passed down from their ancestors from thousands of years ago. They live in houses locally called 'uma', made from wooden scaffolds which house contains several families each. Siberut is located in the Indian Ocean, approximately 100 km off the west coast of West Sumatra, and separated from the main island by the Mentawai Strait. The island…
---
Sawahlunto is one of provinces in Indonesia, precisely in West Sumatera, Indonesia. This town is located in 95KM Northeast of Padang and surrounded by 3 districts in West Sumatera, which is Tanah Datar, Solok and Sijunjung. Sawahlunto is divided into 4 sub-districts and it has 273,45 km², with populated by 54.000 people. During Dutch civilization, Sawahlunto was popular as coal mining town. After being a death town, during the closing of the mining, Sawahlunto nowadays becomes the growing city with multi-ethnicity inside the community, and awarded as the best old…
---