Siberut Island
---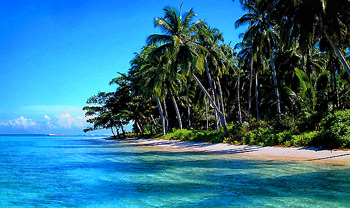 Siberut Island (4.030 km sq) is the largest island of four islands in the Mentawaian archipelago. It is located about 155 kilometers of West Sumatra coast, across the Mentawaian strait. The Mentawaian islands belong administratively to Padang Pariaman Regency in West Sumatra Province. Siberut is divided into two districts: North and South Siberut with administrative centers at Muara Sikabaluan and Muara Siberut which also service as respectively market centers of Siberut.
We can meet the indigenous Mentawai people who live close to nature and still live in comparative isolation, maintaining their age-old ways. Its virgin rainforest, is inhabited by a number of animal species that cannot found anywhere else in the world, among them some rare monkey species, pleasant surprises wait to explore.
The island also offers continuous spectacular white sand beaches with shallow shelves jutting out to the sea and fringing coral reefs, excellent for snorkeling and leisure a luxury for most of the islanders. It can only be found a few coastal communities. We will be rewarded with stunning views and beautiful jungles abounding with unique plant and wildlife. Browse Asda Offers on Offers This Week. The real highlight of our journey though, is the chance to meet the Siberut people, traditionally hunter, gatherer clans who are now coming into contact with the modern world. We will stay as guests of a local Kerei (medicine -man) in the Uma (traditional family house). Here, where conditions are basic, we will gain a unique insight into the lives of these people who maintain a belief system based on living in total harmony with nature.
Siberut island recently received international attention as a priority conservation area, for the unique culture of the ethnic Mentawaian and endemic of its biodiversity that need to be preserved. Although the island has plenty to offer, the potential has not been utilized fully especially for tourism. Most visitors to the island are only interested to see the culture at the indigenous tribes, such as the communal clan life in the traditional UMA house along the riverbanks.
Siberut National Park occupies the western half of the island, ranging from the northern coasts. At present the Integrated Biodiversity Conservation Project organized by PHPA, MOF, together with local government, local NGOs and other institutions, conducts the community based conservation program.
Topography and Climate
Siberut Island is characterized by a wet equatorial climate, with minimum and maximum temperatures of 22o C (71.6F) and 31o C (87.8F). The dry season is from February to June and the raining season is from July to January. Siberut is hilly with wide variations in elevation. Almost 60% is covered by tropical rain forest with many forest types such as: primary dipterocarp forest, primary mixed forest, swamps forest, Barrington forest and mangrove forest. Also, there are many rivers on the islands with a complex system of tributaries.

Latest News
What do tourists know about Bukittinggi City? Well, most of them recognize it as the capital of West Sumatra Province belongs to Indonesia. Some of them are even aware of its tourism potential, so they keep coming to the region over time, especially during long holidays. Not only it becomes the governmental center of West Sumatra, the city was once the capital of West Sumatra and Sumatra Province! Moreover, in the past, it was called Fort de Kock and known as the birthplace of a famous person named Mohammad Hatta…
---
  Langkisau peak tourism object is located at the edge of the koto Painan with a height of about 500 meters above sea level and it offers an inspiring beauty. Langkisau peak is an area of excellent Pessel which have tourism potential that should be developed, because this area is at a height so that people who visit will be able to see the beautiful scenery and fascinating about the city Painan and Sago District IV of Jurai. At night, will be more lively enchanted by beautiful night scenery that…
---
  Siberut Island Becomes part of Mentawai Islands, Siberut is the largest island at the northernmost and becomes the main important island for Mentawai People.  The Mentawai tribe still maintains the lifestyle and traditions passed down from their ancestors from thousands of years ago. They live in houses locally called 'uma', made from wooden scaffolds which house contains several families each. Siberut is located in the Indian Ocean, approximately 100 km off the west coast of West Sumatra, and separated from the main island by the Mentawai Strait. The island…
---
Sawahlunto is one of provinces in Indonesia, precisely in West Sumatera, Indonesia. This town is located in 95KM Northeast of Padang and surrounded by 3 districts in West Sumatera, which is Tanah Datar, Solok and Sijunjung. Sawahlunto is divided into 4 sub-districts and it has 273,45 km², with populated by 54.000 people. During Dutch civilization, Sawahlunto was popular as coal mining town. After being a death town, during the closing of the mining, Sawahlunto nowadays becomes the growing city with multi-ethnicity inside the community, and awarded as the best old…
---