Maninjau Lake
---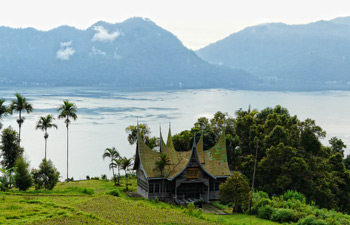 Maninjau Lake is settled in district of Tanjung Raya, Agam, West Sumatra, Indonesia. The lake is located about 140 kilometers north of Padang, the capital city of West Sumatra, 36 kilometers from Bukittinggi, 27 kilometers from Lubuk Basung, the capital of Agam regency.
The splendid Lake Maninjau in West Sumatra, is one of the calmest places in Indonesia. Come to this ancient lake, set within a volcanic crater, to escape from the crowds and hustle and bustle of the rest of the country.
Maninjau is a volcanic lake that located at an elevation of 461.50 meters above sea level, while the extensive is approximately 99.5 km² and has a maximum depth of 495 meters. The basin is formed by the eruption of the mountain named Sitinjau (according to local legend), it can be seen from the shape of the hills around the lake that resembles like a wall. According to the legend in Minang, where Maninjau is closely related to the story of Bujang Sembilan. The legend of "Bujang Sembilan" (roughly translates as "Nine Young Men") is based around this lake. According to local folklore, one of the men in the story died by plunging himself into the crater. The crater then expanded, forming a lake.
Lake Maninjau is a source of water to the river named Batang Sri Antokan. In one part of the lake which is the upstream part there is a Hydropower Maninjau. The highest peak around Lake Maninjau is known as the peak of Lawang. To achieve Maninjau from Bukittinggi by passing Kelok 44 along approximately 10 km from Ambun Pagi to Maninjau.
With inspiring scenery and peaceful surrounds, a visit to Lake Maninjau will leave you relaxed and rejuvenated. Browse Tesco Offers on Offers This Week. If you're looking for fantastic views, the Maninjau resort is perched at the top of a hill and offers some of the best views of the lake.
This lake is listed as the eleventh largest lake in Indonesia. Meanwhile, in West Sumatra, Maninjau is the second largest lake after Lake Batur which has an area of 129.69 km² and it located in two districts of Tanah Datar and Solok district. Around Lake Maninjau there are tourist facilities, like hotels, as well as lodging and restaurant.

Latest News
What do tourists know about Bukittinggi City? Well, most of them recognize it as the capital of West Sumatra Province belongs to Indonesia. Some of them are even aware of its tourism potential, so they keep coming to the region over time, especially during long holidays. Not only it becomes the governmental center of West Sumatra, the city was once the capital of West Sumatra and Sumatra Province! Moreover, in the past, it was called Fort de Kock and known as the birthplace of a famous person named Mohammad Hatta…
---
  Langkisau peak tourism object is located at the edge of the koto Painan with a height of about 500 meters above sea level and it offers an inspiring beauty. Langkisau peak is an area of excellent Pessel which have tourism potential that should be developed, because this area is at a height so that people who visit will be able to see the beautiful scenery and fascinating about the city Painan and Sago District IV of Jurai. At night, will be more lively enchanted by beautiful night scenery that…
---
  Siberut Island Becomes part of Mentawai Islands, Siberut is the largest island at the northernmost and becomes the main important island for Mentawai People.  The Mentawai tribe still maintains the lifestyle and traditions passed down from their ancestors from thousands of years ago. They live in houses locally called 'uma', made from wooden scaffolds which house contains several families each. Siberut is located in the Indian Ocean, approximately 100 km off the west coast of West Sumatra, and separated from the main island by the Mentawai Strait. The island…
---
Sawahlunto is one of provinces in Indonesia, precisely in West Sumatera, Indonesia. This town is located in 95KM Northeast of Padang and surrounded by 3 districts in West Sumatera, which is Tanah Datar, Solok and Sijunjung. Sawahlunto is divided into 4 sub-districts and it has 273,45 km², with populated by 54.000 people. During Dutch civilization, Sawahlunto was popular as coal mining town. After being a death town, during the closing of the mining, Sawahlunto nowadays becomes the growing city with multi-ethnicity inside the community, and awarded as the best old…
---