Polewari Mandar Regency
---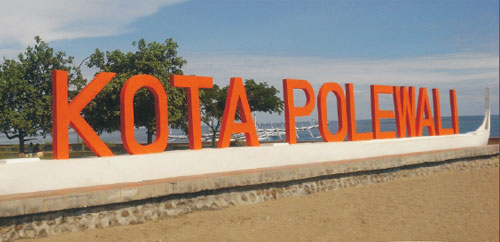 Polewari Mandar is one of regencies in West Sulawesi, while the capital city is Polewari. The population in Polewali Mandar is about 455,572 inhabitants. Before it became Polewari Mandar, this area was known as Polewali Mamasa Regency or abbreviated by Polmas, which was administratively part of South Sulawesi province. After divided into establishment, Mamasa was become the separate district and Polewali Mamasa was changed into Polewari Mandar. It was officially appointed since January 1, 2006.
Date back to the early begin, in colonial times, Polewali Mandar was part of the 7 areas of government known as Afdeling Mandar which includes four Onder section, which was: Onder Afdeling Majene with the capital of Majene, Onder Afdeling Mamuju with the capital of Mamuju, Onder Afdeling Polewali with the capital of Polewali and Onder Afdeling Mamasa with the capital of Mamasa. Onder Afdeling Majene, Mamuju and Polewali were lies along the western coast of Sulawesi Island, covers 7 areas kingdom (Unity Customary Law), known by the name of Pitu Baqbana Binanga (Seven Kingdom at River Estuary).
Polewari Mandar has some potential things regarding the way of life of the inhabitant. For instance, in agriculture, Polewari Mandar has excellent commodity in rice and any other field crops, including maze, soybean, and cassava. Besides, green beans, peanuts, and sweet potatoes are also encouraged. In hortikulture, Polewali Mandar also relies on durian, mangosteen, mango, and rambutan.
As resources development, plantation has a very large role in many aspects: economic, ecological, and social. In economic terms, the plantation sector can increase people's income and regional income, which has implications for the social security. As for the ecological aspect, this sector plays a major role in ensuring the environmental balance which also impacted on the social aspects of development or social change.
By located in strategic area and has large enough area for plantation, it become the economic potential gain for the regency. Recently, agricultural products such as cocoa, coffee, coconut, clove, hazelnut, and cashew are still very reliable as the leading commodity in Polewali Mandar.
In the field of forestry, Polewali Mandar referred to succeed through participation and active role of society, without neglecting the importance of protecting forests. Between communities and governments are together use forest products and develop them for the common welfare. As a result, the potential commodity such as rattan, pine, rosin, and wood, is being keep in empower.
The commodity in livestock is also potentially growth in proper way. The climate in Polewar Mandar is properly suitable for a large cultivation livestock like cows, buffaloes and horses. It has also small livestock population like goat, fowl and pig. In industry, the commodity in Polewali Mandar is about cooking oil, silk, boat, rattan polish, and machinery. While in mining, Polewali Mandar set in category C which is copper, iron ore, granite and sienit, mica, clay, quartz and zeolite.
In tourism sector, Polewali Mandar also has great potential compared to other areas in West Sulawesi. Among of, it has marine tourism, nature tourism, cultural tourism, and handicrafts center which lies on several districts. The famous tourism object are Bahari beach, Indo Ranoang waterfall and Limbong spring, Limbong Miala waterfall, Limbong Kamandan, Sekka-sekka and Lopi Sandeq.

Latest News
If you are visiting Polewali Mandar, it's a good idea to play around at Limbong Kamandang Waterfall. This waterfall is located in Kurrak Village, Tapango District, Polewali Mandar Regency, West Sulawesi.Departing 35 kilometers from Polewari Mandar City, Limbong Kamandang Waterfall stretches to offer its stunning natural charm.The natural panorama in this area is very beautiful and natural. The cool air, the shade of the trees, is even more beautiful with the waterfall curtain that rises about 100 meters high.The beauty of Limbong Kamandang Waterfall can be seen very clearly from…
---
Karampuang Island is a beautiful island located in Karampuang Village, Mamuju District, Mamuju Regency, West Sulawesi Province. By boarding the ship as the only means of transportation to Karampuang Island from the port of Mamuju, visitors can already enjoy the beauty of island which is also known as the crocodile island by the local community because of its shape similar to the reptile when viewed from above. Even though ships are the only access to go to Karampuang Island, activities from Mamuju city to Karampuang Island have never been lonely.…
---
  Polewali Mandar Regency becomes increasingly popular these days, especially due to the presence of Tonyaman Archipelago. However, people have other reasons for visiting the region! These include the interest in local culture and tradition. Not only Polman becomes the home of Mandar Tribe, but it also offers various interesting traditions that tourists can enjoy during the visit. In fact, it may require much time to enjoy all these traditions as there are many of them. Plus, tourists need the help of a local guide who can explain thoroughly regarding…
---
Dato Beach, Majene or better known as Pantai Pasir Putih Dato Pangele, is located at 7 kilometer from the City of Majene, West Sulawesi. To go to this resort, we use private vehicles or rental vehicles, about 15 minutes from the town of Majene. The road is quite smooth, and we will pass through a small forest and gardens. After arriving at beach's parking lot, we have to go for 20 meters down the cliff through the stone stairs. The beauty of Dato beach is divided into two parts: the…
---