North Mamuju Regency
---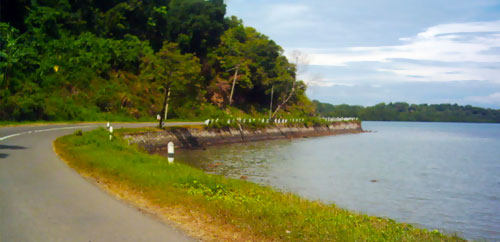 North Mamuju regency with its capital Pasangkayu is the youngest regency and located in West Sulawesi upstate, North Mamuju regency is the result of spin-offs from Mamuju regency. While from Palu, the capital of Central Sulawesi with the distance about 130 Km, it through about 3 hours. The wide of North Mamuju regency region is 3043,75 Km2.
Geographically,
North Mamuju regency lay between 3o 39 to 4o 16 South Latitude and 119o 53 to 120o 27 East Longitudes with regional boundaries:
North side: Donggala regency and Sulawesi Province
South side: Mamuju regency
East side: North Luwu regency
West side: Makassar Strait
North Mamuju regency is the alliance of Pasangkayu district with Sarudu district, Baras, and previous Bambalamotu become the Mamuju regency part before bloomed in 2001. Distance that is relative has near by that pass the time going through 8-9 hours. The condition of the road is about 30 % is result much time castaway. Most of of the road surface consisted of gravel mixed soil.
In economics aspect, Matra has depended on the agriculture sector. The contribution agriculture to domestic product regional gross (PDRB) North Mamuju in 2002 is noted of Rp 238,67 billions. This is the equivalent value with 78,32 % economic activity total Rp 304,72 billions. In sector agriculture, plantations become main driving wheel. Economic activity in plantation area yield not less than 195,62 billions.
Breeding Sector
The development of breeding sub sector is pointed to increase population and livestock production to fulfill the consumption of nourishment public would, side that also applied to increase breeder earnings. It is between population of livestock growing in North Mamuju regency is ox livestock, buffalo, goat and sheep. While for poultry type is race chicken, local chicken and duck.
Plantation Sector
Plantation crop production in North Mamuju regency hardly potential with the oil coconut commodity with broadly area about 15000 ha. Beside that it is also has cacao plantation area about 16000 hectares, while the clove about 145 hectares and coconut in broadly about 4100 hectares.
From the data in 2002 absorbent labors at this plantation at least 4200 farmers, out of 4158 productive trees is yielded of 4794 coconut tons. Its marketing area is Surabaya. Coconut is sent to East Java province through public port in Sarudu. Besides suited for plantation crop, Abbreviation dimension from Northy Mamuju is hardly suited for sweet orange cultivated. This crop grows either in Pasangkayu, Sarudu and Baras district. It wide area is 1.026.250 Ha and there is around one million trees yielding 94942 orange tons. Its marketing area is Surabaya, Samarinda and Manado being ship through Belang-belang Port in Mamuju regency.

Latest News
If you are visiting Polewali Mandar, it's a good idea to play around at Limbong Kamandang Waterfall. This waterfall is located in Kurrak Village, Tapango District, Polewali Mandar Regency, West Sulawesi.Departing 35 kilometers from Polewari Mandar City, Limbong Kamandang Waterfall stretches to offer its stunning natural charm.The natural panorama in this area is very beautiful and natural. The cool air, the shade of the trees, is even more beautiful with the waterfall curtain that rises about 100 meters high.The beauty of Limbong Kamandang Waterfall can be seen very clearly from…
---
Karampuang Island is a beautiful island located in Karampuang Village, Mamuju District, Mamuju Regency, West Sulawesi Province. By boarding the ship as the only means of transportation to Karampuang Island from the port of Mamuju, visitors can already enjoy the beauty of island which is also known as the crocodile island by the local community because of its shape similar to the reptile when viewed from above. Even though ships are the only access to go to Karampuang Island, activities from Mamuju city to Karampuang Island have never been lonely.…
---
  Polewali Mandar Regency becomes increasingly popular these days, especially due to the presence of Tonyaman Archipelago. However, people have other reasons for visiting the region! These include the interest in local culture and tradition. Not only Polman becomes the home of Mandar Tribe, but it also offers various interesting traditions that tourists can enjoy during the visit. In fact, it may require much time to enjoy all these traditions as there are many of them. Plus, tourists need the help of a local guide who can explain thoroughly regarding…
---
Dato Beach, Majene or better known as Pantai Pasir Putih Dato Pangele, is located at 7 kilometer from the City of Majene, West Sulawesi. To go to this resort, we use private vehicles or rental vehicles, about 15 minutes from the town of Majene. The road is quite smooth, and we will pass through a small forest and gardens. After arriving at beach's parking lot, we have to go for 20 meters down the cliff through the stone stairs. The beauty of Dato beach is divided into two parts: the…
---