Mamuju Regency
---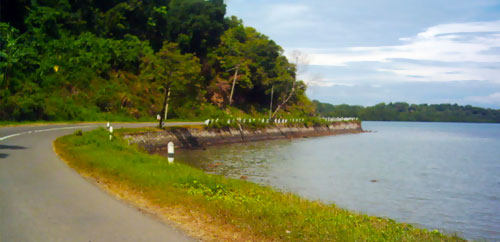 Mamuju is the capital city of West Sulawesi Province and also the regency of the same area. This city is located in the middle of chocolate-covered hills, curvaceous hills along 500 km after Barru regency in South Sulawesi.
The city is located between Palu (Central Sulawesi) and Makassar (South Sulawesi). This capital become the economic or even cultural bridge between Palu and Makassar. Mamuju also such portraits of the two areas, because the dominant ethnic population Mandar are live in this city, with some small sub-ethnic, such as Bugis, Toraja, Makassar, and Java.
Like many places in West Sulawesi, Mamuju is a predominantly Muslim city, with many mosques throughout. However, Christianity has established a presence with several churches in this town. Buddhism is an extremely small contingent of the peoples faith and Hinduism is realistically a blend of adat and Islam.
Agriculture in this area includes nangka (jackfruit), rambutan, durian, rice and bananas. Meanwhile, forest is one of the characteristics of Mamuju. Forests in Mamuju have function as water catchment areas and tourist attractions.
How to get there
If you plan to fly to Mamuju from other parts of the country, then you must first make your way to Makassar. This is because the only direct flight to Mamuju's Ahmad Kirang Airport in Tampa Padang, Mamuju Regency is served by Wings Air which flies daily from Makassar to Mamuju. Other airlines may offer flights to Mamuju from other cities but through connecting flights. From the airport, downtown Mamuju is approximately 30Km away and can be reached by rented or chartered car or public mini buses.
If you wish to try the overland course, the trip from Makassar to Mamuju will take about 8 to 10 hours. Although it is a long drive, you will be presented with some of the most magnificent views of shorelines and mountain ranges through the regencies of Polewali Mandar, and Majene. If you wish to take public transportation, you can take the Makassar-Mamuju buses from Makassar Bus Terminal with costs ranging from IDR100.000 to IDR125.000 and the trip will take 10 to 12 hours.

Latest News
If you are visiting Polewali Mandar, it's a good idea to play around at Limbong Kamandang Waterfall. This waterfall is located in Kurrak Village, Tapango District, Polewali Mandar Regency, West Sulawesi.Departing 35 kilometers from Polewari Mandar City, Limbong Kamandang Waterfall stretches to offer its stunning natural charm.The natural panorama in this area is very beautiful and natural. The cool air, the shade of the trees, is even more beautiful with the waterfall curtain that rises about 100 meters high.The beauty of Limbong Kamandang Waterfall can be seen very clearly from…
---
Karampuang Island is a beautiful island located in Karampuang Village, Mamuju District, Mamuju Regency, West Sulawesi Province. By boarding the ship as the only means of transportation to Karampuang Island from the port of Mamuju, visitors can already enjoy the beauty of island which is also known as the crocodile island by the local community because of its shape similar to the reptile when viewed from above. Even though ships are the only access to go to Karampuang Island, activities from Mamuju city to Karampuang Island have never been lonely.…
---
  Polewali Mandar Regency becomes increasingly popular these days, especially due to the presence of Tonyaman Archipelago. However, people have other reasons for visiting the region! These include the interest in local culture and tradition. Not only Polman becomes the home of Mandar Tribe, but it also offers various interesting traditions that tourists can enjoy during the visit. In fact, it may require much time to enjoy all these traditions as there are many of them. Plus, tourists need the help of a local guide who can explain thoroughly regarding…
---
Dato Beach, Majene or better known as Pantai Pasir Putih Dato Pangele, is located at 7 kilometer from the City of Majene, West Sulawesi. To go to this resort, we use private vehicles or rental vehicles, about 15 minutes from the town of Majene. The road is quite smooth, and we will pass through a small forest and gardens. After arriving at beach's parking lot, we have to go for 20 meters down the cliff through the stone stairs. The beauty of Dato beach is divided into two parts: the…
---