Majene Regency
---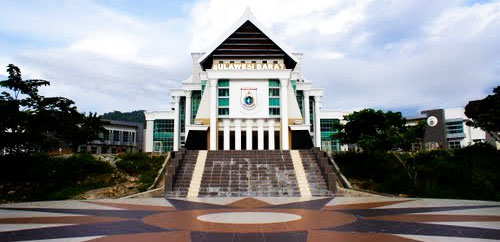 Majene is one of regency in West Sulawesi Province; Majene Regency has strategic position, which is located about 302 km north of Makassar.
Geographically, Majene has border with Majene district in the North, the South side is bordered by the Gulf Mandar, west of Makassar Strait and in the east with Polmas district.
Beach is the most destinations that dominated some districts such as Dato Pangalle in District Baurung which was developed since 1996, there is also Marine Park and tourists can dive, fishing or boating along the coast. Other beach is like Rangkas beach and Maluno beach.
Another object is Limboro hot spring which is located in DesaTallu Banua, Sendana District, about 46 km from downtown Majene. This place is having 100 m2. The hot water in this spring is able to healing various skin diseases. There is also historical site like the tomb of the Mandar kings and The Hadat Banggae.
This place is the home of Mandar ethnic, and had disappeared for decades. In 1930-1980 Majene was famous by the home of great sailor man that had sandeq boat. Sandeq is Mandar's traditional sailboat. At glance, Sandeq is seems fragile, but underneath it was stored agility. It has 7-11 meters long with 60-80 inches wide. On the left and right side there is bamboo outrigger mounted as a counterweight. Sandeq is relying on the impulse wind which is caught by triangular screen. The screen was able to push Sandeq up to a speed of 20 knots.
The indigenous that live in Majene is Mandar people. The word Mandar has some meanings like, mutually enforcing, Mandar is also refer to the river or a sparsely populated place. Mandar people have particular cultures and all of those are unique. In Music, Mandar people have hythm of the music in the songs which reflected the specific marine settings. The sound of dynamic waves, fine white sand and the wind, those make the songs in Mandar that tend to be exotic, romantic, and sentimental.
Regarding the dance, Mandar dances is like any other dances in Sulawesi, it was initially started from the palace. However, the dances that functioned as part of the empire eventually became ritual folk dance that not only aims to provide a sense of respect for the king as a representation of the gods, but a dance of the people who provide healthy entertainment.
Mandar language also comes from the Polynesian language or Malay language or more often referred to be the mother of Indonesian language.

Latest News
If you are visiting Polewali Mandar, it's a good idea to play around at Limbong Kamandang Waterfall. This waterfall is located in Kurrak Village, Tapango District, Polewali Mandar Regency, West Sulawesi.Departing 35 kilometers from Polewari Mandar City, Limbong Kamandang Waterfall stretches to offer its stunning natural charm.The natural panorama in this area is very beautiful and natural. The cool air, the shade of the trees, is even more beautiful with the waterfall curtain that rises about 100 meters high.The beauty of Limbong Kamandang Waterfall can be seen very clearly from…
---
Karampuang Island is a beautiful island located in Karampuang Village, Mamuju District, Mamuju Regency, West Sulawesi Province. By boarding the ship as the only means of transportation to Karampuang Island from the port of Mamuju, visitors can already enjoy the beauty of island which is also known as the crocodile island by the local community because of its shape similar to the reptile when viewed from above. Even though ships are the only access to go to Karampuang Island, activities from Mamuju city to Karampuang Island have never been lonely.…
---
  Polewali Mandar Regency becomes increasingly popular these days, especially due to the presence of Tonyaman Archipelago. However, people have other reasons for visiting the region! These include the interest in local culture and tradition. Not only Polman becomes the home of Mandar Tribe, but it also offers various interesting traditions that tourists can enjoy during the visit. In fact, it may require much time to enjoy all these traditions as there are many of them. Plus, tourists need the help of a local guide who can explain thoroughly regarding…
---
Dato Beach, Majene or better known as Pantai Pasir Putih Dato Pangele, is located at 7 kilometer from the City of Majene, West Sulawesi. To go to this resort, we use private vehicles or rental vehicles, about 15 minutes from the town of Majene. The road is quite smooth, and we will pass through a small forest and gardens. After arriving at beach's parking lot, we have to go for 20 meters down the cliff through the stone stairs. The beauty of Dato beach is divided into two parts: the…
---