Ullen Sentalu Museum in Sleman Regency, Yogyakarta Special Region
---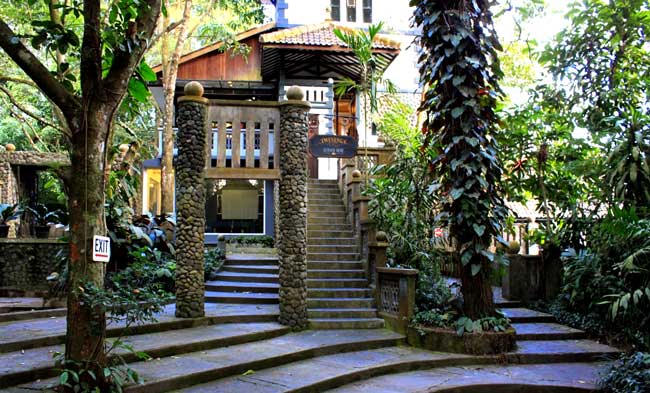 In Kaliurang Area of Sleman Regency, tourists may find a famous museum called Ullen Sentalu. All tourists won't miss the chance to drop by in the museum when exploring Kaliurang during the holidays. The location is in Pakembinangun Village and it belongs to Pakem Sub-District. The museum resides on a highland, so it offers a nice mountain atmosphere to visitors. As for the function, it is meant to keep the Javanese cultural collections and items. The popularity is excellent! Even foreigners have acknowledged it! Some famous sites even once called it the best museum in Indonesia!
The Nuance
Once arriving at Ullen Sentalu Museum, tourists would feel the rejuvenating air right away. This soothing ambiance combines well with a nice panorama. As for the appearance, the museum has a vernacular architecture and it merges well with nature. No wonder, lots of trees and green plants surround that area. Some keepers are seen on the site and they provide a professional and excellent service. What is inside? Some rooms are available and each of it keeps different collections. Have no worries. Several guides are available for tourists to hire on the site. The purpose is to get detailed information regarding the items and to get better directions when exploring the building.
Exploring Ullen Sentalu Museum
For the information, the museum was inaugurated in 1997 and it has accumulated lots of historical collections of Mataram Kingdom. No wonder, some items are more popular than others. In Sasana Sekar Bawana room, for example, tourists may find many paintings of Mataram King! Lots of other objects can also be found there including traditional music instruments, photos, batik fabrics, and much more! All of them are arranged well, so tourists would be able to watch them in a more comfortable manner.
It is true that Ullen Sentalu Museum has several rooms that offer different collections. Therefore, tourists must explore them all. In the welcome room, they can rest for a while before the exploration. Next, they must enter Gamelan and Dance room. This room displays traditional Javanese music instruments, for sure. Next, there is Guwa Sela Giri room where some documentation and paintings are kept. The location is in the underground, though.
Is that all? Other rooms are available to explore. Next, it would be Balai Sekar Kedaton where much poetry is stored. After that, it is recommended to enter Ratu Mas Royal room. This special chamber is meant for Sunan Paku Buwana X's empress, actually. As for other rooms, these include Batik Vorstendlanden, Batik Pesisiran, and Putri Dambaan room. Thus, make sure to explore them all later.
Nearby Attractions

Kaliurang Park
Kaligriya
Turgo Village
Gardu Pandang Park
Tlogo Putri
How to Get There
It is easy to get to UIlen Sentalu Museum. What tourists need to do is to reach Yogyakarta City first. From outside the region, it is recommended to take an airplane to get there. For example, a flight from Jakarta City (Soekarno – Hatta International Airport) to Yogyakarta (Adisucipto Airport) usually takes around 1 hour and 10 minutes. After arriving at the destination, they must take Padjajaran Street and head to Sleman Regency. The distance is 9.9 km, so the trip may take around 16 minutes. From Sleman, the next destination is Pakembinangun Village at Pakem Sub-District where the museum is located. This trip takes approximately 34 minutes, as the distance is 16.9 km. For the fastest trip, it is recommended to take Kaliurang Street.
Where to Stay

K Hotel
Akasa Hotel
Wijaya Hotel
Kaliurang Cahaya Lodging
Wisma Kaliurang