Sari Temple in Sleman Regency, Yogyakarta Special Region
---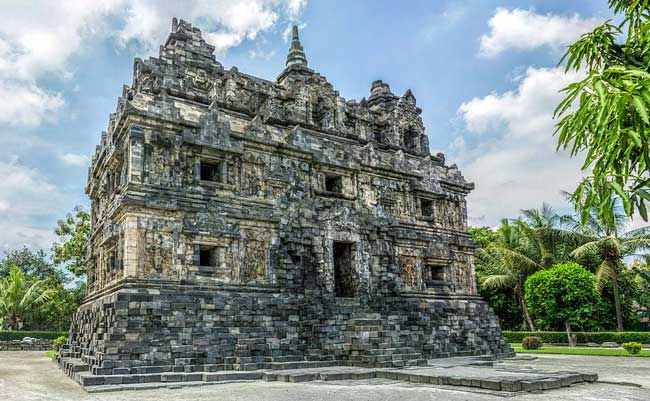 Lots of attractive temples are scattered in different parts of Sleman Regency. For example, there is the Sari Temple in Kalasan Sub-District. The exact location is in Bendan Village and it is called Bendan Temple, too. Even though this Buddha Temple is not as famous as the Prambanan Temple, the number of visitors is increasing these days. It is because people are interested in both the structure and nuance. Lots of carvings and statues become the prime allures of the temple. They look both beautiful and majestic! As for the history, it is said the temple was built in the same era as Kalasan Temple, which was in the 8th Century.
The Nuance
This single temple is surrounded by beautiful gardens and trees. No wonder, visitors would feel comfortable during the visit and exploration. The design is similar to a house and it features both doors and houses. The carvings are similar to those of Plaosan Temple. It has three chambers with a similar size. The design is layered and the walls are dominated by both statues and carvings! According to the locals, there are about 36 carvings on it! Both the shape and sizes vary, too. This explains why photography becomes the prime thing to do during the visit.
Exploring Sari Temple
Sari Temple lures many tourists due to various reasons. For example, visitors want to learn history. They can simply ask the keeper or local guide to get the information about it. Not to mention numerous stories and legends are also available. In fact, each detail of the carvings tells a different story! The first renovation was in 1929 and it becomes more beautiful since then. Next, after learning the history, photo hunting becomes the next popular thing to do on the site. Tourists can simply take photos of the temple and its carvings. It is recommended to take selfies in front of the temple, without a doubt.
Those who visit Sari Temple can also enjoy a casual activity like bicycling! Tourists can either carry their bike to the site or rent one, actually. During biking, they can even visit other nearby temples like Plaosan, Prambanan, Kalasan, and Sambisari Temple. It is because the location is close to each other. After biking, they should roll out a mat and conduct eating together either with families or friends. As long as they take care of the trash afterward, they are good to go.
The next recommended thing to do in Sari Temple is to meet villagers who live near to the site. These people know information and history related to the temple, as well. This is a cheaper way to get the story than hiring a local guide, isn't it? Have no worries. The locals are both friendly and open to outsiders, so everyone can approach them easily.
Nearby Attractions

Kalibening
Omah Teh
Sojiwan Temple
Mangunan Tourist Village
How to Get There
For those coming from Jakarta City, they should take an airplane service and head to Yogyakarta right away. For the information, a flight from Soekarno – Hatta International Airport to Adisucipto Airport would take approximately 1 hour and 10 minutes. Once tourists arrive at Yogyakarta, they should take Padjajaran Street and head to Sleman Regency. This trip would take about 16 minutes, as the distance is 9.9 km. From Sleman, the next destination is Tirtomartani Village at Kalasan Sub-District where Sari Temple is located. The distance is 15.6 km, so the trip would take around 22 minutes. First, tourists must take Padjajaran Street. Next, they can simply take Raya Solo – Yogyakarta Street.
Where to Stay

Soegi Villa
Quin Colombo Hotel
Miyagi Hotel
Edotel Hotel
Star Homestay
Airy Hotel