Gunung Merapi Museum in Sleman Regency, Yogyakarta Special Region
---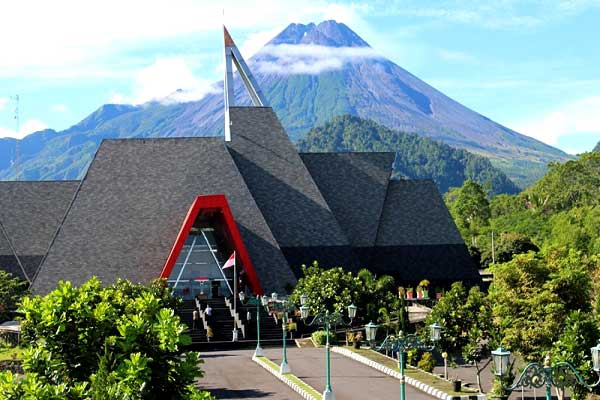 Sleman Regency is known for its beautiful highlands especially Kaliurang Tourist Site. However, tourists can also find some good places to get knowledge and worthy information during a vacation. For example, they should visit Gunung Merapi Museum in Pakem Sub-District. The exact location is in Hargobinangun Village! This historical museum suits those who look for both education and fun during the visit. In a nutshell, the museum offers information regarding volcanoes and geology-related disasters. Thus, parents can introduce their kids to those matters while spending a family recreation, too. It indeed becomes a worthy place for everyone.
The Nuance
In terms of nuance, Gunung Merapi Museum is considered peaceful. The museum is built on an area of about 3.5 hectares and the main building has the total size of about 4,470 meters per square. It has a vast parking area and yard. In front of it, a beautiful garden with various plants and flowers reside. When it comes to architecture, it looks like a pile of pyramids! Inside, tourists would find several rooms that have a different theme. Have no worries. Both the facilities and services are excellent there.
Exploring Gunung Merapi Museum
First things come first. Everyone should know the history of Gunung Merapi Museum by asking either the keepers or local guides. It is said the museum was built in 2005 by the government. However, the inauguration was in 2009. The purpose is indeed to educate visitors regarding volcanoes, especially the famous Merapi Volcano. In the panels, tourists are able to learn different types of volcanoes all over the world! Not to mention some artifacts, eruption photos, and other educative objects are kept safely there.
In a nutshell, Gunung Merapi Museum offers information like volcanoes, earthquakes, geological processes, and much more! Once entering the museum, tourists are allowed to explore all parts of the building. The site has two floors, actually. In the first floor, numerous types of earthquake props, volcano philosophies, and valuable objects related to Merapi Mountain and other volcanoes reside there.
Once tourists get to the second floor, they may find some displays of Merapi Volcano eruptions and Tsunami props. In that area, tourists may find a room that plays films related to volcanoes. For the information, the museum opens early in the morning! Thus everyone should not miss the chance to drop by later. More facilities can be found as well, including a canteen, souvenir shops, toilets, audio-visual rooms, etc!
Nearby Attractions

Ledok Sambi
Lembah Bendo Camping Ground
Agro Tourism Bhumi Merapi
Omah Petroek
How to Get There
From Jakarta City, it is recommended to take the fastest and simplest transportation service to reach Yogyakarta City. It is none other than an airplane! Usually, a flight from Soekarno – Hatta International Airport to Adisucipto Airport would take around 1 hour and 10 minutes. Once tourists arrive at Yogyakarta, they can simply take Padjajaran Street and head to Sleman Regency. This trip may take around 16 minutes as the distance is 9.9 km! Next, from Sleman, they must take Kaliurang Street and head to Gunung Merapi Museum right away. The distance is 14.7 km, so this trip would take approximately 31 minutes.
Where to Stay

Wisma Duta Wacana
Mayoni Inn
Mentari Inn