Tlogo Muncar Waterfall in Sleman Regency, Yogyakarta Special Region
---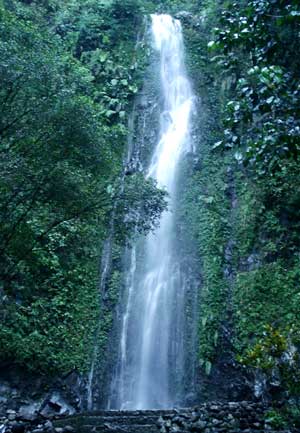 When it comes to nature tourism, Sleman Regency is indeed proud of their Kaliurang Tourist Area. After all, this place becomes the home of tons of natural attractions including the famous Tlogo Muncar Waterfall. This beautiful and serene waterfall is located in Hargobinangun Village at Pakem Sub-District. The serenity is perfect and the refreshing nuance helps visitors to get rid of their stresses. Moreover, the site features some nice facilities to satisfy tourists. Aside from relaxation, people would enjoy other activities there including natural exploration, photography, and family recreation. So, what about the appearance?
The Nuance
Tlogo Muncar Waterfall is located in a secluded area and in the midst of lush tall trees. Despite the fact, the accessibility is easy so everyone can find the site without hassles. Due to the seclusion, the nuance is definitely peaceful and rejuvenating. For the information, the waterfall is located 878 meters above sea level. This explains the water feels cold! As for the water discharge, it is considered strong, so tourists are not recommended to take a shower under it. According to the locals, the height is around 40 meters! This looks quite majestic indeed. Another feature is the presence of some wild monkeys who often drop by on the site. Have no worries. They won't disturb visitors.
Exploring Tlogo Muncar Waterfall
The most common reason for visiting Tlogo Muncar Waterfall is related to the serenity. People are looking for a peaceful ambiance to relieve their mind and body. The sound of gurgling water and songs of birds help everyone to get rid of their stresses, in fact. For the best atmosphere, in this case, it is recommended to come either in the morning or afternoon. The air feels fresher and the number of visitors is less at those times.
Well, it is true that Tlogo Muncar Waterfall has a strong water discharge. That means taking a shower or playing water are not recommended. Instead, visitors can enjoy photography during the visit. They can simply take photos of the waterfall itself or take selfies in front of it. Moreover, many other interesting objects can be a nice background for photography. These include the lush trees, other visitors, local kids, monkeys, etc.
What is next? For those carrying snacks like peanuts, they can lure the monkeys to get close to them. These animals look cute! Don't forget to take photos of them, too, later. After that, it is recommended to explore the site for more fun. That area even features a recreational park for kids! Located near to the waterfall, a swimming pool also resides. Not to mention a camping ground is available for those who want to spend the night in nature.
Nearby Attractions

Ullen Sentalu Museum
Merapi Volcano Museum
The Lost World Castle
Tlogo Putri
Elang Jawa Monument
How to Get There
The best way to get to Yogyakarta City is indeed by airplane, especially for outsiders. In this case, those who live in Jakarta City should take an airplane at Soekarno – Hatta International Airport and head to Adisucipto Airport right away. Usually, the flight may take around 1 hour and 10 minutes. Later, after arriving at the destination, tourists can directly reach Sleman Regency by taking Padjajaran Street. The distance is 9.9 km, so the trip may take around 16 minutes. Once reaching Sleman, the next destination is Hargobinangun Village at Pakem Sub-District where Tlogo Muncar resides. The best route is Kaliurang Street and the distance is 17.3 km. Thus, this trip would take around 35 minutes.
Where to Stay