Affandi Museum in Sleman Regency, Yogyakarta Special Region
---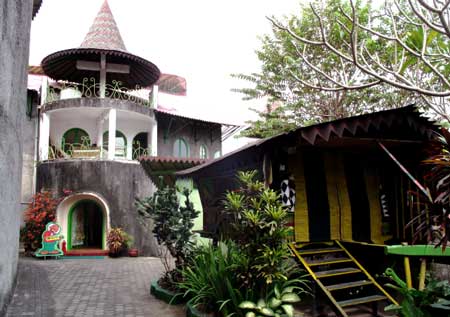 Sleman Regency in Yogyakarta Special Region has many tourist allures including historical sites, nature tourism, culinary, and much more! In Papringan Village at Depok Sub-District, there is also an interesting place called Affandi Museum. The museum was named after the owner of the land, who was a famous local painter. The name is Affandi Koesoema. This person is even famous among foreigners. Even after his death, more tourists keep coming to the museum. These include the locals, outsiders, and foreigners. The building resides on Gajah Wong River and can be seen clearly from the bridge or road. This easy accessibility
The Nuance
The museum was built to appreciate Affandi's efforts in introducing expressionism to both locals and foreigners. No wonder, the museum stores most of his paintings and other artworks. As for the nuance, it feels different than regular museums, too. The location is by Gajah Wong River and under a bridge and crowded roadside. The complex also features 4 galleries with different characteristic and collections. For the information, the first gallery was built in 1962. The others were built afterward.
Exploring Affandi Museum
Once arriving at Affandi Museum, tourists may see a building that looks similar to a castle. It is true that visitors should pay an entrance fee, but it would be a worthy expense. Also, it is recommended to hire a local guide who knows further information regarding the collections and history regarding the painter. For the information, the museum keeps around 300 paintings and some other interesting artworks. The size of the building is considered vast, so it may take some time to get around the complex.
The museum represents Affandi's daily life. It is true that most of the collections are his paintings. However, the building also keeps some paintings of other painters, his favorite transportation vehicles, a painting studio for training local kids, and a house. The good thing is that tourists are allowed to explore these all after paying the entrance fee at the gate. As mentioned before, there are also 4 different galleries to explore during the visit. So, what is in there?
The first gallery features a ticket booth and information center. It also keeps some items that relate to Affandi's life (even an old car). The second gallery displays lots of painting of either Affandi's or other painters'. In the third gallery, tourists may see Affandi's newest paintings. Each of them even has a name! What is in the 4th gallery? This area is meant for displaying Affandi's grandchild's (Didit) paintings! Thus, everyone should ensure to explore these all.
Nearby Attractions

Ambarukmo Plaza
Lippo Plaza
How to Get There
The prime destination is indeed Yogyakarta Special Region. From outside the region, in this case, tourists should use the best transportation service. It is none other than the airplane. Here is an example. From Jakarta City (Soekarno – Hatta International Airport) to Yogya (Adisucipto Airport) usually takes about 1 hour and 10 minutes. Next, after reaching the destination, they can simply head to Sleman Regency. The best route is Padjajaran Street and the distance is 9.9 km. That means the trip would take around 16 minutes or less. From Sleman, the next destination is Papringan Village at Caturtunggal Sub-District. This can be done through Affandi Street, actually. The distance is 7.6 km, so the trip may take around 15 minutes.
Where to Stay

Yellow Star Hotel
Atrium Premier Hotel
Ibis Hotel
Puri Artha Hotel