Blue Lagoon in Sleman Regency, Yogyakarta Special Region
---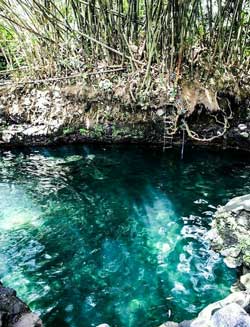 Unlike Bantul Regency with its amazing southern beaches, Sleman Regency of Yogyakarta Special Region is known for highlands and casual vacation spots like Blue Lagoon! This one is located in Widodomartani Village and belongs to Ngemplak Sub-District. That area is known for the abundant water, after all. In fact, tourists can find three beautiful natural springs that never dry out even during the hot season. Blue Lagoon was formed due to the accumulation of water coming from Belik Kluwih Natural Spring. For the information, the official name is Pemandian Tirta Budi or Tirta Budi Natural Bath.
The Nuance
The first impression once arriving at Blue Lagoon is definitely the serene beauty. Tourists would see a big natural pond that features greenish crystal clear water! The green color comes from moss that grows at the bottom of the pond! Next, the pond is surrounded by stone cliffs and some river stones, as well. Some small water discharges also come out from those cliffs, in fact. Not to mention the site has lots of lush trees and bushes, which makes it shadier and more comfortable.
Exploring Blue Lagoon
Tourists have a different motive to visit Blue Lagoon. For instance, they want to enjoy the pristine natural beauty. Some people even say it similar to Pangandaran's Green Canyon or the mini version of it. Some also say it has a similarity to Oyo River rafting site. The unspoiled nature soothes everyone! The good news is that the management has built some facilities to satisfy visitors. These include toilets, bathing rooms, trash bins, benches, deposit boxes, etc. No wonder, Blue Lagoon has become an official tourist site in Sleman these days.
During regular days, Tirta Budi Natural Bath is crowded by local kids and students. The site even gets more crowded during weekends and holidays! This explains the popularity keeps increasing over time. Aside from sightseeing and enjoying the natural ambiance, visitors definitely would enjoy bathing and swimming there. The natural pond looks alluring, after all. Therefore, it is recommended to carry extra clothes during the visit.
In terms of size, the pond has an approximate width of 30 meters per square. As for the depth, it is about 3 meters! Thus, everyone should be careful when swimming or playing water in it. After that, it is recommended to take a shower in Belik. The last good thing to do is related to culinary. After bathing, tourists should buy local foods and snacks at the available eateries. Both the price and taste are satisfying!
Nearby Attractions

Plataran Museum
Cokro Kembang Garden
Embung Watu Manten
Bokesan Tourism Village
How to Get There
For outsiders, it is recommended to take an airplane to reach Yogyakarta City for a faster and more comfortable trip. From Jakarta City, in this case, tourists must take an airplane at Soekarno – Hatta International Airport would take around 1 hour and 10 minutes and head to Adisucipto Airport. After arriving at Yogyakarta, tourists can directly head to Sleman Regency. The distance is 9.9 km and the best route to take is Padjajaran Street. Have no worries. This trip would take only about 16 minutes. After arriving at Sleman, they must take Cangkringan Street and head to Blue Lagoon right away. The distance is 31.9 km, so the trip may take around 59 minutes.
Where to Stay

Ndalem Prabawan Guesthouse
Twin House Homestay
Nitanda Premier