Tingkat Tiga Waterfall in Padang City, West Sumatra Province
---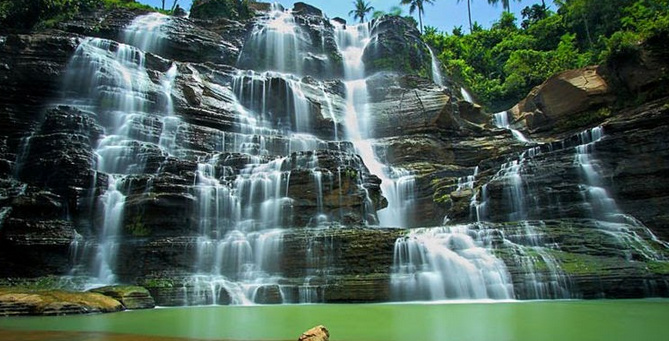 Here is another recommended vacation destination in Padang City. The name is Tingkat Tiga Waterfall and it belongs to Bungus Teluk Kabung Sub-District. To be exact, this serene waterfall resides in North Teluk Kabung Village. The locals also call it Lubuk Hitam Waterfall, actually. Both the seclusion and beauty makes it popular among tourists these days! Not to mention the location is on the foot of Barisan Hill, featuring a nice atmosphere for relaxation. Visitors can also enjoy exploration, photography, and trekking in that area! Still, it takes both stamina and efforts in order to reach the site. Thus, tourists should consider hiring a guide when heading there.
The Nuance
As mentioned earlier, Lubuk Hitam Waterfall is located in the foot of Barisan Hill. This explains why the nuance is both refreshing and calming. To be exact, the waterfall resides on 600 meters above the sea level. It features an unspoiled environment and neat nature, as well. In terms of name, many people call it "Tiga Tingkat", which means three levels. As the name suggests, the waterfall comes with three water discharges and all these have a strong flow. In terms of size, it is definitely tall and majestic. The only issue is the route, which is both challenging and slippery.
Exploring Tingkat Tiga Waterfall
The most common reason for visiting Lubuk Hitam Waterfall is the challenging trekking route. Both adventurers and trekkers would enjoy this, without a doubt. The official name is Aia Tajun Tigo Tingkek Lubuak Itam and it has become the locals' pride when it comes to tourism. Villagers even often offer a guiding service to visitors, so don't worry. One thing, all tourists should come with good stamina when reaching the waterfall. They must pass through a steep and mossy route, after all.
Lubuk Hitam Waterfall has 3 levels and visitors need to spend about 1 hour to reach all these levels. No wonder, lots of people run out of stamina even before reaching the last level. Despite the effort and tiredness, the rewards are quite satisfying. Tourists would be astonished by the beauty and serenity right away once they arrive at the site. The first level is the easiest and it is suitable for beginners. As for the second level, tourists even need to crawl to get there. What about the last level? It is the most troublesome, due to the steepness and slipperiness.
Aside from the beauty, Tingkat Tiga Waterfall offers a great atmosphere for relaxation. The location is secluded, so it is perfect for lessening. Sometimes, rainbows are often seen on the site! Thus, everyone must carry a camera when heading to the waterfall. Another preparation is related to supplies. Bottled water is a must in order to avoid thirst during trekking.
Nearby Attractions

Pesona Beach
Cavery Beach
Karsik Island
Yangi Beach
How to Get There
In order to reach Tingkat Tiga or Lubuk Hitam Waterfall, tourists should get to Padang City first. They can get to the region faster by airplane, in this case. For instance, a flight from Soekarno – Hatta International Airport (Jakarta City) to Minangkabau Airport (Padang) may take around 1 hour and 40 minutes. After reaching the destination, they must take Padang – Bengkulu Street and head to the waterfall right away. The distance is 24.9 km, so the trip may take around 44 minutes.
Where to Stay

Tintin Homestay
Airy Hotel
Carlos Homestay