Pasumpahan Island in Padang City, West Sumatra Province
---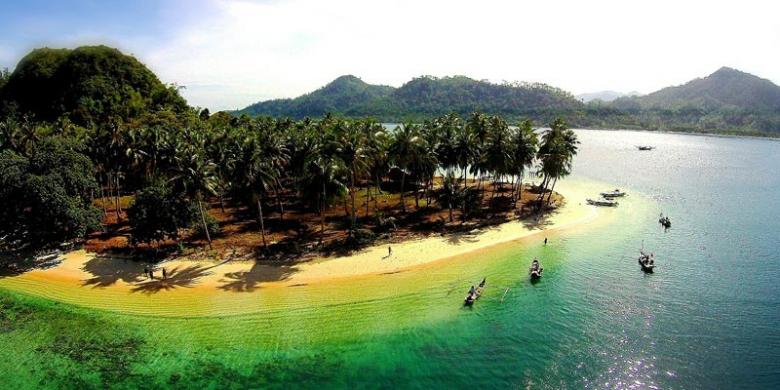 Located near to Sikuai Island, Pasumpahan Island becomes a recommended vacation destination. Even many tourist agents have included it in their tour package, especially for those exploring Padang City. In terms of region, the island belongs to Bungus Sub-District. It also requires a speedboat service in order to reach the island. Despite the troublesome effort, everyone would be astonished by the island's beauty and facilities. It is like spending a vacation on a private island! Visitors usually enjoy relaxation, water sports, beach walking, and exploration there. Well, here is further discussion about the island.
The Nuance
For the information, the distance between Pasumpahan and Sikuai Island is only 200 meters! Not to mention it resides to other beautiful islands like Ular and Pisang Island. This is why many tourists can also enjoy island hopping there. As for the nuance, Pasumpahan offers a pristine and clean environment. The number of visitors is moderate, but it becomes crowded during weekends. Once arriving at the beach, tourists may see the wooden name sign right away. The beach features a white sandy shoreline with its soft texture. Lots of coconut trees grow on the shoreline and some facilities are available. These include wooden benches, gazebos, toilets, etc.
Exploring Pasumpahan Island
Lots of things can be done in Pasumpahan Island. The simplest one is relaxation or lessening. Visitors can simply sit either on beach benches or gazebos while watching serene sea scenery. While relaxing, they may see some fishermen who often come ashore for resting. These locals are also seen on their boat while catching fishes using a net. Next, tourists should explore the island to see other parts of it. Beach walking would be comfortable due to the soft texture, either.
The next allure in Pasumpahan Island is related to the beauty of the sea. Featuring calmer waves than other beaches in West Sumatra Province, this one is suitable for various types of water sports. Tourists can simply swim in the shore and feel the warm water. For those who carry enough cash, they can rent a jet ski and get around the shore comfortably. What is next? Diving and snorkeling are quite recommended! The island has lots of beautiful corals and fishes, after all. Plus, the clarity is satisfying enough. As for the richness, the sea is dominated by lots of Kepe-Kepe fish species! The most common one is Chaetodon.
What is more? Pasumpahan Island is suitable for island hopping! Tourists don't need to spend much time to explore and visit nearby islands, after all. They only need some money to pay for the boat service. For the information, each of these islands offers a distinct beauty. Thus, it is highly recommended to visit them all either before or after exploring Pasumpahan Island.
Nearby Attractions

Sikuai Island
Batu Karang Beach
Ular Island
Pisang Island
How to Get There
From Jakarta City, tourists can directly head to Padang City by airplane. A flight from Soekarno – Hatta International Airport to Minangkabau Airport would take around 1 hour and 40 minutes, actually. From Padang City, the next destination is Teluk Kabung Port at Bungus Sub-District. The destination is 33 km and the best route to take is Padang – Bengkulu Street. This trip may take around 53 minutes. Once arriving at the port, tourists should take a boat and head to Pasumpahan Island right away. This voyage usually takes around 45 minutes or less depending on the weather.
Where to Stay