Enjoying Masakan Padang in Padang City, West Sumatra Province
---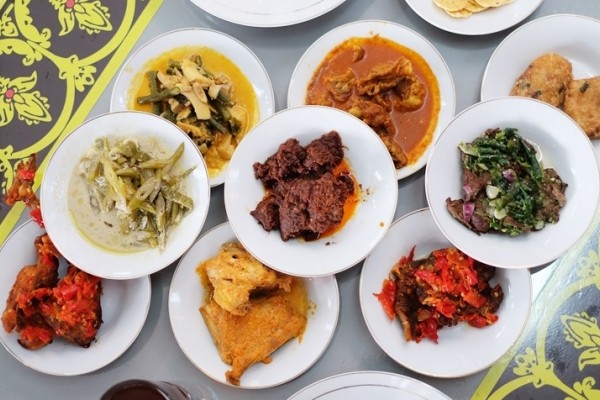 When tourists heard about a certain region like Padang City, most of them would recall the famous Masakan Padang! It consists of numerous types of foods that offer both unique taste and appearance. Due to the popularity, lots of Padang eateries open in almost all provinces in Indonesia. Still, the best place to try them is at the origin. Even foreigners love these foods! So, what makes them popular? What are the varieties? Where can tourists get them when visiting Padang City? In order to answer these questions, everyone should read more below.
The Reasons for Popularity
Many things make Masakan Padang popular and loveable. One of the reasons is related to the spices. The locals use special ingredients and spices, which are quite addictive! The aroma is both unique and sharp! Aside from the taste, the next reason is indeed the affordable price. Everyone can afford it regardless of who they are. Some eateries even provide free water or tea to customers! The next reason is definitely the variety. Tourists can find different menu when entering Padang eateries, so they can choose some based on their preferences.
More about Masakan Padang
Some menus are quite popular among tourists indeed. For instance, there is Sate Padang or Padang Skewer. Unlike regular satay, this one applies a special sauce! No wonder, the taste is unique! As for the ingredients, it uses mainly beef. Next, there is the most famous menu called Rendang. Even foreigners recognize this delicious beef. Some people even call it the most delicious menu in the world! The unique taste comes from a long cooking procedure using coconut milk. It takes much time and effort to cook one. No wonder, the price is pricier and the taste is the best.
Masakan Padang also has Ayam Goreng or fried chicken. Once again, it is different than regular ones. The spices are sharper and the meat is tender. The taste is quite addictive, so it becomes the locals' favorite menu for lunch. Many students also love to buy some due to the cheaper price, as compared to that of fast food restaurants. For a cheaper menu, there is Padang egg roll or omelet. The texture is thicker and the taste is better than regular omelets, for sure.
What is more? When entering Masakan Padang restaurants, tourists would find delicious Dendeng Batokok! The main ingredient is beef and it features spicy taste. No wonder, the locals apply green chilies to this menu. As an alternative, tourists can enjoy other menus like Dendeng Balado, Ikan Asam Padeh, and Soto Padang! What about drinks? The most famous one is Talua Tea. Don't forget to get some, later!
Nearby Attractions

Adityawarman Museum
Carolina Beach
Padang Grand Mosque
Air Manis Beach
Padang Beach
Maninjau Lake
How to Get There
The best place to try Masakan Padang is in Padang City, without a doubt. For outsiders, in this case, they should take the best transportation service in order to reach the region. It is none other than an airplane. Here is an example. A flight from Soekarno – Hatta International Airport (Jakarta City) may take around 1 hour and 40 minutes. Once tourists arrive at Minangkabau Airport, they should find a hotel room first before exploring the city for foods. Somehow, it requires a local guide's help to find recommended eateries.
Where to Stay

Grand Zuri Padang
Kyriad Hotel
Rocky Plaza Hotel
Ibis Hotel
Daima Hotel