Lawang Adventure Park in Padang City, West Sumatra Province
---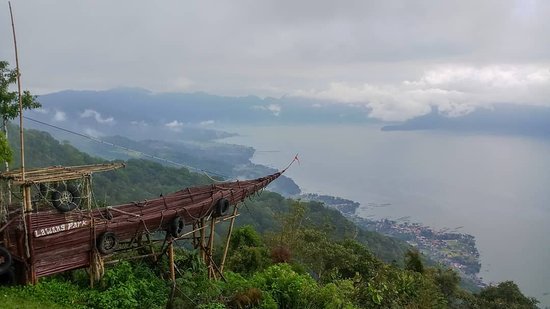 Located near to the border between Agam Regency and Padang City, Lawang Adventure Park definitely becomes a great place to spend a family recreation. The popularity even attracts outsiders and foreigners over time. It resides near to the famous Lawang Peak, as well. The prime allure is definitely the panorama, as the site resides on a highland or mountainous area. Visitors usually enjoy trekking, sightseeing, relaxation, and photography here. In order to reach the site, tourists only need to head to Matur Sub-District and conduct trekking. Have no worries. It won't be tiring, as the atmosphere is quite comfortable up there.
The Nuance
The nuance is rejuvenating as Lawang Park is located on a highland. The site is quite strategic as well. It faces directly the well-known Maninjau Lake! Visitors can also find several viewing spots in this area. Thus, they can enjoy sightseeing and photography in a more comfortable manner. One thing, the atmosphere becomes cold in the early morning. Thus, it is better to visit the site a little bit later at noon for a warmer ambiance. For the information, the site features some facilities including homestays, restaurants, parking area, toilets, etc.
Exploring Lawang Adventure Park
Those who come early in the morning may see a foggy landscape in Lawang Adventure Park. Not to mention the nuance is cold at the time. The good thing is they can enjoy the refreshing ambiance while drinking a warm cup of coffee at nearby eateries. As for breakfast, the most famous menu is local fried rice! Tourists can enjoy the food while watching the stunning Maninjau Lake on the horizon, too. This is indeed a worthy experience, isn't it?
The next common thing to do in Lawang Adventure Park is photography. Tourists can take good photos of nature, including the lake and mountains. For the information, the site resides on 1250 meters above the sea level. No wonder, both the views and atmosphere are nice. Later, it is also recommended to visit nearby natural attractions! Maninjau Lake and Lawang Peak are some of them. The location is quite near, so it won't take much time to get there.
Trekking becomes the next reason why people keep visiting Lawang Adventure Park. The route is considered easy and it features various types of landscapes, especially sugar cane farms. Some locals are also seen in that area. They often sell boiled peanuts to tourists at a cheap price! Don't forget to buy some while trekking, therefore.
Nearby Attractions

Maninjau Lake
Puncak Lawang
Sakura Hill
Taman Tigo Baleh
Nan Basa
How to Get There
First, tourists can get to Padang City by airplane. From Jakarta City, in this case, a flight from Soekarno – Hatta International Airport to Minangkabau Airport may take around 1 hour and 40 minutes. From Padang, they should take Lintas Barat Sumatra Street and head to Lawang Park Adventure right away. The distance is 110 km, so the trip would take about 2 hours and 48 minutes. It can be faster during the low traffic, though.
Where to Stay

Maninjau Lake Inn
Madani Homestay
Nuansa Maninjau Resort
Beach Guesthouse