Lembah Anai Waterfall in Padang City, West Sumatra Province
---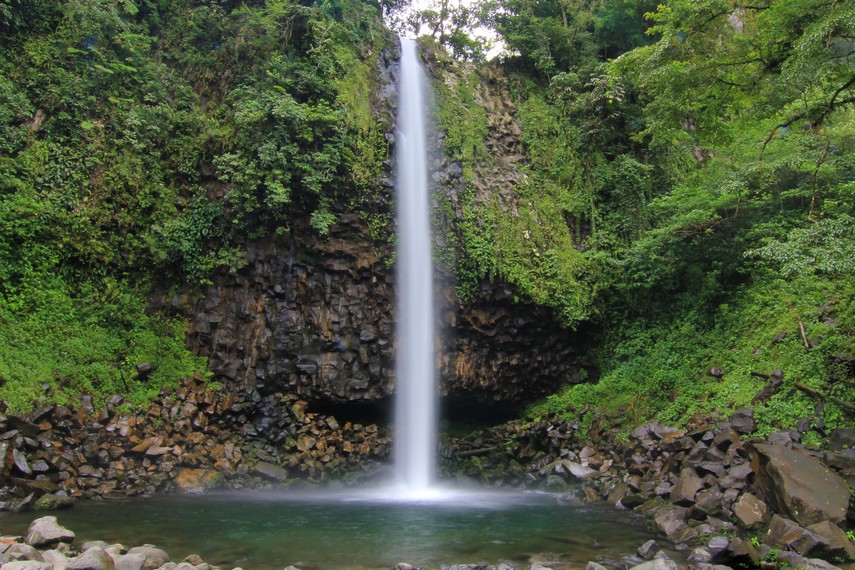 West Sumatra Province never runs out of beautiful places to explore. Located near to the border between Tanah Datar Regency and Padang City, for example, there is Lembah Anai Waterfall. This unique waterfall is located in Singgalang Village and belongs to Sepuluh Koto Sub-District. The waterfall is part of Batang Lurang River and it resides by the roadside on a highland. No wonder, travelers often drop by for a while in order to watch it or rest in that area. No wonder, the location is suitable for sightseeing, photography, and relaxation, as well.
The Nuance
Once arriving at the location, tourists may see a tall waterfall with its water discharge. It resides right beside Padang – Bukittinggi Street! The location is on a highland and a railway becomes a unique feature in this site. The mountainous nuance would also rejuvenate visitors! Also, the water pours from the high cliff. It hits the pond below and makes a loud noise. This majestic panorama indeed becomes a great object for photography. For the information, Lembah Anai Waterfall becomes one of the best allures in the local nature conservation area. Other 6 stunning waterfalls reside in that area, in fact. Moreover, tourists explore others by trekking later.
Exploring Lembah Anai Waterfall
The best allure in Lembah Anai Waterfall is none other than the location itself. As mentioned before, this exotic waterfall resides by the roadside! Tourists can simply park their vehicle there and watch the beauty right away. As for tourist activities, sightseeing and relaxation become two major things to do. It is because the location is at the foot of Singgalang Mountain, featuring tall cliffs and refreshing ambiance. In terms of size, the waterfall has a height of about 35 meters.
As for photography, visitors can take beautiful photos of many objects. These include the waterfall itself, the old railway, natural pond, and mountainous panorama. The road is not quite crowded, as well, so visitors can park their vehicle near to the waterfall without hassles. However, during long holidays and weekends, the site becomes a little bit more crowded. Nearby villagers and outsiders come to the location to conduct various tourist activities!
The increasing popularity makes Lembah Anai Waterfall well-known among those who live outside the province, too. Some new facilities also operate, including a wider parking area, eateries, homestays, etc. These days, people also come for a pre-wedding photo session! Some people also take advantage of the landscape for trekking and exploring other beautiful waterfalls nearby.
Nearby Attractions

Mifan Water Park
Padang Panjang Water Fountain
Mega Permai Natural Baths
Puncak Anai
How to Get There
First, tourists should reach Padang City regardless of where they come from. For outsiders, though, it is recommended to take an airplane for a faster trip. Here is an example. A flight from Jakarta City (Soekarno – Hatta International Airport) to Padang City (Minangkabau Airport) would take around 1 hour and 40 minutes. Once arriving at Padang, tourists only need to take Lintas Barat Sumatra Street and head to Singgalang Village right away. The distance is 67.7 km, so the trip would take around 1 hour and 47 minutes.
Where to Stay

Widya Villa
Flamingo Hotel
Alia Serambi Homestay
Balairung Anai Resort