Sitinjau Lauik Route in Padang City, West Sumatra Province
---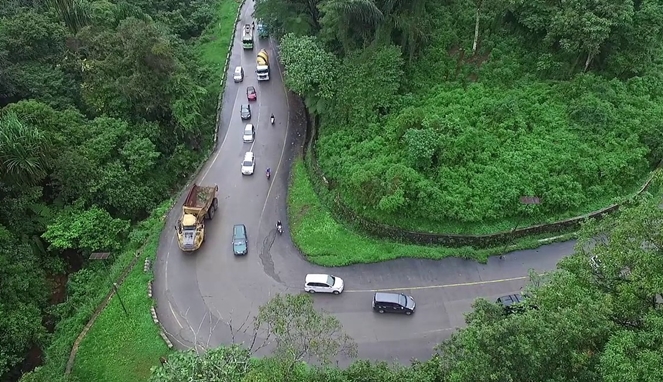 In Padang City, tourists may find a famous street called Sitinjau Lauik Route. Due to the extreme condition and popularity, it even becomes a new tourist allure in Padang! The route connects Padang, Arosuka, and Solok City, in fact. It also becomes an entryway to other provinces. In terms of name, "Sitinjau Lauik" means watching the sea. The locals gave the name due to the location, after all. All travelers or tourists are able to see beautiful sea scenery and Padang City when passing the route. Even Padang City can be seen clearly from above.
The Nuance
In terms of nuance, the route is considered crowded. The traffic is high despite the extreme location! When it comes to size, the route has a length of about 15 km. Lots of vehicles, including private and public, often pass by every day. Big trucks and buses are also seen in this area. Unlike regular routes, this one has steep and winding rises. The slant even reaches 45 degrees! This is why all vehicles should pass carefully, especially during the rainy season. According to the locals, some spots of this route have a big potential for landslides! Despite the danger, the nuance and environment are amazing. It features lush trees and stunning sea scenery! The air even feels fresh there.
Exploring Sitinjau Lauik Route
Tourists have a different reason for visiting Sitinjau Lauik Route. One of them is to watch sea scenery while passing the route. These people either come by private or public transportation! For the information, the sea views can only be seen on the west part of the route. What is more? Aside from sightseeing, tourists are interested to cross the route due to the traffic. They want to see various types of vehicles passing by on this area.
The high traffic makes Sitinjau Lauik never sleeps. That means visitors would always see vehicles regardless of the time of the visit. Another fact is the route often causes accidents! Thus, all drivers should pass it carefully. During the rainy season, moreover, many landslides occur and cause both casualties and traffic jam. This is why tourists must consider visiting it only during good weather.
Another good thing is the presence of resting post in some parts of the route, where tourists can relax and rest before continuing their trip. The best spot perhaps is the one located in Taman Hutan Raya Bung Hatta. Somehow, tourists can also spend a vacation in this spot with their families. Thus, don't forget to carry extra cash, camera, and supplies later!
Nearby Attractions

Rindang alam II
Sarasah Waterfall
How to Get There
The first or prime destination is definitely Padang City and the best transportation to take is an airplane. From Jakarta City, in this case, tourists only need to take an airplane at Soekarno – Hatta International Airport and head to Minangkabau Airport right away. This flight usually takes around 1 hour and 40 minutes. From Padang, they can simply take Piai Tangah and Raya Gadut Street to reach Sitinjau Lauik Route right away. The distance is only 7.1 km, so the trip may take around 15 minutes.
Where to Stay

Imelda Hotel
Amaris Hotel