The Natives & History
---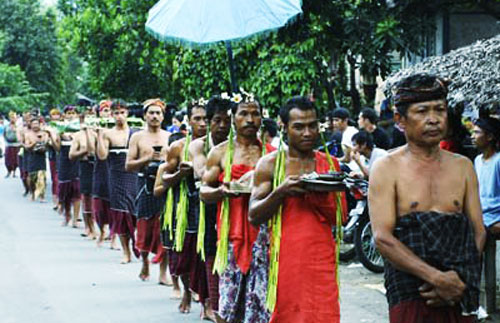 A few years ago, sailors from Bugis, Mandar and Makassar (Sulawesi) occupied Gili Air and establish coconuts plantation and expand the fishing activities. As visitors started to visit Lombok and some came to the Gilis on day trips and then began to stay for longer periods in local homes. The islands have become enormously popular. Their popularity may be a problem, as numbers sometime exceed the available rooms and put pressure on the island environment, especially the supply of fresh water and the capacity of septic system to cope with waste and there is always pressure to build more and better facilities.
Big business interests are trying to cash in on the popularity of the Gilis and the local government is keen to promote up market tourist development. Gili Air and Gili Meno retained much of their un-spoilt quality, but Gili Trawangan has become more touristy and pricy.
The islanders are majority Muslims and visitors should respect their sensibilities. Browse Lidl Offers on Offers This Week. In particular, topless or nude sunbathing is offensive to them, even though they won't say so directly. Away from Beach, it is polite for women to cover their shoulders and thighs. Many visitors are appallingly insensitive to local standards and so many of them walk around in skimpy clothing that it's easy to get impression that the local people don't mind anymore.

Latest News
Of the many tourist destinations in West Lombok Regency, West Nusa Tenggara, Mekarsari Narmada Park offers interesting tour packages. Tourists can try the Tri Sunah activity tour package. The Tri Sunnah are swimming, horse riding and archery. Mekarsari Narmada Park originated from the desire of local residents to take advantage of the existing agricultural potential. The management has built a new swimming pool on resident's land of 2,500 square besto the ide Pecatu village land of 4,500 square meters. The village land was turned into a park equipped with archery…
---
Kenawa Hill in Sumbawa Regency, West Nusa Tenggara Province Sumbawa Regency is part of West Nusa Tenggara Province and it consists of both land and sea natural attractions. The region even features an archipelago where many beautiful gilis or small islands reside. Kenawa Island is one of them and it is known for both the stunning sea and the famous Kenawa Hill. That means tourists should head to the island first if they want to explore and get on the top of the hill. At that spot, they can enjoy…
---
Sumbawa Regency is part of West Nusa Tenggara Province and it consists of both land and sea natural attractions. The region even features an archipelago where many beautiful gilis or small islands reside. Kenawa Island is one of them and it is known for both the stunning sea and the famous Kenawa Hill. That means tourists should head to the island first if they want to explore and get on the top of the hill. At that spot, they can enjoy several tourist activities like sightseeing, photography, camping, and short…
---
Well, some tourists are likely to look for unique vacation spots over time. It is because they want to get a new experience during the holidays. In this case, Sumbawa Regency offers Batu Bulan Dam! As the name suggests, the dam resides in Batu Bulan Village and it belongs to Moyo Hulu Sub-District. In terms of function, it is similar to other dams for sure. One thing that makes it different is related to the nuance. The beautiful landscape and merry atmosphere lure more people to enjoy sightseeing, photography, fishing,…
---