Moyo Island
---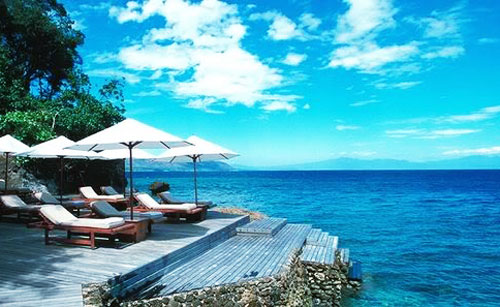 Moyo Island, at the mouth of Saleh Bay, has a nature reserve with wild oxen, deer, wild boars and a great variety bird species. Visits are best made during the dry season from June through August. A few kilometers of the north coast of Sumbawa, the national park island of Moyo Island is probably the most rewarding destination in Sumbawa, surrounded by beautiful coral reefs and home to wild pig, monitor lizards, 21 species of bat, huge herds of native deer and hordes of crab-eating macaques. The best time to visit is in June and July, though the seas are clear and quiet from April. There are basic private rooms at the PHPA post at Tanjung Pasir on the south coast, where most boats from the mainland arrive. Renting a fishing boat from Tanjung Pasir and going fifteen minutes east to Stama reeft is very rewarding, with lots of sharks and turtles. There's nowhere on Moyo to rent masks and snorkels so bring our own; fins are advisable due to the strong currents.
To get to Moyo, take a bemo from beside Seketang Market in Sumbawa Besar to Air Bari , a small port settlement to the northeast. From Air Bari, we can charter a boat to Moyo.
National Parks of Indonesia: Moyo Island Reserve
Further along Nusa Tenggara to the east of Lombok lies Moyo Island and its Reserve. A fantastic place to visit and is a place of adventure.
Moyo Island is an attractive island three kilometres off the north coast of Sumbawa, lying to the east of Lombok. Two thirds of Pulau Moyo is actually a game reserve. The central plateau with its grassy savannah land and intermittent forested areas is ideal for Deer as well as the feral cattle released there.
The coastline has some beautiful beaches of fine coral sand and not the black volcanic sand like we find on a lot of islands in the archipelago. There are beautiful coral reefs, which make it excellent for scuba diving or just snorkeling. The reef at the southern end of the island is probably the best of all.
There are a few inhabitants on the island and this consists of around 21 villages concentrated in the northern end. Browse Lidl Offers on Offers This Week. From Moyo there are splendid views of Mount Tambora (2,821m) to the east, the highest mountain in Sumbawa, which erupted quite violently in 1815 but now has amazingly beautiful forests on its western slopes.
Tambora can be climbed from the side in three days and is well worth a visit. It has an enormous crater and within, a two-colored lake. From the crater there are also spectacular views over Saleh Bay and the rest of Sumbawa to the east, and to the west, Moyo Island to Lombok and Mount Rinjani.
The wildlife on the reserve has adapted to the fairly dry habitat and these include Deer, feral cattle, and numerous birds such as Orioles, Sunbirds, Coequals, Koels and Drongos. Of course there are several species of shore birds along the coastline.

Latest News
Of the many tourist destinations in West Lombok Regency, West Nusa Tenggara, Mekarsari Narmada Park offers interesting tour packages. Tourists can try the Tri Sunah activity tour package. The Tri Sunnah are swimming, horse riding and archery. Mekarsari Narmada Park originated from the desire of local residents to take advantage of the existing agricultural potential. The management has built a new swimming pool on resident's land of 2,500 square besto the ide Pecatu village land of 4,500 square meters. The village land was turned into a park equipped with archery…
---
Kenawa Hill in Sumbawa Regency, West Nusa Tenggara Province Sumbawa Regency is part of West Nusa Tenggara Province and it consists of both land and sea natural attractions. The region even features an archipelago where many beautiful gilis or small islands reside. Kenawa Island is one of them and it is known for both the stunning sea and the famous Kenawa Hill. That means tourists should head to the island first if they want to explore and get on the top of the hill. At that spot, they can enjoy…
---
Sumbawa Regency is part of West Nusa Tenggara Province and it consists of both land and sea natural attractions. The region even features an archipelago where many beautiful gilis or small islands reside. Kenawa Island is one of them and it is known for both the stunning sea and the famous Kenawa Hill. That means tourists should head to the island first if they want to explore and get on the top of the hill. At that spot, they can enjoy several tourist activities like sightseeing, photography, camping, and short…
---
Well, some tourists are likely to look for unique vacation spots over time. It is because they want to get a new experience during the holidays. In this case, Sumbawa Regency offers Batu Bulan Dam! As the name suggests, the dam resides in Batu Bulan Village and it belongs to Moyo Hulu Sub-District. In terms of function, it is similar to other dams for sure. One thing that makes it different is related to the nuance. The beautiful landscape and merry atmosphere lure more people to enjoy sightseeing, photography, fishing,…
---