Mataram
---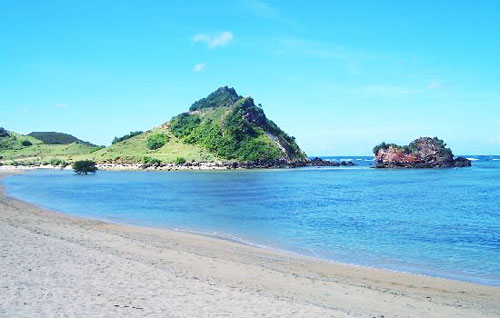 Mataram is the capital of Lombok. The town actually consists of four different towns Ampenan, Mataram, Cakranegara (Cakra) and Sweta. Ampenan has most of city sights, including Negeri Nusa Tenggara Barat museum, which gives a good overview of the culture of Lombok. Cakra is the best place for eating, sleeping and shopping. It also has the Water Palace, which is worth a visit and the largest temple of Lombok, Meru Purse. Mataram is the administrative centre and Sweta the transport connection of the whole island.
As a center of government administration, Mataram has many large, impressive public buildings and substantial houses. The city also has transportation and shopping facilities. The main square is used for art exhibitions, theater, dance, and wayang kulit (puppet theater) performances. In other parts of Mataram, there are a variety of old-style markets and neighborhoods featuring traditional craftwork like basketware and gold- and silver-threaded sarongs, or wraparound garments.
Ampenan port was once Lombok's main port, but it now relies mostly on fishing vessels. Cakranegara has significant Balinese and Chinese populations; the Chinese have been brought by the Dutch to provide cheap labor. Although officially 3 separate towns, Ampenan, Mataram and Cakranegara actually run together, so it's difficult to tell where one stop and the next starts. There are banks, travel agents, mall, interesting shops, traditional markets and few things to see, but the town is not a major attraction.
Cakranegara
The main commercial centre of Lombok, has a thriving Chinese and Balinese Community. Most of the shops and restaurants are run and owned by Chinese.
Ampenan
Once was the main port of Lombok. Old buildings with mix population of Chinese, Arabs, and Melayu. You can find many local restaurants with great Chinese and Sasak foods.

Latest News
Of the many tourist destinations in West Lombok Regency, West Nusa Tenggara, Mekarsari Narmada Park offers interesting tour packages. Tourists can try the Tri Sunah activity tour package. The Tri Sunnah are swimming, horse riding and archery. Mekarsari Narmada Park originated from the desire of local residents to take advantage of the existing agricultural potential. The management has built a new swimming pool on resident's land of 2,500 square besto the ide Pecatu village land of 4,500 square meters. The village land was turned into a park equipped with archery…
---
Kenawa Hill in Sumbawa Regency, West Nusa Tenggara Province Sumbawa Regency is part of West Nusa Tenggara Province and it consists of both land and sea natural attractions. The region even features an archipelago where many beautiful gilis or small islands reside. Kenawa Island is one of them and it is known for both the stunning sea and the famous Kenawa Hill. That means tourists should head to the island first if they want to explore and get on the top of the hill. At that spot, they can enjoy…
---
Sumbawa Regency is part of West Nusa Tenggara Province and it consists of both land and sea natural attractions. The region even features an archipelago where many beautiful gilis or small islands reside. Kenawa Island is one of them and it is known for both the stunning sea and the famous Kenawa Hill. That means tourists should head to the island first if they want to explore and get on the top of the hill. At that spot, they can enjoy several tourist activities like sightseeing, photography, camping, and short…
---
Well, some tourists are likely to look for unique vacation spots over time. It is because they want to get a new experience during the holidays. In this case, Sumbawa Regency offers Batu Bulan Dam! As the name suggests, the dam resides in Batu Bulan Village and it belongs to Moyo Hulu Sub-District. In terms of function, it is similar to other dams for sure. One thing that makes it different is related to the nuance. The beautiful landscape and merry atmosphere lure more people to enjoy sightseeing, photography, fishing,…
---