Gili Air
---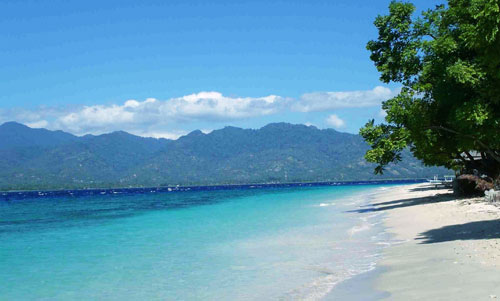 Gili Air is the nearest Gili to Lombok. It is also the most populated and you will find more trees there than the other Gili's. The local inhabitants are: Sasak, Mandar, Bugis and Makassar. You can find their different unique culture from Lombok and wonderful beaches. Many of the older generation still make their living as boatmen, fisherman and farming coconuts.
There are only a few number of 2-3 stars hotels (rooms with air conditioning, swimming pool, TV etc) on Gili Air. Most of the places to eat and stay are in south and east side of the island (near the jetty). You can find many home stays or budget accommodation on this island.
Not much things happening for the last 3-5 years. One of the first dive schools (The Reef seeker) is no longer operate from Gili Air. They have moved to Flores. Returning guests are what they expect to come. Most accommodation are locally owned and managed, while a few of the up market hotels own and managed by foreign investors. You can go from one island to another by joining Gili Island's hoping boat (depart twice a day). People here are friendlier than on Gili Trawangan. There are also a few places to stay around the north and south west coast in quieter atmosphere.
There are many activities that the tourists can do in this island. Browse Lidl Offers 26 November 2020 on Offers This Week. Snorkeling and diving are the highlight of the activities. Snorkeling area are located in the southeast (opposite-facing Lombok Golf Kosaido) and along to the northeast). The tourists can just jump into the water to see the colorful fishes and coral reef. In the western part of Gili Air you can't snorkel off the beaches. When the moon is high (low tide), you can't swim off the beach. You need to walk to the south or east side.
There are few quality scuba diving operations on all the islands. While the island is busiest from May through August, the quieter off-season from January to April provides a better opportunity to enjoy the entire islet has to offer, with accommodation prices at their lowest level.
To get around the isle, the only means of transport are Cidomos, horse drawn carriages. Bicycle rentals are available too. Expect higher prices for most things there since all food and goods must be brought over from the mainland.

Latest News
Of the many tourist destinations in West Lombok Regency, West Nusa Tenggara, Mekarsari Narmada Park offers interesting tour packages. Tourists can try the Tri Sunah activity tour package. The Tri Sunnah are swimming, horse riding and archery. Mekarsari Narmada Park originated from the desire of local residents to take advantage of the existing agricultural potential. The management has built a new swimming pool on resident's land of 2,500 square besto the ide Pecatu village land of 4,500 square meters. The village land was turned into a park equipped with archery…
---
Kenawa Hill in Sumbawa Regency, West Nusa Tenggara Province Sumbawa Regency is part of West Nusa Tenggara Province and it consists of both land and sea natural attractions. The region even features an archipelago where many beautiful gilis or small islands reside. Kenawa Island is one of them and it is known for both the stunning sea and the famous Kenawa Hill. That means tourists should head to the island first if they want to explore and get on the top of the hill. At that spot, they can enjoy…
---
Sumbawa Regency is part of West Nusa Tenggara Province and it consists of both land and sea natural attractions. The region even features an archipelago where many beautiful gilis or small islands reside. Kenawa Island is one of them and it is known for both the stunning sea and the famous Kenawa Hill. That means tourists should head to the island first if they want to explore and get on the top of the hill. At that spot, they can enjoy several tourist activities like sightseeing, photography, camping, and short…
---
Well, some tourists are likely to look for unique vacation spots over time. It is because they want to get a new experience during the holidays. In this case, Sumbawa Regency offers Batu Bulan Dam! As the name suggests, the dam resides in Batu Bulan Village and it belongs to Moyo Hulu Sub-District. In terms of function, it is similar to other dams for sure. One thing that makes it different is related to the nuance. The beautiful landscape and merry atmosphere lure more people to enjoy sightseeing, photography, fishing,…
---