Gili Island
---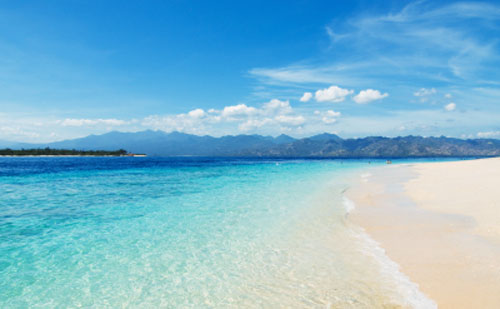 Gili Island is a popular destination in Indonesia. Gili Islands located in the north west of Lombok, featuring three small, coral fringed islands; Gili Air, Gili Meno & Gili Trawangan, each with superb, white sandy beaches, clear water, coral reefs, brilliantly colored fish and the best snorkeling on Lombok. Visitors, especially young European is attracted to the simple pleasures of sun, snorkeling, beautiful beaches, and socializing. The absence of cars, motorcycles, and hawkers adds greatly to the leasure of staying on the Gilis. "Gili islands" is not the local name. Browse Lidl Offers 26 November 2020 on Offers This Week. Gili actually means Small Island and there are lots of other gili's around Lombok.
There are many options for an enjoyable holiday on the islands. We can rent snorkeling equipment, join a diving course, rent a kayak, go fishing, or take a glass bottom boat to see the magnificent coral reefs and fishes.
There are lots of quality scuba diving operations on all the islands. The coral around the islands is good for snorkeling, which can be reach from the shore. See rays and giant clams. A must see: Turtles Point, Meno Wall. Dive Schools available on all the islands with many dive programs to choose, from beginners to advanced technical dives.
While divers are able to regularly swim with black tip, those who prefer to just drifts in the currents with a snorkel, fins and mask are never left disappointed by the more than 6,000 species of marine life living just off-shore. Fishing is one of the highlight activities on the islands. Deep fishing remains the best on north west of Gili Trawangan.

Latest News
Of the many tourist destinations in West Lombok Regency, West Nusa Tenggara, Mekarsari Narmada Park offers interesting tour packages. Tourists can try the Tri Sunah activity tour package. The Tri Sunnah are swimming, horse riding and archery. Mekarsari Narmada Park originated from the desire of local residents to take advantage of the existing agricultural potential. The management has built a new swimming pool on resident's land of 2,500 square besto the ide Pecatu village land of 4,500 square meters. The village land was turned into a park equipped with archery…
---
Kenawa Hill in Sumbawa Regency, West Nusa Tenggara Province Sumbawa Regency is part of West Nusa Tenggara Province and it consists of both land and sea natural attractions. The region even features an archipelago where many beautiful gilis or small islands reside. Kenawa Island is one of them and it is known for both the stunning sea and the famous Kenawa Hill. That means tourists should head to the island first if they want to explore and get on the top of the hill. At that spot, they can enjoy…
---
Sumbawa Regency is part of West Nusa Tenggara Province and it consists of both land and sea natural attractions. The region even features an archipelago where many beautiful gilis or small islands reside. Kenawa Island is one of them and it is known for both the stunning sea and the famous Kenawa Hill. That means tourists should head to the island first if they want to explore and get on the top of the hill. At that spot, they can enjoy several tourist activities like sightseeing, photography, camping, and short…
---
Well, some tourists are likely to look for unique vacation spots over time. It is because they want to get a new experience during the holidays. In this case, Sumbawa Regency offers Batu Bulan Dam! As the name suggests, the dam resides in Batu Bulan Village and it belongs to Moyo Hulu Sub-District. In terms of function, it is similar to other dams for sure. One thing that makes it different is related to the nuance. The beautiful landscape and merry atmosphere lure more people to enjoy sightseeing, photography, fishing,…
---