Lembar: Seaport in the South
---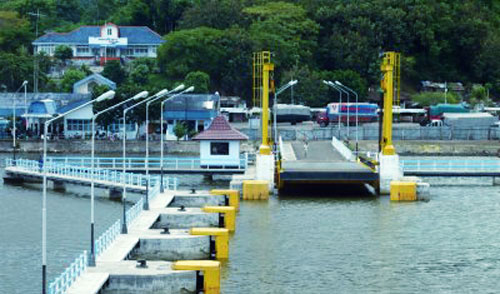 Travelers, which go south to Lembar port from Mataram, have the choice between two routes. The main road runs from Cakranegara to the southeast to Kediri, before going to Lembar. The road is in pretty good condition. The alternative is a road full of holes, which takes us through a landscape full of fields. This road also take us along a Balinese temple near Mount Pengsong and passes Rumak, east of it, to enter the main road just northwest of Kediri, near Karang Anyar. Just west of Rumak is Banyu Mulek, a village that is known about its pottery, made in open fire. Several products are on sale as well.
Lembar port is often houses several big Buginese schooners. Nice boats, equipped with a diesel engine of a modern freighter. They form a sharp contrast with the efficient ferries from Padangbai on Bali. Just south of the port we can rent a motorized boat for the trip along Gili Nanggu beach. Here we can find nice bungalows built on pillars, besides a nice beach and clear water. Snorkeling however is not good, because the reefs are damaged here as well. A walk around the island only takes twenty minutes.
Gili Genting Island, on a short distance of Gili Nanggu, sometimes the destination is for diving trips. People dive from a steep cliff. The visibility under water is not very good and there are only a few formations of soft and hard coral. The best part of the reef, with nice coral formations and many colorful fish, is close to the surface, easy to reach for snorkels.

Latest News
Of the many tourist destinations in West Lombok Regency, West Nusa Tenggara, Mekarsari Narmada Park offers interesting tour packages. Tourists can try the Tri Sunah activity tour package. The Tri Sunnah are swimming, horse riding and archery. Mekarsari Narmada Park originated from the desire of local residents to take advantage of the existing agricultural potential. The management has built a new swimming pool on resident's land of 2,500 square besto the ide Pecatu village land of 4,500 square meters. The village land was turned into a park equipped with archery…
---
Kenawa Hill in Sumbawa Regency, West Nusa Tenggara Province Sumbawa Regency is part of West Nusa Tenggara Province and it consists of both land and sea natural attractions. The region even features an archipelago where many beautiful gilis or small islands reside. Kenawa Island is one of them and it is known for both the stunning sea and the famous Kenawa Hill. That means tourists should head to the island first if they want to explore and get on the top of the hill. At that spot, they can enjoy…
---
Sumbawa Regency is part of West Nusa Tenggara Province and it consists of both land and sea natural attractions. The region even features an archipelago where many beautiful gilis or small islands reside. Kenawa Island is one of them and it is known for both the stunning sea and the famous Kenawa Hill. That means tourists should head to the island first if they want to explore and get on the top of the hill. At that spot, they can enjoy several tourist activities like sightseeing, photography, camping, and short…
---
Well, some tourists are likely to look for unique vacation spots over time. It is because they want to get a new experience during the holidays. In this case, Sumbawa Regency offers Batu Bulan Dam! As the name suggests, the dam resides in Batu Bulan Village and it belongs to Moyo Hulu Sub-District. In terms of function, it is similar to other dams for sure. One thing that makes it different is related to the nuance. The beautiful landscape and merry atmosphere lure more people to enjoy sightseeing, photography, fishing,…
---