West Nusa Tenggara
---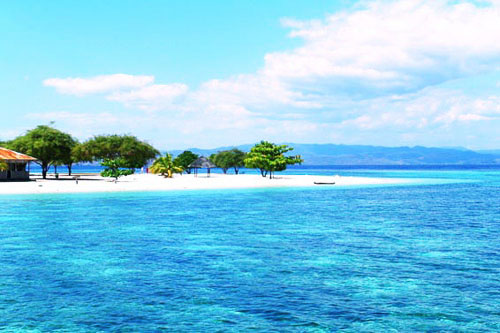 The Wallace Line, named after 19th century naturalist, Alfred Russell Wallace, marks a point of transition between the flora and fauna of Western and Eastern Indonesia and acts as the Western boundary of West Nusa Tenggara, which includes Lombok Island and Sumbawa. Lombok is noticeably different to its close neighbor, Bali. The northern part of the island is mountainous and lush with tall trees and shrubs. The South on the other hand is arid and covered by savannas. Large Asian mammals are absents and replaced instead by large numbers of marsupials, lizards, cockatoos and parrots. The difference becomes more pronounced as one moves further east where dry seasons are more prolonged and the land is dry and bush-like, and so in many areas corn and sago are the staple food, instead of rice. At first Islam time come to these islands in the 16th century, four Hindu Kingdoms co-existed in apparent peace what is now called West Nusa Tenggara and is still the religion embraced by those in the west of Lombok, which are primarily Balinese. Lombok experienced strong Balinese influences in the past, but has still retained a unique identifies. The indigenous people of Lombok, the Sasaks, are predominantly Moslem and have a strong, distinguished tradition, as do the people of neighboring Sumbawa. Soft white sand, virgin beaches are typical in Lombok, where the motto is 'You can see Bali in Lombok, but not Lombok in Bali'. Famous for its 'tenun ikat' hand-woven textiles, the island has exceptional charm and its relatively undiscovered, except for Senggigi City, which becoming a major resort area. Regulars shuttle flights from Bali and Surabaya as well as ferries provide excellent transportation links within the islands of the province as well as with the rest of the country.
The two largest islands in West Nusa Tenggara province are Lombok in the west and the larger Sumbawa Island in the east. Mataram, on Lombok, is the capital and largest city of the province. The province is administratively divided into six regencies and one municipality, Mataram. The Sasak ethnic group mainly inhabits Lombok, with a minority Balinese population then, Sumbawa and Bima ethnic groups inhabit Sumbawa. Each of these groups has a local language associated with it as well. The population of the province is 3.821.134; 71 percent of the population lives in Lombok.
Geographically
Geographically, West Nusa Tenggara Province is located 115'45 - 119°10 east Longitudes 8°5 - 9°5 south latitudes. Its area boundaries is:
North Side: Java Sea
South side: Hindia Ocean
East side: Sepadan Strait
West side: Lombok Strai
Wide Area
The wide area of West Nusa Tenggara is 49.32,19 Km2 that contains of 20.153,07 Km2 land and 29.159,04 Km2 of sea. The two big islands is Lombok Island with its wide area about 4.738,70 Km2 (23,51%) and Sumbawa Island with 15.414,37 Km' (76,49%) wide area. Beside that, it also surrounded by thousands small islands, such as Gili Air, Gili Meno, Gili Trawangan, Gili Gede, Gili Nanggu, Gili Tangkong, Moyo Island, Bungin Island, Satonda Island, Kaung Island, and Panjang Island.
Government Administrative
Administratively, the capital of West Nusa Tenggara is Mataram city and contains of 7 regencies and 2 cities. The four regencies/cities are located in Lombok Island and 5 regencies/cities state in Sumbawa Island.

Latest News
Of the many tourist destinations in West Lombok Regency, West Nusa Tenggara, Mekarsari Narmada Park offers interesting tour packages. Tourists can try the Tri Sunah activity tour package. The Tri Sunnah are swimming, horse riding and archery. Mekarsari Narmada Park originated from the desire of local residents to take advantage of the existing agricultural potential. The management has built a new swimming pool on resident's land of 2,500 square besto the ide Pecatu village land of 4,500 square meters. The village land was turned into a park equipped with archery…
---
Kenawa Hill in Sumbawa Regency, West Nusa Tenggara Province Sumbawa Regency is part of West Nusa Tenggara Province and it consists of both land and sea natural attractions. The region even features an archipelago where many beautiful gilis or small islands reside. Kenawa Island is one of them and it is known for both the stunning sea and the famous Kenawa Hill. That means tourists should head to the island first if they want to explore and get on the top of the hill. At that spot, they can enjoy…
---
Sumbawa Regency is part of West Nusa Tenggara Province and it consists of both land and sea natural attractions. The region even features an archipelago where many beautiful gilis or small islands reside. Kenawa Island is one of them and it is known for both the stunning sea and the famous Kenawa Hill. That means tourists should head to the island first if they want to explore and get on the top of the hill. At that spot, they can enjoy several tourist activities like sightseeing, photography, camping, and short…
---
Well, some tourists are likely to look for unique vacation spots over time. It is because they want to get a new experience during the holidays. In this case, Sumbawa Regency offers Batu Bulan Dam! As the name suggests, the dam resides in Batu Bulan Village and it belongs to Moyo Hulu Sub-District. In terms of function, it is similar to other dams for sure. One thing that makes it different is related to the nuance. The beautiful landscape and merry atmosphere lure more people to enjoy sightseeing, photography, fishing,…
---