White Mountain
---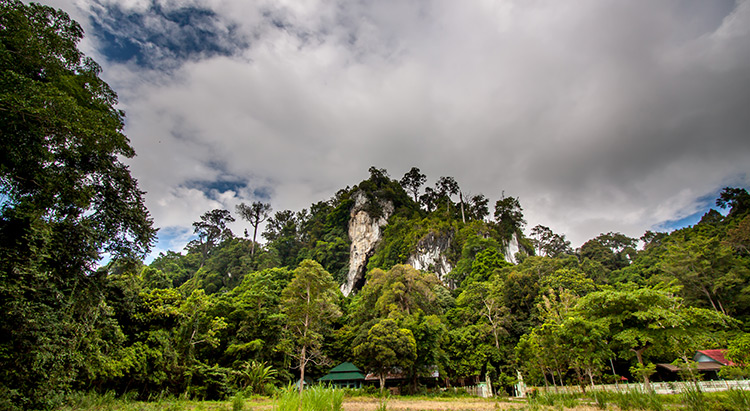 White Mountain or well known as Gunung Putih (Mount Putih) from Bulungan which is one of the famous tourist attraction in Bulungan Regency. This place is a lime mountain which is an important icon for Tanjung Palas which is formerly as the capital one of the most powerful empire in North Kalimantan.
Anyone who visited Bulungan, especially over the course of the river, if from a distance see Mount Putih that it means they are close to the Tanjung Selor gateway once entering the Bulungan cultural center in Tanjung Palas. Recently Mount Putih is one of the places most visited by tourists both from within or outside Bulungan city. The beauty of Mount Putih is very natural, we were treated to the beauty of the scenery soothing the eye, there is a small river side of the mountain, then rocks the size is quite large and pleasant green scenery.
To get to the mountain peak of Mount Putih, we can get through the bumps stairs fairly long, suitable for hiking lovers, besides if it had reached the terrace of mountain, visitors can enjoy the view while lounging on mound rocks is large enough, this place could also use as a natural place for adrenalin challenge for rock climbers.
There are two main points in Mount Putih that usual visited by the hiker, which is the peak of the highest mountain, from up there we could see the expanse of residents housing, usually nature lovers will not pass through the beautiful moments.
Another point which is also worth visiting is the underground cavern located behind the slopes of mountain, to get there may be about 10 to 15 minutes from the terrace of the mountain, the road around the mountain provide beautiful scenery for visitors, because from the side of mountain is untouched by human, so that adds to the beauty of scenery below. The streets were already good increasingly pamper visitors to enjoy the beauty of the natural slope of mountain.
Generally the visitors usually stop in front of the cave, rarely coming to the inside, a recently years Bulungan tourism government and the developers are trying to do explore further entering the cave, although so far still not sufficiently open to the public because it is still repair more.
There are at least 42 points of spotlights placed the developers to facilitate and guide visitors in the cave, there is a staircase wide enough in the cave, we can still go down deeper if interested. From the distance we hear the voice of the swallow, because they indeed this area is a natural nests for the birds, so far the developers and visitors no one has tried further to map labyrinths in the cave, there are still many unsolved mysteries and many more adventures are still waiting to be explored..

Latest News
  Since 1994, they have spent most of their  life as field guides deep in the jungle and river of Borneo, with this years experiences also they are growing up in the fields as Wildlife and Culture tour guides, which know well about the adventure in Borneo and supported by their impressive and solid background of the team with depth and breadth of knowledge and experiences in the rain forest and animals, especially Orangutan. The teams are also have been voluntary for Orangutan for few years. Their adventures tour packages…
---
Samarinda Samarinda is a city in East Borneo which also an official capital city for East Borneo province. The whole area of the city is directly border to the Kutai Kartanegara Regency. There are some historical time-lines that remain the build of Samarinda city from the early time until this present time. It start from Bungaya agreement to the arrival of the Bugis to the Sultanate of Kutai, this Wajo Bugis people are living in Samarinda at the beginning of the year 1668 or precisely in January 1668 that as…
---
Banjarmasin Banjarmasin is one of the Indonesia cities and the capital of South Kalimantan province. The original name of Banjar is Banjar-Masih, in 1664 in the Dutch wrote Banjarmasch. Banzjarmasch then turn to be Bandjermassing/Bandjer Massing/Banjermassing/Bandjarmassingh, then Bandjermasin/Banjir Massin/Banjarmassin/Banjarmatsin/Bandjarmasin, in new spelling to be Banjarmasin. Another name of Banjarmasin is Tatas, were taken from the name of the delta islands that make up the downtown area of Banjarmasin. This city is sometimes called as River City, for there are lots of river which flows in this area. The local inhabitant…
---
Dayak People Dakay people or Daya or Dyak are the indigenous peopleof Borneo Island, Indonesia. They live in groups in mountains, outbacks and they are such a terrestrial group, a group who live in land, not in marine zone. Dayak people are divided into some sub-ethnics that have different language and even different way of living. Shortly, Dayak is referred to Ngaju People or Ot Danum tribe who stays in South Borneo. While, in general, Dayak is referred to the 6 tribes of Dayak; [Kenyah-Kayan-Bahau],[Ot Danum],[Iban],[Murut],[Klemantan] and [Punan]. Those six…
---