Batu Lamampu Beach
---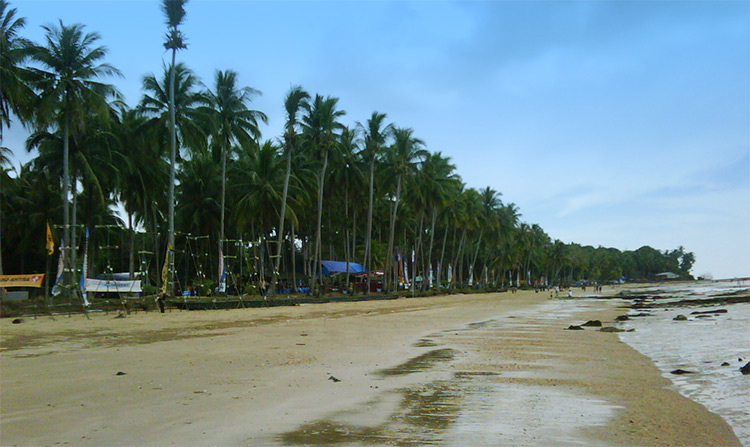 Another one of the mainstay tourist attraction in Nunukan, North Kalimantan is Batu Lamampu Beach. Its location in Sebatik Island, Sebatik District, which is the most eastern districts of Nunukan. Sebatik Island be separated into two, north entrance region of Sabah, Malaysia, while the west entrance region of Nunukan, Indonesia.
To visit Batu Lamampu Beach, the visitors must cross the ocean prior to Mantikasa port, West Sebatik District. The visitors can use a public or private boat. Then, using a car to Batu Lamampu Beach in Sebatik. If from Nunukan, it can be reached by boat Bambangan Village, or boating through Tunon Taka port. We only need to pay 10,000 IDR to get to Nyamuk River. Mosquitoes River or Nyamuk River is the village which is the economic center activities of Sebatik community.
Batu Lamampu Beach panorama facing Ambalat block, with a charming coastline 3 kilometers long. The name of Batu Lamampu Beach derives from Tidung tribe which means stone arise tiered towards the sea. Uniquely, there is a row of rocks on Batu Lamampu Beach are floating. The rocks lined up on the beach to the open sea. The position unmoved, never changed despite the float. Besides the float stone, Batu Lamampu Beach also has another uniqueness, the rock breakwater that juts out to the sea. It surrounded by plants and small stones that seemed laid out, but all is a natural process that happens by itself.
In the end, the part that leads to the land, there on the rock hill. On the peak of hill, there is a huge rock that looks apart from the surrounding rock. The stone has a diameter about 1 meter. Said by local community, the stone was used to small. Growing bigger and bigger until as now. Once someone was about to drop the stone, but he did not succeed, even died three days later. Beyond the myths, Batu Lamampu Beach is attractive beaches with sand, the calm waves as well as background waving palm trees.Various activities can be find by travelled in Batu Lamampu Beach. Ranging from burning fish, just took the scenic white sand, and there is also a swimming.

Latest News
  Since 1994, they have spent most of their  life as field guides deep in the jungle and river of Borneo, with this years experiences also they are growing up in the fields as Wildlife and Culture tour guides, which know well about the adventure in Borneo and supported by their impressive and solid background of the team with depth and breadth of knowledge and experiences in the rain forest and animals, especially Orangutan. The teams are also have been voluntary for Orangutan for few years. Their adventures tour packages…
---
Samarinda Samarinda is a city in East Borneo which also an official capital city for East Borneo province. The whole area of the city is directly border to the Kutai Kartanegara Regency. There are some historical time-lines that remain the build of Samarinda city from the early time until this present time. It start from Bungaya agreement to the arrival of the Bugis to the Sultanate of Kutai, this Wajo Bugis people are living in Samarinda at the beginning of the year 1668 or precisely in January 1668 that as…
---
Banjarmasin Banjarmasin is one of the Indonesia cities and the capital of South Kalimantan province. The original name of Banjar is Banjar-Masih, in 1664 in the Dutch wrote Banjarmasch. Banzjarmasch then turn to be Bandjermassing/Bandjer Massing/Banjermassing/Bandjarmassingh, then Bandjermasin/Banjir Massin/Banjarmassin/Banjarmatsin/Bandjarmasin, in new spelling to be Banjarmasin. Another name of Banjarmasin is Tatas, were taken from the name of the delta islands that make up the downtown area of Banjarmasin. This city is sometimes called as River City, for there are lots of river which flows in this area. The local inhabitant…
---
Dayak People Dakay people or Daya or Dyak are the indigenous peopleof Borneo Island, Indonesia. They live in groups in mountains, outbacks and they are such a terrestrial group, a group who live in land, not in marine zone. Dayak people are divided into some sub-ethnics that have different language and even different way of living. Shortly, Dayak is referred to Ngaju People or Ot Danum tribe who stays in South Borneo. While, in general, Dayak is referred to the 6 tribes of Dayak; [Kenyah-Kayan-Bahau],[Ot Danum],[Iban],[Murut],[Klemantan] and [Punan]. Those six…
---