Crocodile Captivity Juwata (Penangkaran Buaya Juwata; PBJ)
---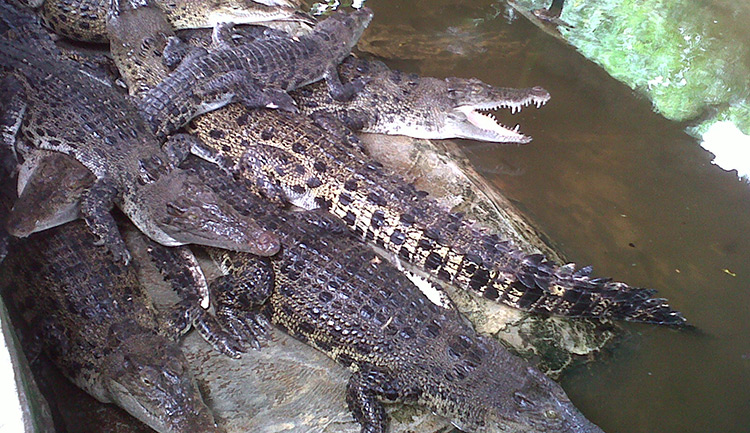 North Kalimantan is a province of Indonesia, located in the northern part of the island of Kalimantan (Borneo). The province is bordered by the neighboring countries which is the State of Sabah and Sarawak, East Malaysia. Currently, North Kalimantan is the youngest province of Indonesia, officially passed into the province in the House of Representatives plenary session on October 25, 2012 by Act Number 20 of 2012. The area includes the City of North Kalimantan Tarakan, Bulungan regency, Malinau regency, Nunukan regency, and Tana Tidung regency. North Kalimantan has incredible natural wealth. You can enjoy the natural attractions of the mountains, rivers, protected forests, and waterfalls. Many attractions can be explore when you are in Tarakan. One of those attractions is Penangkaran Buaya Juwata or PBJ (Juwata Captivity of Crocodile).
Crocodile Captivity Juwata were made to breed and preserve crocodiles then harvested for taken products. Products that can be obtained from crocodile meat, leather, and a variety of other materials such as teeth. Many species of crocodiles that have been bred in captivity. Crocodile Captivity in PBJ is a type of Sinyulong crocodile with the Latin name Tamistoma scheillius and Siamese crocodile with the Latin name Crocodilus siamensis. One types of crocodiles captive here is Crocodilus novaeguineae or better known as estuarine crocodile. The three types of crocodile is found in many regions around North Kalimantan river.
Crocodile Captivity Juwata (PBJ) was built in 1991 with the aim to obtaining products crocodiles. This is necessary because the three types of crocodiles here are protected crocodile species. The third population of crocodiles constantly decline and endangered. In total there are 4 species of crocodiles are protected in Indonesia. One other species from Papua, namely Crocodilus novaeguineae also called Papua crocodile. It makes Crocodile Captivity Juwata be important, because it can provide products produced from crocodile which did not come from catching wild crocodiles. So it does not interfere with the preservation of crocodile species are protected, while at the same time can operate commercially. Because the number of crocodiles that so much, eventually it attracts many tourists to visit. Crocodile Captivity Juwata has a function as one of the attractions in Tarakan besides to its primary function as a breeding crocodiles.
The most expensive product that is produced from crocodile is skin. Some of finished products that use crocodile skin, such as purses, handbags, belts, and shoes. Crocodile teeth also still be used. Often, these teeth are used for souvenir, In addition tangkur of crocodile is also often used as herbal medicine.
Crocodile Captivity Juwata opened every day from morning until late afternoon. Here visitors can see thousands of crocodiles are captive. This crocodile is divided into several different groups based on age. Each group is separated into different pools. This is done to ensure that most of the small crocodiles can live to adulthood. By eliminating the competition of larger crocodile because it is separated into different pools. In the wild, only a fraction of crocodiles that hatch successfully survive to adulthood. Since the number of predators that prey even when the crocodile was in the form of eggs. Usually predators often prey on crocodile eggs are snakes. But in Crocodile Captivity Juwata no predators that could eat crocodiles alive. Crocodile here most often die not because preyed upon by predators, but because Crocodile Captivity Juwata managers who wish to harvest their crocodiles.

Latest News
  Since 1994, they have spent most of their  life as field guides deep in the jungle and river of Borneo, with this years experiences also they are growing up in the fields as Wildlife and Culture tour guides, which know well about the adventure in Borneo and supported by their impressive and solid background of the team with depth and breadth of knowledge and experiences in the rain forest and animals, especially Orangutan. The teams are also have been voluntary for Orangutan for few years. Their adventures tour packages…
---
Samarinda Samarinda is a city in East Borneo which also an official capital city for East Borneo province. The whole area of the city is directly border to the Kutai Kartanegara Regency. There are some historical time-lines that remain the build of Samarinda city from the early time until this present time. It start from Bungaya agreement to the arrival of the Bugis to the Sultanate of Kutai, this Wajo Bugis people are living in Samarinda at the beginning of the year 1668 or precisely in January 1668 that as…
---
Banjarmasin Banjarmasin is one of the Indonesia cities and the capital of South Kalimantan province. The original name of Banjar is Banjar-Masih, in 1664 in the Dutch wrote Banjarmasch. Banzjarmasch then turn to be Bandjermassing/Bandjer Massing/Banjermassing/Bandjarmassingh, then Bandjermasin/Banjir Massin/Banjarmassin/Banjarmatsin/Bandjarmasin, in new spelling to be Banjarmasin. Another name of Banjarmasin is Tatas, were taken from the name of the delta islands that make up the downtown area of Banjarmasin. This city is sometimes called as River City, for there are lots of river which flows in this area. The local inhabitant…
---
Dayak People Dakay people or Daya or Dyak are the indigenous peopleof Borneo Island, Indonesia. They live in groups in mountains, outbacks and they are such a terrestrial group, a group who live in land, not in marine zone. Dayak people are divided into some sub-ethnics that have different language and even different way of living. Shortly, Dayak is referred to Ngaju People or Ot Danum tribe who stays in South Borneo. While, in general, Dayak is referred to the 6 tribes of Dayak; [Kenyah-Kayan-Bahau],[Ot Danum],[Iban],[Murut],[Klemantan] and [Punan]. Those six…
---