Bunyu Island
---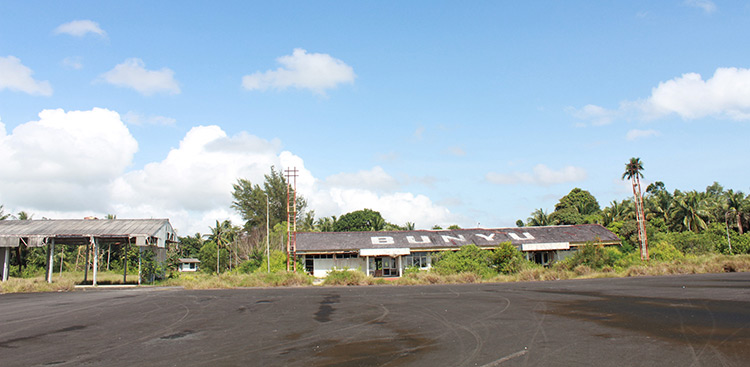 Bunyu Island is a district in Bulungan, Province of North Kalimantan, Indonesia. This district is capitalized in Bunyu have 3 villages among others Bunyu Barat, Bunyu Timur, and Bunyu Selatan Village, with an area of 198.32 square kilometers with a total population of 9810 inhabitants Density 49.47 inhabitants/km² and approximately 60 km from the capital district to Tanjung Selor. To reach this district, can also be through from Tarakan Island approximately an hour trip by speedboat that have been scheduled.
Generally, the review geographically Bunyu island consists of flat areas and the rest plateau with a moderate slope. People in Bunyu quite diverse, with the largest part of immigrants who came from Java and Sulawesi. While the original tribe is Tidung tribe society, with a composition of 26.85% Javanese, Bugis 25.11%, 11.29% Tidung, Banjar 9.97% and 26.78% of other tribes.
Based on the religious affiliations of the people was also diverse, including: Moslems 87.67%, Protestant or Catholic 12.13%, Hindu 0.03% and 0.17% Buddhist. With such diversity, it is the culture and customs were also religious. Each tribe that is typically displays each culture, such as Javanese, Bugis, Banjar, Tidung and others. Most people working as employees at PT. Pertamina EP Bunyu and PT. Adani Global, civil servants, farmers' gardens and majority as a fisherman.
Typical commodity is Salak, where the fruit if want to get it, please visit Gunung Daeng (Mount Daeng) despite its name Mount Daeng but is not in a mountain area. Majority society of Mount Daeng is a society that comes from Sulawesi, more specifically, is derived from Enrekang. There are also fish (wet and dry) base area close to the old market.
Agricultural products commodity, especially vegetables, we can visit the area named "Vegetable Garden" located in Jalan Manunggal IX majority of vegetable farmers is the Toraja. There is also a unique fruit that is, the Kapul fruit, Terap fruit, Keledang fruit and Elay fruit usually people call it the yellow durian.
Bunyu Island Tourism is potentially as Nibung Beach, Sungai Kura Beach, Golf Course, Oil and Gas Production, Swimming Pool. If you want to visit Bunyu Island so the transport option that is used by a speed boat with a distance of about 60 minutes.

Latest News
  Since 1994, they have spent most of their  life as field guides deep in the jungle and river of Borneo, with this years experiences also they are growing up in the fields as Wildlife and Culture tour guides, which know well about the adventure in Borneo and supported by their impressive and solid background of the team with depth and breadth of knowledge and experiences in the rain forest and animals, especially Orangutan. The teams are also have been voluntary for Orangutan for few years. Their adventures tour packages…
---
Samarinda Samarinda is a city in East Borneo which also an official capital city for East Borneo province. The whole area of the city is directly border to the Kutai Kartanegara Regency. There are some historical time-lines that remain the build of Samarinda city from the early time until this present time. It start from Bungaya agreement to the arrival of the Bugis to the Sultanate of Kutai, this Wajo Bugis people are living in Samarinda at the beginning of the year 1668 or precisely in January 1668 that as…
---
Banjarmasin Banjarmasin is one of the Indonesia cities and the capital of South Kalimantan province. The original name of Banjar is Banjar-Masih, in 1664 in the Dutch wrote Banjarmasch. Banzjarmasch then turn to be Bandjermassing/Bandjer Massing/Banjermassing/Bandjarmassingh, then Bandjermasin/Banjir Massin/Banjarmassin/Banjarmatsin/Bandjarmasin, in new spelling to be Banjarmasin. Another name of Banjarmasin is Tatas, were taken from the name of the delta islands that make up the downtown area of Banjarmasin. This city is sometimes called as River City, for there are lots of river which flows in this area. The local inhabitant…
---
Dayak People Dakay people or Daya or Dyak are the indigenous peopleof Borneo Island, Indonesia. They live in groups in mountains, outbacks and they are such a terrestrial group, a group who live in land, not in marine zone. Dayak people are divided into some sub-ethnics that have different language and even different way of living. Shortly, Dayak is referred to Ngaju People or Ot Danum tribe who stays in South Borneo. While, in general, Dayak is referred to the 6 tribes of Dayak; [Kenyah-Kayan-Bahau],[Ot Danum],[Iban],[Murut],[Klemantan] and [Punan]. Those six…
---