Hotels In North Kalimantan
---
Swiss-Belhotel Tarakan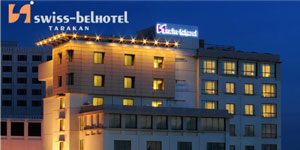 Conveniently located on Mulawarman Street in East Kalimantan, we are less than 10 minutes from Juwata Airport. Close to attractions such as Amal Beach and mangrove forests and swamps, we are a great place to stay for business and leisure travelers alike! Swiss-Belhotel Tarakan is four star hotel in Tarakan that offer 82 well-appointed rooms of various sizes and styles to suite your needs. No matter which you choose, you can be assured of a luxurious and comfortable stay with a full range of amenities such as IDD telephone lines, satellite TV, broadband access, a personal safety deposit box and much more.
Jalan Mulawarman Number 15
Tarakan, North Kalimantan 77111
Indonesia
Phone: +62 551 21133
Web: swiss-belhotel.com/en-gb/swiss-belhotel-tarakan
Lembasung Hotel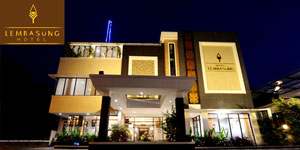 Situated only a 5-minute drive from Grand Tarakan Mall, Lembasung Hotel offers sharia-compliant accommodation with free WiFi access in all areas and free on-site private parking for guests who drive. It takes a 10-minute drive from the property to THM Plaza Shopping Centre and Amal Beach is reachable within a 15-minute drive. Getting to Juwata International Airport will take around 15 minutes by car. Each room here will provide you with air conditioning and a minibar. At Lembasung Hotel you will find an airport shuttle, a 24-hour front desk and a terrace. Other facilities offered at the property include a shared lounge and luggage storage. The property offers free parking.
Jl. Pulau Irian No. 11, Kampung 1, Sekip
Tarakan, North Kalimantan 77112
Indonesia
Phone: +62 551 32059
Galaxy Hotel Tarakan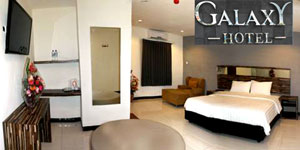 Operating a 24-hour front desk, Galaxy Hotel is a 5-minute walk from local eateries. It houses a restaurant and bright rooms with air conditioning. Free WiFi is accessible throughout the building. Rooms are all equipped with a clothes rack and a flat-screen cable TV, while each en suite bathroom comes with hot shower facilities and free bath amenities. Towels and slippers are also provided. Galaxy Hotel is a 10-minute drive from Juwata Tarakan International Airport and a 2-hour boat ride from Derawan Island. Featuring a shared lounge area, the hotel offers luggage storage facilities, newspapers and laundry services. Staff can also assist with fax/photocopying request. Galaxy restaurant serves a spread of Indonesian and Asian delights. In-room dining is possible with room service.
Jalan Yos Sudarso No. 9
Tarakan, North Kalimantan 77111
Indonesia
Phone: +6255130018
Grand Padma Hotel Tarakan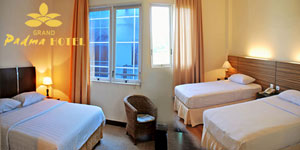 Conveniently located in Tarakan, Grand Padma Hotel Tarakan is a great base from which to explore this vibrant city. From here, guests can enjoy easy access to all that the lively city has to offer. With its convenient location, the hotel offers easy access to the city's must-see destinations. The facilities and services provided by Grand Padma Hotel Tarakan ensure a pleasant stay for guests. This hotel offers numerous on-site facilities to satisfy even the most discerning guest.
Jl. Yos Sudarso. RT.11 No.6
Tarakan, North Kalimantan 77111
Indonesia
Phone: +62 551 33336
Web: grandpadmahotel.wixsite.com/tarakan

Latest News
  Since 1994, they have spent most of their  life as field guides deep in the jungle and river of Borneo, with this years experiences also they are growing up in the fields as Wildlife and Culture tour guides, which know well about the adventure in Borneo and supported by their impressive and solid background of the team with depth and breadth of knowledge and experiences in the rain forest and animals, especially Orangutan. The teams are also have been voluntary for Orangutan for few years. Their adventures tour packages…
---
Samarinda Samarinda is a city in East Borneo which also an official capital city for East Borneo province. The whole area of the city is directly border to the Kutai Kartanegara Regency. There are some historical time-lines that remain the build of Samarinda city from the early time until this present time. It start from Bungaya agreement to the arrival of the Bugis to the Sultanate of Kutai, this Wajo Bugis people are living in Samarinda at the beginning of the year 1668 or precisely in January 1668 that as…
---
Banjarmasin Banjarmasin is one of the Indonesia cities and the capital of South Kalimantan province. The original name of Banjar is Banjar-Masih, in 1664 in the Dutch wrote Banjarmasch. Banzjarmasch then turn to be Bandjermassing/Bandjer Massing/Banjermassing/Bandjarmassingh, then Bandjermasin/Banjir Massin/Banjarmassin/Banjarmatsin/Bandjarmasin, in new spelling to be Banjarmasin. Another name of Banjarmasin is Tatas, were taken from the name of the delta islands that make up the downtown area of Banjarmasin. This city is sometimes called as River City, for there are lots of river which flows in this area. The local inhabitant…
---
Dayak People Dakay people or Daya or Dyak are the indigenous peopleof Borneo Island, Indonesia. They live in groups in mountains, outbacks and they are such a terrestrial group, a group who live in land, not in marine zone. Dayak people are divided into some sub-ethnics that have different language and even different way of living. Shortly, Dayak is referred to Ngaju People or Ot Danum tribe who stays in South Borneo. While, in general, Dayak is referred to the 6 tribes of Dayak; [Kenyah-Kayan-Bahau],[Ot Danum],[Iban],[Murut],[Klemantan] and [Punan]. Those six…
---