Youtefa Bay in Jayapura City, Papua Province
---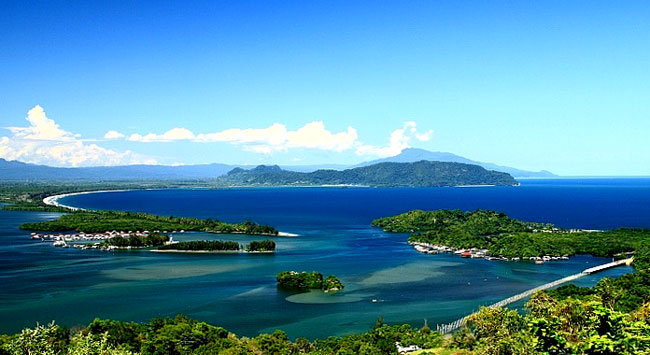 It is indisputable. One of the most famous tourist sites in Jayapura City is Youtefa Bay. This beautiful natural attraction is located in a small cape within the famous Yos Sudarso Cape. To be exact, the location is in Enggros Village and it belongs to Abepura Sub-District. Tourists are attracted to it due to many reasons! Aside from the beautiful scenery, the site offers various types of plants and animals, as well. Thus, visitors can do many things on the site. These include sightseeing, photography, exploration, and island hopping! They only need to come during good weather to enjoy all these.
The Nuance
Both the nuance and beauty are indeed splendid. Youtefa Bay is flanked by two capes, which are Saweri and Pie Cape. Both of these are separated by a small strait called Tobati. Tourists can also find a mangrove forest as well as sago forest in that area. Not to mention two astonishing rivers beauty the site, called Entrop and Acai. As for the panorama, it is definitely superb. The bay even features two small islands located in the midst of it. These are called Engros and Tobati Island. Aside from these, a unique phenomenon is available. It is called Lapangan Timbul Tenggelam. This plain field only occurs during the low tide. Otherwise, it is covered with water.
Exploring Youtefa Bay
The first allure that tourists can enjoy in Youtefa Bay is related to both flora and fauna. The most famous one is indeed the mangrove forest. Beside these mangroves, in the west part, tourists may also find Konifer trees. In the north part, it is dominated by coconut trees, though. As for beautiful orchids, tourists can find these in the hilly area. What about animals? Well, some exotic animals live in that area including Lorius lori, reptiles, butterflies, Macaca fasicularis, and much more!
What is next? Youtefa Bay is also known for its social culture allure. It is because the location is near to Tobati Village, which is an ancient settlement. That means tourists have the chance to meet the locals and learn the culture. The traditional language is called Rumbeici and the village even consists of several clans, which are worth to learn either. Plus, visitors can try some unique traditional foods during the visit later.
The next allure in Youtefa Bay is definitely related to nature tourism. Lots of stunning spots are available, after all. For instance, there is Hamadi Beach, which offers an unspoiled environment. The beach faces Humbolt Cape, so it has a great panorama. As an alternative, tourists should visit Marine Cape which is known for its white sandy landscape and coconut trees. More places are available to explore either! These include Kaswari Cape, Metu Debi Island, etc.
Nearby Attractions

Tugu Batas
Jokowi Hill
Sentani Lake
How to Get There
The best way to get to Jayapura City is by airplane, especially for those who live outside the region. From Jakarta City (Soekarno – Hatta International Airport), a flight to Sentani Airport would take around 5 hours and 15 minutes. Later, after arriving at the destination, tourists can head to Youtefa Bay directly at Enggros Village. The distance is 24.2 km and the best route to take is Raya Abepura – Sentani Street. That means the trip would take around 44 minutes.
Where to Stay

Bunga Youtefa Hotel
Hom Hotel Abepura
Citihub Hotel
Grand Talent Hotel
Matos Hotel