Tablanusu Beach in Jayapura City, Papua Province
---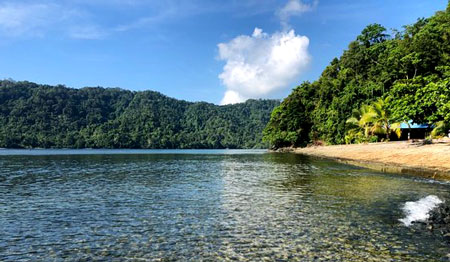 Another attractive beach can be found in Jayapura City, which is called Tablanusu Beach. This beautiful beach is located in Tablanusu Village and resides in Depapre Sub-District. Even though the location is far from downtown, tourists won't regret spending this long trip. It is because Tablanusu has distinct charms, as compared to other beaches. Plus, the location is within a tourist village, so visitors would meet lots of villagers there. In fact, many tribes live in that area! These include Wambena, Selli, Danya, Sumile, and much more! Here is further discussion related to the beach.
The Nuance
It is true that Tablanusu Beach is located near to a forest. However, lots of houses and traditional facilities can be found there. It is true the majority of visitors are local people, but some outsiders and tourists are often seen as well. As for the nuance, the beach offers both comfort and peace! The presence of shady trees and small forests brings a soothing ambiance to the site, too. The shoreline is white, but it features small gravels. Thus, everyone should wear comfy footwear when beach walking or exploring it. The good thing is that the beach has lots of facilities including toilets, eateries, and small homestays. It is possible to spend a night or two in that area, therefore.
Exploring Tablanusu Beach
Tourists need to drop by in Tablanusu Village first before reaching the beach. The purpose is either to park the vehicle or rest for a while after a long trip. Have no worries. The village is both peaceful and clean. Lots of wooden houses and modest facilities are seen on the site, too. The most noticeable thing perhaps is the presence of rare orchids that grow on villagers' yards. Tourists should not miss the chance to take photos of these plants, therefore.
Along the way to the beach from the village, tourists may see small natural rocks! Unlike regular beaches with their soft-textured sandy shoreline, therefore, this one is considered rougher. Despite the fact, beach walking is possible to do as long as tourists wear footwear while doing so. Aside from beach walking, tourists can enjoy other things on the site. For example, they can rent a banana boat or regular boat to explore the shore. Those who want to spend the night on the beach can rent a honai or beach lodges too that comes with various prices.
People who visit Tablanusu Beach should not miss the chance to relax at noon at the available facilities. While relaxing, they can even order a refreshing coconut drink! After spending some time at the shoreline, it is recommended to visit a brackish lake, located in the back of the village. Both the beauty and nuance are great in that spot, for sure.
Nearby Attractions

Harlen Beach
Talassa Beach
Tugu Salib
How to Get There
From Jakarta City, tourists only need to reach Soekarno – Hatta International Airport and take an airplane to Sentani Airport in Jayapura City. This flight, during good weather, usually takes around 5 hours and 15 minutes. After arriving at Sentani Airport, they can take Raya Doyo Baru Street and head to Tablanusu Beach right away. The distance is 30.4 km, so this trip would take around 1 hour and 16 minutes.