Pasir 6 Beach in Jayapura City, Papua Province
---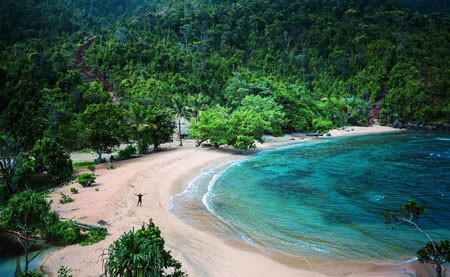 Papua Province is located in the easternmost of Indonesia and it never fails to amuse tourists. The prime destination should be Jayapura City, in this case. This region consists of various natural attractions to explore, especially beaches. For instance, there is Pasir 6 Beach. The location is in North Jayapura Sub-District and it resides near to Dok 3 Beach. Tourists can even get there either by land or sea transportation! Visitors usually enjoy snorkeling and swimming there. Some people also take advantage of the beach for sightseeing, beach walking, and relaxation. Some parts of the shore feature big waves, so it is suitable for surfing too!
The Nuance
The nuance is quite due to the seclusion. The beach is flanked by two green hills and looks similar to a bay. No wonder, most waves are calm and suitable for swimming. As mentioned earlier, in some parts of the sea, tourists would find big waves for surfing. The pristine nuance and clean environment would also soothe visitors! The white sandy shoreline becomes the next feature of this beach. As for the background, there are green hills and sea scenery. The only issue is the location, which is secluded so it takes some time to get to the site.
Exploring Pasir 6 Beach
For those who love surfing, Pasir 6 Beach can be a good destination. The waves are big enough to satisfy this hobby, after all. As an alternative, visitors only need to sit by the shore and relax. It is even allowed to conduct a BBQ party and spend a family recreation, as long as everyone takes care of the trash later. Next, in the afternoon, a beautiful sunset awaits tourists! The sky looks romantic and the nuance feels soothing at the time!
What is more? Pasir 6 Beach is also popular for snorkeling and water sports. However, no facilities are available to rent the gear. Thus, tourists must carry their snorkeling gear and other required equipment. As an alternative, they can enjoy swimming and playing water during the low tide. For those who can't swim, they can choose beach walking instead. It is because the beach is interesting enough to explore! The most noticeable feature perhaps is a small river that flows directly to the sea. Tourists usually take photos of it with a background of green hills.
Pasir 6 Beach is considered quiet and peaceful, so it is suitable for relaxation. Some foreigners are also seen sometimes. These people usually enjoy sunbathing and relaxation during long holidays. Moreover, it costs nothing to enter the beach. The only issue is the seclusion, so everyone must give some efforts to reach the location. That's all.
Nearby Attractions

Base-G Beach
Pasir Dua Beach
Puncak Merah Putih
How to Get There
The most recommended way to get to Jayapura City is by airplane. From Jakarta City (Soekarno – Hatta International Airport), in this case, the flight would take around 5 hours and 15 minutes. Once tourists arrive at Sentani Airport, they only need to take Raya Abepura – Sentani Street and head to Pasir 6 Beach at North Jayapura Sub-District right away. This trip would take around 1 hour and 13 minutes, as the distance is 41.9 km. As an alternative, tourists can reach Dok Tiga Beach first and take a boat to Pasir 6 Beach. This voyage passes through Cendrawasih Bay and may take around 30 minutes.
Where to Stay