Base G Beach in Jayapura City, Papua Province
---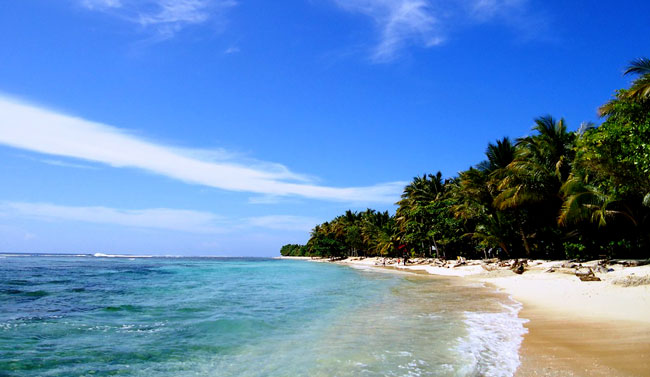 Jayapura City becomes a good alternative to spend a long holiday, especially those who want new experiences and find distinct beauties. The region, for example, offers several attractive beaches like Base G. This one resides in Tanjung Ria Village and belongs to North Jayapura Sub-District. The location is near to downtown, so tourists can reach it without spending too much time an effort. Actually, the official name is Tanjung Ria Beach. Aside from the beautiful scenery, the beach also offers an interesting history. Not to mention it has become one of the best vacation spots to visit in Jayapura. Everyone should not miss it, therefore.
The Nuance
It is true that Base G Beach is known for its strategic location, which is close to Jayapura City. Still, the beach also offers a nice nuance to spend a family recreation. The sea scenery looks amazing and it features clean and pristine environment. The peaceful ambiance also helps tourists to relax regardless of the time of the visit. Still, the best atmosphere is in the morning or during the sunrise. As for the waves, they look calmer than other southern beaches! The beach foams also look attractive! It combines well with the astonishing blue sea, as well. As for the shoreline, it has a soft-textured light brown sandy landscape.
Exploring Base G Beach
Naturally, Base G Beach should have big and fierce waves. It is because the location faces the Pacific Ocean directly. Thanks to the local government. They have installed coral breakers in that area. No wonder, the waves become calmer and safer for swimming. Those who don't like swimming, in this case, can enjoy other casual activities like boat riding. This one requires some money, though. As an alternative, tourists can rent either snorkeling or diving gear in order to explore the underwater beauty.
Base G Beach also becomes a nice place to enjoy fishing. One thing, tourists should carry their fishing rod and other equipment in order to enjoy the activity. What is next? Well, visitors don't have to do anything there. They can simply reach available benches or lodges in order to enjoy relaxation. As an alternative, they should sit under shady trees that grow abundantly on the shoreline. The famous species is called Keben tree, actually. Here is the tip. The best nuance to enjoy relaxation is early in the morning during weekends.
Bas G Beach has another allure, which is none other than the history. In the past, people called it Tanjung Ria Beach. However, they changed it to Base G due to history. It is said the allies built their military base in this area during the WWII in 1944. The name was Base G Camp. No wonder, the locals use it to name the beach. Well, for further information regarding this history, tourists can talk to villagers or local guide later.
Nearby Attractions

Pasir Dua Beach
Puncak Merah Putih
How to Get There
From Jakarta City, tourists can simply take an airplane at Soekarno – Hatta International Airport and head to Sentani Airport in Jayapura City. This flight, during good weather, would take around 5 hours and 15 minutes or less. After arriving at Sentani, tourists should take Raya Abepura – Sentani Street and head to Tanjung Ria Village where the beach is located. The distance is 40.1 km, so this trip would take around 1 hour and 8 minutes.
Where to Stay

Andalucia Hotel
Eddy Poey's Lodge