Dok 2 Beach in Jayapura City, Papua Province
---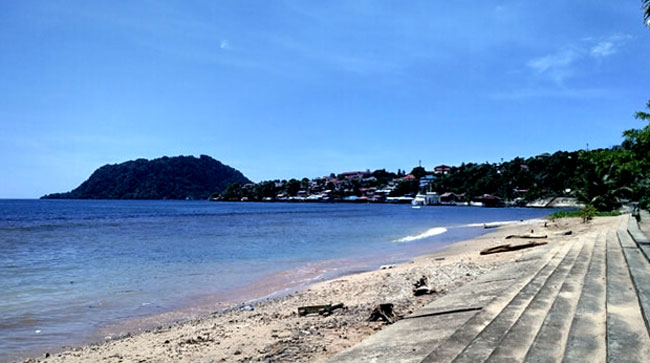 Tourists have a distinct reason for visiting Jayapura City. Still, the majority of them come to the region to explore nature. Their favorite destinations are beaches and highlands, actually. For example, there is Dok 2 Beach in North Jayapura Sub-District. This famous beach is located in Mandala Village and in front of the Governor's office! The strategic location makes it crowded and well-known among the locals. Not to mention tourists and outsiders can find the location easily. These people usually come to the beach for recreation, doing casual sports, sightseeing, and relaxation. Plus, photography is quite recommended there.
The Nuance
In terms of nuance, unlike regular beaches, Dok 2 offers a merry ambiance. Thanks to a high number of visitors. Another reason is that the location is near to the main road and the Governor's office. Many facilities and accommodations also reside near to the beach, in fact. As for the sea, the waves are calm and safe for swimming! However, the beach doesn't feature a white sandy shoreline. Instead, it has a brown sandy landscape. What is next? The most noticeable feature is the presence of Kupang DOK II, which is the formation of long benches located along the coast.
Exploring Dok 2 Beach
The best thing about Dok 2 Beach is related to the ambiance, which always feels comfy regardless of the time of the visit. Still, tourists enjoy different activities depending on when they visit the beach, though. In the morning, for example, visitors usually conduct beach walking or casual sports. These include jogging and yoga. For those who love water sports, snorkeling and swimming would be a good idea.
Next, it is in the afternoon, which is suitable for relaxation and gathering. The locals often come with their family members and enjoy a peaceful atmosphere at the shoreline. The presence of the famous long benches gives a better comfort to these people, indeed. This afternoon ambiance also helps visitors in order to get rid of stresses and boredom. Moreover, the nuance becomes merrier at the time due to a bigger number of visitors.
Is that all? The fact is that Dok 2 Beach is also suitable to visit in the evening. Visitors usually are local teenagers who want to hang out with their friends. Not to mention lots of snack vendors operate in that area and sell numerous types of delicious snacks including meatballs, rujak, cilok, and much more! Thus, it is recommended to carry enough cash when visiting the beach later.
Nearby Attractions

Mandala Stadium
Puncak Merah Putih
Jayapura Mall
How to Get There
The prime destination is indeed Jayapura City at Papua Province and tourists can get there fast by airplane. From Jakarta City, in this case, they must take an airplane at Soekarno – Hatta International Airport and head to Sentani Airport. This flight may take around 5 hours and 15 minutes or more depending on the weather. From Sentani, they only need to find a reliable transportation service and head to Dok 2 Beach at Mandala Village. The distance is 34.8 km, so this trip would take around 57 minutes. As for the best route, it is recommended to take Raya Abepura – Sentani Street.
Where to Stay

Matoa Hotel
Front One Hotel
Swiss Belhotel