Widodaren Mountain in Bromo Tengger Semeru National Park, East Java - Indonesia
---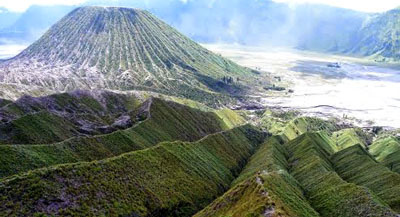 Here is the common knowledge is known by local tourists. Bromo Tengger Semeru National Park Indonesia offers different types of tourist attractions including mountains, lakes, villages, etc. For those who love hiking, Widodaren Mountain can be a good option. It is located beside Batok Mountain and becomes the part of such national park. Not only tourists visit the mountain for trekking, but they are also interested in the local legend regarding a sacred fountain. No wonder, some visitors are likely to pray and meditate in order to look for luck and blessings.
The Nuance
In term of nuance, Widodaren Mountain is considered more fertile than other mountains in Bromo Tengger Semeru National Park Indonesia. That means it has a more comfortable atmosphere and fresher air. Lots of trees, grasses, and bushes grow well there. The song of birds and insects also become other features tourists can enjoy. Not to mention a cave resides near to the feet of the mountain, where the sacred fountain is located. Overall, Widodaren offers a distinct experience for those who love an adventure. It also provides an opportunity for those who want to meet the locals doing some rituals or worshipping.
Exploring Widodaren Mountain
The most common reason to visit Widodaren Mountain is to perform an expedition. Not only tourists want to explore the landscape of the mountain, but they also want to approach Tengger Tribe and learn their culture. According to some information, some locals often come to the top of the mountain to perform a hermitage. Well, this is actually an interesting fact. It is even said such meditation is meant to achieve Muksha (perfection) – a local's powerful skill that makes its users disappear. Even though it is merely a rumor, tourists find it interesting.
For those who want to perform such expedition or trekking, they can start from the start post called Lava Café. The site also provides some rooms where tourists can rest for a while before continuing their exploration. When it comes to difficulty, Wedodaren Mountain is considered easier and more suitable for beginners. Still, trekkers should carry proper equipment and provision. Bottled water is a must, as well. If necessary, they must hire a professional trekker who can lead and provide useful information during trekking.
One activity that everyone should not miss is to visit the famous cave that resides near to the mountain. It is the place where tourists can find the sacred fountain, actually. Once they get inside the site, they might find an altar as well. Usually, visitors might place offerings on the altar and conduct worshipping for the sake of prosperity and mate. Some of them even choose that site as the perfect place for meditating.
Nearby Attractions
Widodaren Cave
Ranu Regulo Lake
Sedaer River
B29 Peak
How to Get There
It is easy to reach Widodaren Mountain. From Lumajang City of Indonesia, tourists' prime destination is Bromo Tengger Semeru National Park Indonesia. The location is near to Batok Mountain, actually. This might take about 83 km and the trip costs approximately 3-4 hours.
Where to Stay
Jiwa Jawa Bromo
Sion View Hotel
Adas Hotel


Latest News
Taman Nasional Bromo Tegger Semeru (TNBTS) Bromo Tengger Semeru National Park (TNBTS) was established through a Decree of the Minister of Forestry in 2005. Bromo Tengger Semeru area was designated as a national park partly because it has a unique ecosystem where has a caldera inside a caldera in the form of an active volcano (Mount Bromo) inside the Mount Tengger caldera with the sea volcanic sand around it. The uniqueness of the ecosystem and the beauty of natural panorama of Bromo Tengger Semeru National Park (TNBTS) make this area…
---
Batu, Malang, the city which is known for its wealth of natural tourism presents a new experience in the form of a thick Japanese feel at a resort called The Onsen Hot Spring. The resort is surrounded by pine trees with a backdrop of mountain views, making The Onsen Hot Spring Malang atmosphere so similar to the atmosphere at the foot of Mount Fuji. The term Onsen itself in Japan is a public hot spring bath that is separate for women and men. At The Onsen Hot Spring Malang, tourists…
---
Madakaripura Waterfall is one of the destinations that can be visited when you are in Probolinggo. Madakaripura Waterfall has an exotic view. In fact, dubbed as eternal rain. Madakaripura Waterfall, located in Branggah sub-district, Negororejo, Probolinggo, East Java. This tourist attraction has a charming view. The water is clear, then the high cliffs further add to the specialty of this area. Madakaripura Waterfall has a height of 200 meters, and has been named the highest waterfall in Indonesia after Si Gura-gura Waterfall in Toba Samosir, North Sumatra. Uniquely, this waterfall…
---
Not inferior to other cities in East Java, Madura Island also has interesting natural beauty. Each region has its own charm, Sumenep is no exception. In addition to its delicious culinary, Sumenep also has beautiful islands. Some islands even still have few visitors. Curious where is it? Check out this list of the most beautiful islands in Sumenep, Madura, East Java! White sand and clear water, Gili Labak is one of the favorite destinations for tourists. Every corner of this island feels Instagrammable. Gili Labak or Gili Lawak, is one…
---