Love Hill in Bromo Mountain, East Java Province
---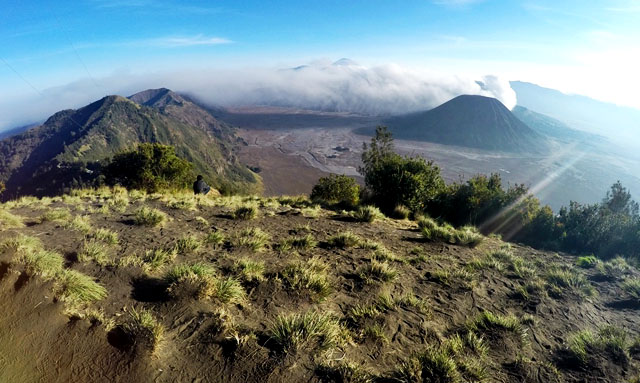 Visiting Bromo Mountain is worth hundreds of experience. The reason is none other than the presence of numerous tourist spots including famous Love Hill (or: Cinta Hill) also locals called "Bukit Cinta". It is chosen as the most strategic spots to enjoy stunning Golden Sunrise apart from Penanjakan Peak. Even the foreigners have heard about it and decided to visit it during a holiday. Cinta is located near to Panajakan Peak (which is also the best site for sunrise hunting). The distance is about 5 km and it shares similar nature views to Penajakan. That means trekkers can explore all of them in a day during a vacation to Semeru Indonesia!
The Nuance
What about the nuance? Most of the features of Cinta Hill are the bushes and lush trees. The route is simpler than Penajakan, though. When compared, tourists won't take much effort and time to reach the hill. This explains why those with bad stamina prefer Cinta to Penanjakan as it suits their fitness. In the morning, the sun rises smoothly and the sea of sand appears beautifully on the horizon. Not to mention Penanggungan and Arjuno Mountains are seen clearly, becoming magnificent backgrounds in that area.
Exploring Cinta Hill Indonesia
As mentioned before, the site is suitable for witnessing the sunrise. Doesn't it mean tourists can only visit it in the morning? Well, other times are also recommended like in the afternoon. A romantic nuance appears at the time and couples can create a memorable event there. Perhaps this is why people call it Cinta Hill, which means the hill of love! Not to mention witnessing Golden Sunrise in the morning would create a better atmosphere for them. On top of that, the air feels so refreshing.
Is there anything special apart from the sunrise? According to the locals, Cinta Hill also has an interesting myth tourists can learn about. It is said there was a couple named Roro Anteng and Joko Seger. The rumor has it. They were the ancients of Tengger Tribe. Due to such beautiful relationship, the hill became a representation of their love. Another rumor states that any couples spending a good time in the hill would obtain an eternal relationship! No wonder, lots of local young couples come to the hill during weekends. Even foreigners are also interested in the myth!
Here are several tips before going to Cinta Hill. The location is near to Kingkong Hill (6 km apart), so tourists must prepare extra stamina to explore such neighboring hill as well. In order to save much stamina to reach those areas, they can take advantage of local transportation services actually. The next thing to pay attention is the gear or equipment. A camera is a must! The other important provisions are bottled water, compass, a map, and snacks.
Nearby Attractions
Ranu Regulo Lake
Pananjakan Peak
Sedaer River
B29 Peak
How to Get There
From Lumajang, tourists can simply take Probolinggo –Wonorejo Street and head directly to Bromo Mountain, Indonesia. The distance is 83 km and it may take about 3 hours! On top of that, they need to perform trekking in order to reach the hill.
Where to Stay
Jiwa Jawa Bromo
Sion View Hotel
Adas Hotel

Latest News
Taman Nasional Bromo Tegger Semeru (TNBTS) Bromo Tengger Semeru National Park (TNBTS) was established through a Decree of the Minister of Forestry in 2005. Bromo Tengger Semeru area was designated as a national park partly because it has a unique ecosystem where has a caldera inside a caldera in the form of an active volcano (Mount Bromo) inside the Mount Tengger caldera with the sea volcanic sand around it. The uniqueness of the ecosystem and the beauty of natural panorama of Bromo Tengger Semeru National Park (TNBTS) make this area…
---
Batu, Malang, the city which is known for its wealth of natural tourism presents a new experience in the form of a thick Japanese feel at a resort called The Onsen Hot Spring. The resort is surrounded by pine trees with a backdrop of mountain views, making The Onsen Hot Spring Malang atmosphere so similar to the atmosphere at the foot of Mount Fuji. The term Onsen itself in Japan is a public hot spring bath that is separate for women and men. At The Onsen Hot Spring Malang, tourists…
---
Madakaripura Waterfall is one of the destinations that can be visited when you are in Probolinggo. Madakaripura Waterfall has an exotic view. In fact, dubbed as eternal rain. Madakaripura Waterfall, located in Branggah sub-district, Negororejo, Probolinggo, East Java. This tourist attraction has a charming view. The water is clear, then the high cliffs further add to the specialty of this area. Madakaripura Waterfall has a height of 200 meters, and has been named the highest waterfall in Indonesia after Si Gura-gura Waterfall in Toba Samosir, North Sumatra. Uniquely, this waterfall…
---
Not inferior to other cities in East Java, Madura Island also has interesting natural beauty. Each region has its own charm, Sumenep is no exception. In addition to its delicious culinary, Sumenep also has beautiful islands. Some islands even still have few visitors. Curious where is it? Check out this list of the most beautiful islands in Sumenep, Madura, East Java! White sand and clear water, Gili Labak is one of the favorite destinations for tourists. Every corner of this island feels Instagrammable. Gili Labak or Gili Lawak, is one…
---